Bonhams' recreated headquarters has swept to completion with a flourish, despite complications en route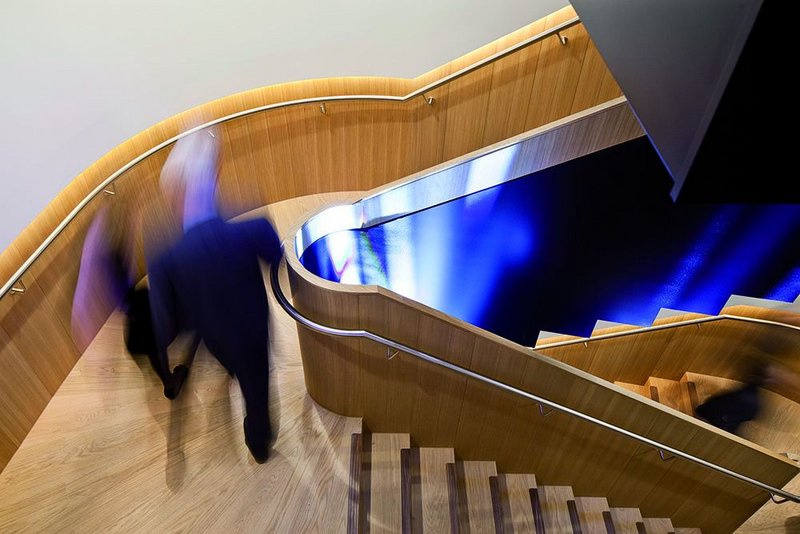 Well-appointed public circulation areas connect sales rooms with client service spaces.
At the top level – Christie's, Sotheby's and Bonhams – London's auction houses are fiercely competitive businesses, operating in an international market. Hence the transformation of Bonhams' £30m New Bond Street headquarters by Lifschutz Davidson Sandilands (LDS), and engineered by AKT II. This is a very clever project, inserting a large, handsome new building almost invisibly into the heart of London's art world. Inside, however, it's all about the theatre of buying and selling.

This is about as prime as a prime site gets in the West End, with an Edwardian entrance on New Bond Street. Fortunately – given that a lot of decanting was needed during the work – there's a secondary entrance through the Art Deco Blenstock House on Blenheim Street behind, a spur off bustling Oxford Street. This building housed temporary salerooms while the project progressed. Difficult though this was – not least with Crossrail works also affecting the site and a lot of party walls – Bonhams was clear that it wanted to remain right here.

It's a strange typology. As Alex Lif­­schutz says: 'The auction business is very much a cross between warehousing and office – or museum and office. The item comes in, it generally sits quite close to the people who look at it, assess it, photograph it, value it, write about it, then it goes to the auction, and then it's gone. So the spaces you need are quite generous.'
The objects in question may be fine art, sculpture, jewellery, clocks, furniture, wine or – a Bonhams speciality – classic cars and motorcycles. There are private interview rooms to discuss valuations, and seriously upmarket VIP dining facilities. But the heart of the enterprise are the three large salerooms, arranged in a stack, one above the other.

Outside there are just three elevations, widely separated: a new one on Haunch of Venison Yard, its facade generated by three glass lift shafts; the Art Deco one; and the ultra-slender 1906 facade of the building that gives Bonhams its 101 New Bond Street address, scarcely more than a room wide but five storeys tall and using every trick of Edwardian commercial architectural ornament to get noticed. LDS has hollowed out this building from ground to roof, lining it with undulating walls and concealed lighting. This atrium gives a sense of occasion to the entrance, which leads via a reception area to the tallest of the three salerooms, the middle one in the sandwich.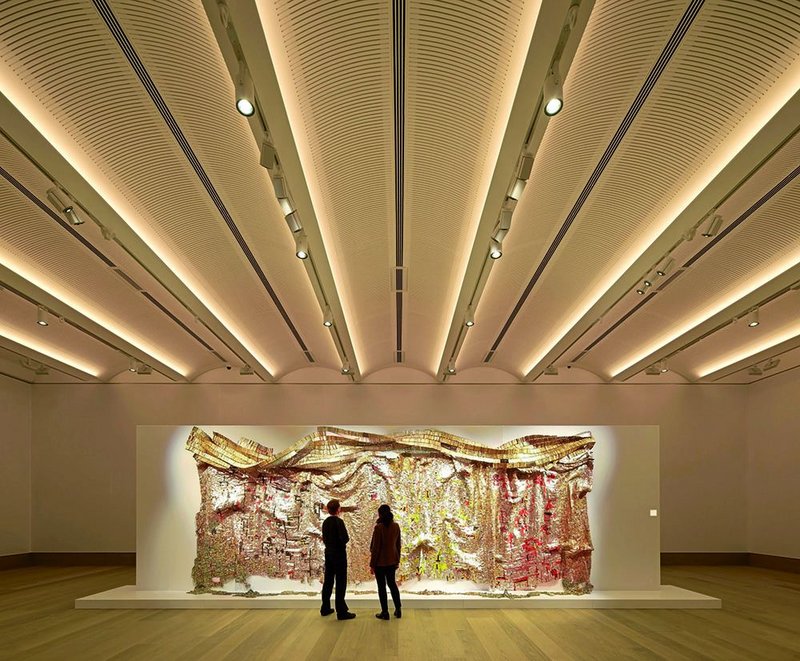 The scalloped ceilings of the saleroom spaces (this is the lowest of the three) work very hard to provide lighting, air handling, acoustic absorption and hanging points.
They all have the traditional wooden floors and carpeted walls for picture hanging, in a colour resembling imperial purple. The ceilings, finished in glass-reinforced gypsum, do lots of things at once: organised in vaults spanning between the downstand beams of the massively strong floors above, they provide acoustic absorption, lighting, air handling, p/a, and hanging points for key objects – beefy enough to take cars or even planes.

Above the ground floor saleroom is a mezzanine 'skybox' and meeting room for clients wishing to see how a sale is going without mixing with the hoi polloi on the floor. The two steel staircases link the levels. Spraypainted deep blue, they are lined with European white oak veneers with walnut nosings. Throughout there is an air of understated opulence and craftsmanship which is deliberately meant to evoke the feel of a classic British car. I'd say this building is in the Aston Martin class.
---
Credits
Client Bonhams
Architect Lifschutz Davidson Sandilands
Structural engineer AKT II
M&E engineers Mott MacDonald
Main contractor Knight Harwood
Project manager Jackson Coles
Quantity surveyor Gardiner and Theobald
Lighting designer EQ2 Light
Acoustic consultant Sandy Brown Associates
Town planning consultant Jones Lang LaSalle
Suppliers
• Precast cladding Decomo
• Curtain walling Colorminium/Schuco
• Oak flooring Dinesen
• Stone flooring CED
• Lifts Schindler
• Stairs: metalwork Canal Engineering
• Stairs joinery/timber EE Smith
• Arabescato marble Decoded Ideas
• Leather wall cladding Bridge of Weir
• Carpet wall cladding Tretford
• Stainless steel Evans Turner