It's not just Blue House Yard's jaunty colours and seaside aesthetic that enliven a grimy part of London. It shelters local start-ups at affordable rents too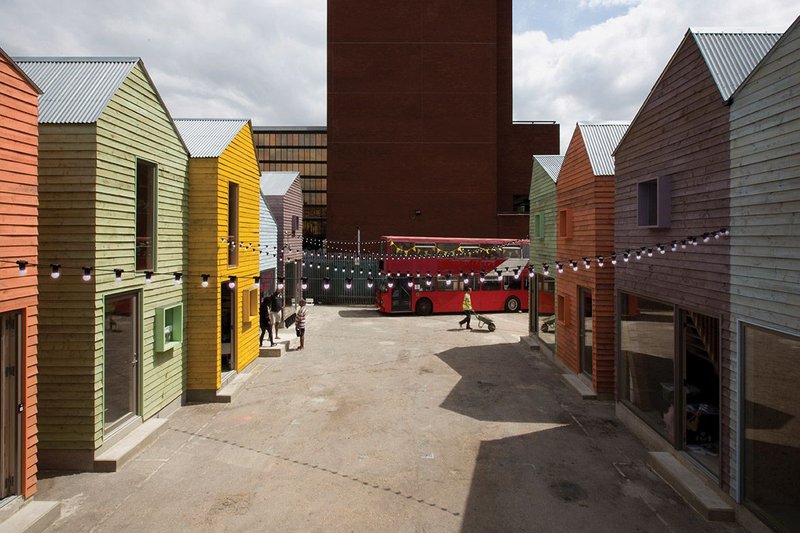 Street markets are held in the yard Wednesday to Friday during the day and on Saturday nights.

Credit: Joakim Boren
Weatherboard and timber boarding has become ubiquitous in the UK over recent years. We've seen it at the Ditchling Museum (2013), Carrowbreck Meadows housing in Norfolk (2016) and now, refurbished, on 2017's ­Stirling Prize shortlist with Baynes and Mitchell's Command of the Oceans in Chatham. It's associated with unshowy beachside locations and quaint village landscapes. So where might this higgledy collection of colourful new fishermen's huts be? Whitstable? Southwold? Teesmouth at a push?
No, you're looking at Wood Green, zone 3, north London – 100m down the throat-clogging road from the tube station. The site is an old car park penned in by a blackened bus garage and tall, bad 1980s mirrored window commercial buildings (which, Haringey Council please note, would benefit from selective renewal by the right architect rather than being totally demolished for those town centre regeneration schemes you're plotting).
Hence these buildings are actually not fishy at all. They are a huddle of workplaces and studios offered at 80% of market rates, and part of the council's 'Meanwhile Campus' project to prevent creative industries based in this unlikely spot from being ­driven out by big developments under way nearby – most notably The Workspace Group's overhaul of the Chocolate Factory. The idea began with SODA's conversion of the 1935 North Metropolitan Power and ­Electricity Company's offices and showrooms into a hotel for artists called Green Room Hotel and will continue with the co-working space Wood Green Works – all over the un-green road from here.
Designed by Islington-based Jan Kattein Architects, Blue House Yard is as much of a surprise on a rainy day as a sunny one. The project effuses that energising feeling that architecture sometimes can. It is a temporary scheme, intended to last five years, and began just last summer. In 11 months, it was tendered, designed, funded, got through planning and was constructed – by more than 100 volunteers.
'Originally Makeshift [of Pop Brixton heritage] were on board,' explains Kattein, 'but they couldn't make it work financially because initially the council didn't include the existing [former council office] building. The project then went back out to tender in August 2016 for a handful of selected firms to come up with a new plan.'
On winning, the architect's first move was to paint the nondescript 1980s brick office building bright blue, roof and all, to create an identity – and a name – for the project from the outset. It also set up an operating and contracting company called High Street Works with community interest company Meanwhile Space because as part of the competition deal, the designer had to act as the operator, do the delivery and get the grants. High Street Works received grants totalling £184,000 from the GLA and Haringey Council and borrowed a further £50,000 to make the budget work, meaning it has taken on a significant part of the financial risk if it fails.
'That's what unlocked this project,' says Kattein. 'The budget was very tight. It works out at £700 per metre squared – you couldn't even build a garage for that.'
Yet for this tiny budget, High Street Works has achieved an enormous amount. It has converted the 300m2 office building into 13 studios with communal kitchens, WCs and a bright white and blue interior, and constructed the nine new worksheds in the car park around a much-needed local space for pop-up market stalls and events. The bright paint and distinctly un-urban forms create a buzzy atmosphere that must pique the interest of passers-by. This is helped by the fact that visitors can wander through the site at any time of day, unobstructed by the kind of fences or fortress archi­tecture at similar schemes. The 24-hour taxi office shown in the original drawings, which is still under construction, promises to animate the site even more, as well as provide security for the long-term.
The process of Blue House Yard's construction is as surprising as its eclectic selection of tenants. Given the budget, the entire project was designed for self-build, constructed on site by waves of volunteers recruited via social media and word of mouth. The sheds are small, replicable and relatively simple to build: timber frame clad in weatherboarding and roofed with corrugated sheeting. Tenants are encouraged to customise the basic chipboard interiors themselves, which many have in various eclectic styles.
High Street Works provided a project manager and site manager as well as a group of eight apprentices from a local college, but otherwise volunteers were put into small groups each led by a professional carpenter so they would learn new skills. Timber was sourced from the local builders merchant, feeding into the local economy, while the high-spec windows were donated by Velfac after one of its orders was cancelled, saving them from the scrapheap.
So far, Blue House Yard has been a success and may even turn a small profit by the end of the programme. Its quirky look has already attracted fashion shoots and a promotional video for Subway (perhaps not an association everyone had hoped for). And, despite only opening at the end of June, by the end of July all bar two of the studios were let (the orange hut might still available if you're interested).
What's more, the scheme has revealed a fascinating community of artisans, entrepreneurs and creatives that otherwise might have remained hidden in larger, closed office buildings or not had the confidence to scale up from kitchen-based hobbyists to proper small businesses. There's a ceramicist, lingerie designer, bag maker, modern stationer and coppice worker/greenwood craftsman. One of the studios has been converted into a recording studio, another into a film editing suite. One hut is a vintage clothing shop, another is an art gallery.
Consequently, Kattein is hopeful that the project will outlive its planned five-year life at Wood Green, stretching to perhaps seven. But if not he'll pack up and move it elsewhere – he's made that possible.
Credits
Architect Jan Kattein Architects
Client Haringey Council
Operator and contractor High Street Works
Structural engineer StructureMode