10,000 tree species helped build Bristol University's Hollow grotto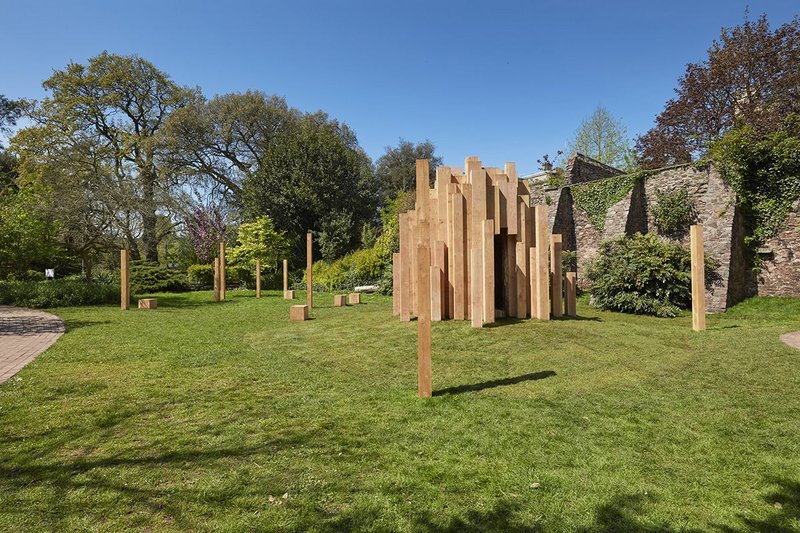 Hollow, by Katie Paterson and Zeller & Moye, is a permanent installation in the Royal Fort Gardens at the University of Bristol.

Credit: Max McClure
Hollow is a curious tree grotto. While its interior may resemble a cave of stalagtites and stalagmites, the whole ensemble is created from some 10,000 tree species samples, painstakingly assembled to form an immersive miniature forest.
The work, a permanent piece to coincide with the opening of the University of Bristol's new Life Sciences building, was created by artist Katie Paterson and Mexico City and Berlin-based architects and artists Zeller & Moye. Installed in the grounds of the university's Royal Fort Gardens, it encapsulates the whole planet's tree life in one structure.
Hollow is a very satisfying solution to such an ambitious endeavour, which involved three years of sourcing tree samples from around the world in collaboration with scientists from the university. Paterson had initially considered creating a boardwalk from the samples but settled on a structure with an interior after linking up with Christoph Zeller & Ingrid Moye.
'It's important what the wood represents – 10,000 pieces of wood from every country on earth from the first ever forest to grow on earth. This immensity can be experienced in a very intimate way,' says Paterson. 'It's so important that it's an artwork that you can enter and experience.'
'We like the idea of having a whole world that can be discovered in the park,' says Zeller, describing the installation as an abstraction of a miniature forest.
Locally-harvested Douglas Fir was chosen as an appropriate material to form the outside shell of Hollow, which rises to 3.8m tall. Skylights are incorporated to let in natural light, akin to dappled light filtering through a forest canopy. The opening is not immediate obvious, with visitors stepping up over the threshold into the tiny, 2m2 meditative space.
'The idea is that people get curious then find the opening and put their head in like finding a treasure in a cave,' said Ingrid Moye. 'It was important not to make it a door but something more abstract.'
Inside, the skylights illuminate the strange interior landscape made up of tactile glued layers of thousands of pieces of wood covering the walls and part of the floor, which incorporates the oldest wood fossil samples. The variously sized sample blocks are then arranged so that the newest, present day species are found at the top of the structure. As well as by chronology, the composition is influenced by the wide span of colours in the samples, with pieces grouped to show off the variety in hues.
'The colours and textures were a huge surprise – from pinks, yellows and greens right through to blacks,' says Paterson.
While the firs were sealed for weather protection, all the interior woods were left untreated to allow a more direct experience with the visitor.
'Hollow is an opportunity for people to be with themselves and a bit more aware of their senses,' says Moye.
The permanent installation is accompanied by a digital website and public participation project, Treebank, in association with BBC4.
---
Hollow by Katie Paterson and Zeller & Moye, Royal Fort Gardens, University of Bristol, Bristol, BS8 1TH