Matching and improving windows from phase 1 included concentrated work on the sill details.
The handsome windows on phase 2 of the BBC's Broadcasting House project in central London were the result of much discussion. But with 24 window types (not to mention 39 sorts of cladding), that's hardly surprising.
When architect Sheppard Robson inherited the project it kept the external envelope, which had planning, but used designs from MacCormac Jamieson Prichard and the visualisations to work up the details. Weekly meetings with Schneider Facades dealt with air tightness, waterproofing and visual aspects, with the hearty use of a fat red pen.
The challenge was to match window types in phase 1 – but also to improve their performance. Helpfully, Whitby Bird remained as facade consultant throughout. Water dripping down the face of the glass and staining the Portland stone below had proved a problem so Sheppard Robson had developed a sill detail to get over it, with clip in flashings. There were certain material changes – mostly visible stainless steel screws being replaced by black headed ones, but also, hidden away, a stainless steel bracket converting to galvanised steel.
The projecting ribbon windows have been turned into single, prefabricated units which fit in from slab to slab rather than relying on wet trades for drylining, airtightness and insulation.
The BBC attracts certain issues: security was a driving force for the whole of the envelope, including the rank of slim Boon Edam revolving doors which sit under the curving glass facade of the 'cyclorama'. In the home of British broadcasting acoustics might also be expected to play some part: live broadcasting studios alongside the facade are all structurally isolated from it, with an additional layer of windows. So it was meeting rooms alongside busy roads, or in one case suspended in a bridge, that raised acoustic attenuation requirements which were between 38dB and 50dB.
Perhaps the window that will get the most public attention is that on the ground floor of the now-pedestrianised street in front of the entrance. But people peering through the glass here are more likely to be staring through to the screens and reception of the BBC than examining the details.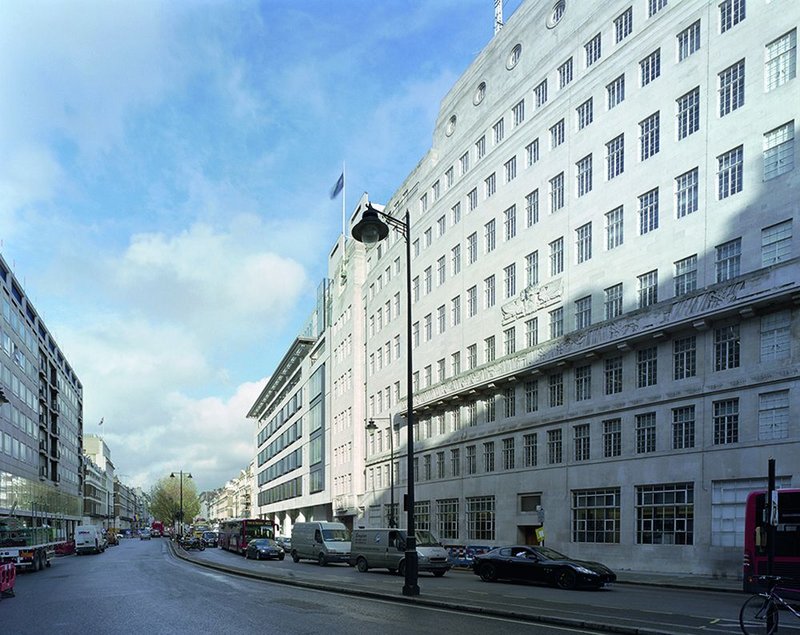 The delicate metal-framed windows of the 1931 Broadcasting House on Portland Place with the extension beyond.
---
Maik Pinkert
Technical Director,
Schneider Fassaden
'This project took a lot of technical resource,' explains Maik Pinkert, technical director, Schneider Fassaden. He is used to architects wanting their own bespoke profiles rather than those from a catalogue – Schneider has its own factories in Germany and Poland which can assemble anything from steel to timber windows. The challenges on Broadcasting House concerned the scale and variety of the units. The prefabricated windows had their own issues. 'They were very big, heavy units and the heavy glass pane meant there were structural issues,' says Pinkert.
---