The 588-home scheme by the London Olympics site also includes studios and coworking space in answer to concerns that the area's rapid transformation is simply gentrification
Fish Island is one of those places where even the industrious chroniclers of Google Street View struggle to keep up with the pace of change. Navigate up one quiet backstreet and the camera-car shows a battered landscape of industrial sheds in metal-fenced yards. Glance back down the street, and it's miraculously lined with new housing that has mushroomed in the aftermath of the London Olympics, just across the River Lea to the east. For architect Haworth Tompkins, key priorities were to establish a plausible sense of continuity with the wider city and to provide the basis for a new community.
Comprising 588 homes for 1,000 residents together with extensive workspace, Fish Island Village replaces single-storey sheds on a 2.23ha site bounded by the busy A12 to the west, and the Hertford Union Canal to the north, across which lies Hackney Wick.
Haworth Tompkins was appointed as masterplanner when its client, Peabody, acquired the site from another developer in 2014. It came with outline consent for a masterplan by Stockwool Architects, which set out many of the main urban design moves evident in the three-phased scheme, which is now complete.
On the waterfront sits Neptune Wharf, comprising three large courtyard blocks designed by Haworth Tompkins, as well as a public square with a smaller freestanding building by Lyndon Goode Architects. To the south, they face another pair of long perimeter blocks across Wyke Road. Half of one of these blocks has been delivered in this project, to designs by Pitman Tozer Architects. In their massing and organisation, these various pieces are articulated as 21 distinct 'buildings'.
Though Haworth Tompkins adjusted some proportions and the placement of through-routes, as well as dwelling layouts, it was happy to adopt the urban intentions of the existing scheme. 'We thought the "Nolli plan" [a two-dimensional plan showing flow of space] was doing all the right things,' says practice partner Graham Haworth. 'It opened the site up to the canal and had permeability through each of the courtyard blocks, with open spaces that tapped into the heritage of Fish Island.'
More significant changes concerned the buildings' use and architectural character. Funds available from the Greater London Authority and the EU provided a strong incentive to include creative workspace, and Peabody appointed social enterprise workplace provider The Trampery as operator early in the design process.
To accommodate this, Haworth Tompkins flipped the buildings' section diagrams. Where the earlier proposal had conventional single-storey commercial units in the base and some high-value two-storey penthouses on top, the buildings now have a 7m-high base, allowing light-filled studios and the insertion of mezzanines as required. 'That gave us a greater quantum of commercial space – about 30 per cent,' says Haworth.
In all, the scheme provides 5,522m2 of studios, coworking space and shared facilities for fashion and digital designers, fitted out by architect Bureau de Change. Its dark-hued interlaced timberwork references the history of weaving and dyeing in the area.
When fully occupied, there should be about 200 people working on the site – quite an increase on the 'six guys and a forklift' employed there in its former life, notes Haworth. That emphasis on employment is one of the principal ways in which Peabody, its design team and the planning authority, the London Legacy Development Corporation, have attempted to answer concerns that the rapid transformation of Fish Island and Hackney Wick is simply gentrification. Before the Olympics, the area had one of the highest concentrations of artists in Europe. Tenure mix is another safeguard. Peabody substantially increased the proportion of affordable and shared ownership housing in the scheme, to 25 per cent.
In the buildings' appearance, too, there's an earnest effort to make something that is of its place – 'They needed to be visceral and tough enough for Fish Island,' says Haworth. Informed by examples such as the Cadix regeneration area in Antwerp's docklands, the architects sought to create an underlying consistency, but with just enough variety to mitigate against overbearing scale.
For the 13 blocks of the first two courtyard buildings, Haworth Tompkins developed four distinct types, responsive to different conditions but sprinkled across the scheme and further enriched by the use of six different bricks and a mix of grit-blasted, acid-etched and fair-faced concrete. One has an expressed concrete frame with brick infill, inspired by a former industrial building that faces onto the River Lea at Old Ford Locks, which will be recognisable to anyone familiar with the area. It was tricky to achieve, given the cold-bridging issues. The second, with projecting balconies, took more indirect inspiration from canal-side architecture and is referred to as the 'Wharf' type. Another type evokes the industrial heritage of east London in a more general way. 'We call it "Clerkenwell", says Haworth. 'A very simple flatted factory look.' The set is completed by 'stacked maisonettes' facing onto Wyke Road.
Some different accents have crept into the last courtyard building, completed in the project's third phase. On the waterfront there's one corner block in white brick, and another with large arched openings in the base, and a shiny crown of glazed brick. Aligning the grim A12, it's a cheery and distinctive marker for the whole scheme.
While the overall impression is familiar, the expression of the buildings bears little relation to the immediate context, as found. 'We had to make a judgement about the place in terms of what was good about it,' says Haworth. 'It's a reinvention of something that's there in the wider area, but quite selective.' Street patterns reinstate the 19th century urban grain, and the buildings' composition and material character show commendable concern for appropriate scale and robustness in planning and construction.
'We're interested in buildings that are loose-fit, baggy, and can be knocked about a bit and accommodate change – which is difficult in residential architecture,' says Haworth.
You don't have to go far from Fish Island Village to find places where a similar palette and historical references have been used as a planner-pleasing disguise for much less sensitive development. 'There's the Weetabix London vernacular where everything is grey and brown; wholesome but not interesting enough,' says Haworth. 'Or people put a cornice line at six storeys to justify the composition because the building's got a base, middle and top, but it's 20 storeys high and the street's 20m wide. Justified by viability, the city's 'vertical hold' is going; I don't think it makes very convincing neighbourhoods, whereas the height limit of six to seven storeys imposed here by the LLDC has pushed things up a bit but is still really appropriate to London.'
Density is relatively high – despite the amount of workspace, the scheme provides 264 dwellings per ha – but not obviously so. Wyke Road is just 12m wide but doesn't feel tight. 'Daylight to the flats is still good,' says Haworth. 'And overlooking is manageable.' Homes range from 37m2 studios to 130m2 four-bed maisonettes, with the largest number being 50m2 one-bed flats.
The courtyards are on the small side as amenity space for 1,000 residents, but they are a stone's throw from two large public parks and the newly accessible canal side. There's more communal space on the roofs, too, including allotment gardens planted with beans and tomatoes. 'You can pop up there with the kids after work and meet the neighbours,' says Haworth.
And each of the 588 flats has some private outside space, which varies in nature according to context; homes next to the A12 have enclosed winter gardens. Haworth is particularly pleased with flats whose inset balconies are accessible from a living room and two bedrooms. 'The living room also has a window on the facade, getting full sunlight, rather than sitting behind the balcony and shaded,' he says, 'but you're also getting light into the balcony itself and the rooms around it.'
It's an approach the practice has struggled to realise on other schemes. 'Peabody gave us a relatively free hand – it was a time when we weren't under such great pressure to hit all these efficiency factors and form factors,' says Haworth, as though recalling some distant golden age rather than recent history. 'It's amazing how much things have tightened up, particularly in residential architecture.'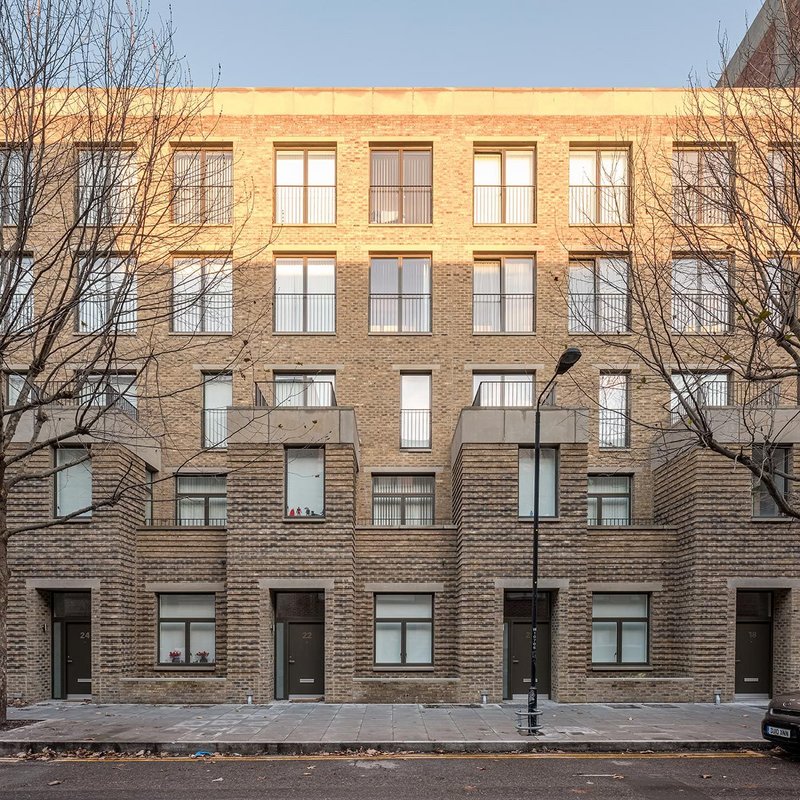 Stacked maisonettes on Wyke Road.

Credit: Fred Howarth
Another of Haworth's highlights are the terraces of 'stacked maisonettes' on Wyke Road, where some of the affordable housing is provided: three-storey 'townhouses' with three-storey apartments above. 'They are super dwellings – a bit like the buildings we did at Coin Street – and not at all squeezed,' he says.
Across the scheme there are subtle differences between affordable and market sale housing – the latter tends to be closer to the water – but in essence it is tenure blind. With striated, heavily modelled brickwork and deeply recessed doorways, the new street facade conveys a reassuring sense of solidity and permanence.
Though the buildings seem firmly established, Haworth is aware that the success of the scheme will only be proved in time. 'We are not complacent,' he says. 'There's still a lot of jeopardy: the proposed school opposite our third phase might not go the way we expected, or a planned footbridge might not go in.' As so much depends on what happens with surrounding sites, Haworth Tompkins and 26 other practices working in the area formed a Retrospective Masterplan Team to share knowledge across the red lines of property boundaries.
'In terms of architectural character, we've now made one piece of that jigsaw quite concrete and certain, and hope that what follows will evolve from it,' says Haworth. 'It'll only be in 20 years that you can really see how it works as a neighbourhood but with the mix of uses, public realm and urban form, this is our best shot.'
Credits
Architect Haworth Tompkins
Structural and M&E engineer Sweco (MLM)
Quantity surveyor, contractor Hill
Landscape architect Farrer Huxley Associates (design), Place design & Planning (contract)