An exposed site, protected views and exceptional client demands haven't prevented Simon Conder Associates from producing another green home that takes its sustainability strategy to the next stage. In fact, it helped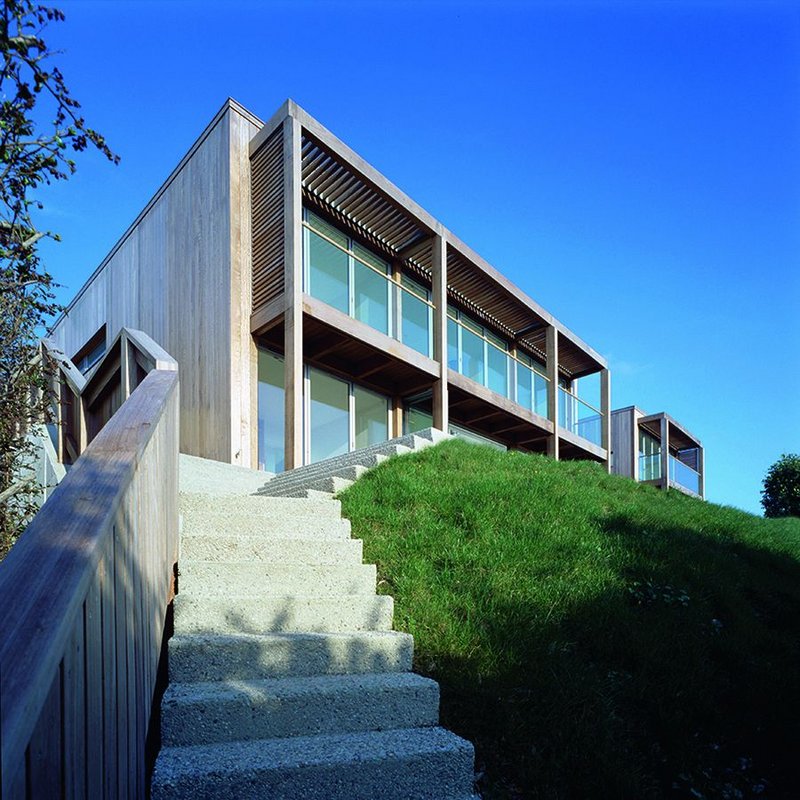 Porthtowan's timber verandahs work to address solar gain on its south facing facades.
Nestled into a south-facing hillside overlooking the Cornish village of Porthtowan, with dramatic views down to its beach and the sea beyond, Simon Conder Associates' 2012 Manser Medal-shortlisted houses 'Malindi' and 'Providence' are designed to take full advantage of their unique hilltop siting, with strong, minimal architectural volumes, all achieved in the architect's signature style.
But the architect is concerned with far more than just aesthetic agendas here. Although the two houses occupy an exposed south-facing site buffeted by extremes of rain and wind at times exceeding 100mph, they are designed to perform to Passivhaus standards, minimising both the use of fossil fuels and energy costs. Conder has drawn on the lessons learned on his first Passivhaus, Mill Orchard in Suffolk, built in 2011; and this Cornish pair represents a step change towards the design of his next house in Sussex, which is in planning. Completed this year, the Porthtowan homes form a narrative of Conder's efforts to fully integrate sustainability concepts within his own distinctive aesthetic. The client was a couple, both management consultants and Conder explains that the original brief for the design was actually a book – compiled by the clients over three years. In it they analysed everything about what they wanted from the homes, including local precedents. While almost obsessive in its detail, Conder says it helped drive the design to produce a home that would meet their needs. The architects' problem then was to ensure that the building's design and fabric then met their onerous environmental performance demands.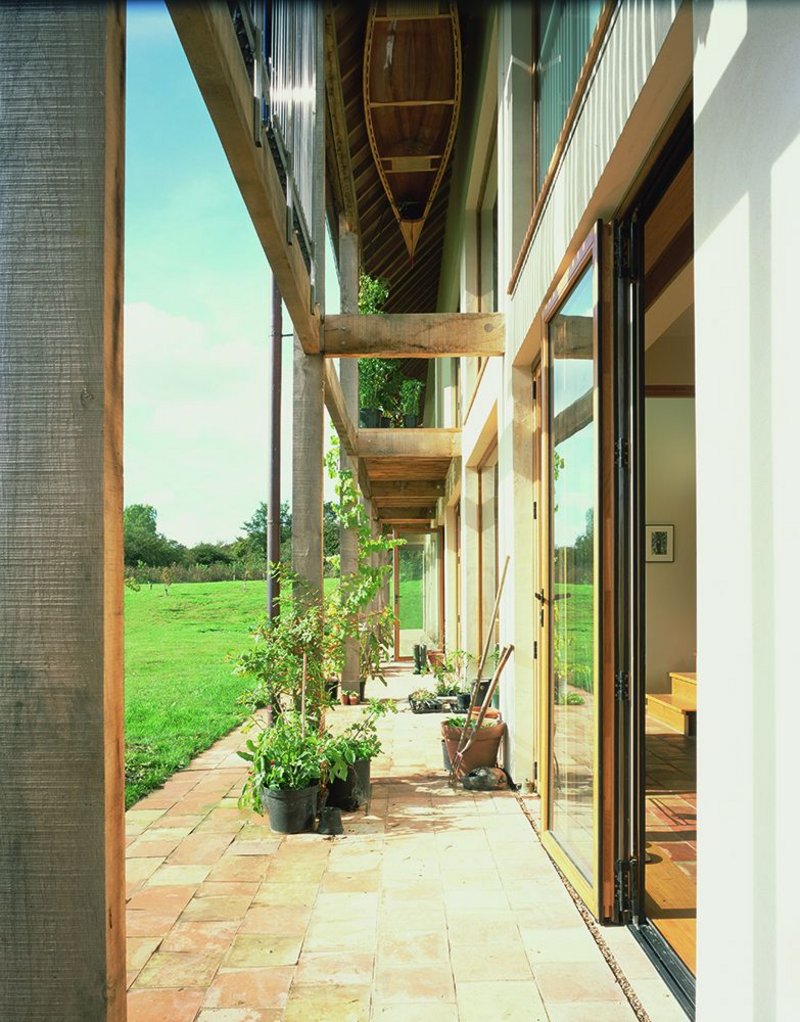 Similar techniques were employed on Condor's earlier Mill Orchard in Suffolk.

Credit: David Nicholson
Working with the neighbours
The houses share the same materials, if slightly different functions. The larger, Malindi, serves as a family home for the clients and their children, with bedrooms upstairs and double height living spaces below, enjoying the situation. Providence, immediately adjacent, acts as a private artists' studio as well as being an independent space for visiting guests. Both houses replaced 1950s homes that were part of a bigger enclave of suburban bungalows straddling the top of the hill. The need to maintain these residents' views meant the new buildings had to appear to be no higher than one storey high, and to have no pitched roof that would impinge on them. This resulted in the characteristic stepped section running down the hill from the street, the back of the house opening out to the dramatic sea views and the elements.
Conder says his inclination has always been to keep structure simple, and to not 'mix and match' materials – something exemplified beautifully in Mill Orchard with its thick load-bearing brick walls, precast concrete floors and huge amounts of rigid insulation. Based on a long barn, this was partially buried towards the rear with what was effectively a colonnaded wall of glazing to the south. A retaining wall at the back formed of gabions held back the earth, while a second concrete wall was built in front of it to create a ventilated cavity. This used simple fans to feed cooled air to the rear of the house in summer and warmed air in winter. Conder claims this, combined with its south orientation and shading, meant that when winter temperatures drop to -5° or -6°C outside, the house is a constant 20°C.
Similar principles were employed at the Porthtowan homes, even though Conder admits they were slightly more compromised. He blames the way contractors cost projects at tender stage for the eventual need to use a hybrid structure of in-situ cast concrete, concrete blocks and a steel frame – a strategy he usually tries to avoid. That said, and with the principles of thermal mass in mind, he's been characteristically judicious about how this compromise was employed. A 315mm thick reinforced concrete retaining wall performs a structural function on the 1:7 slope and withstands pressure from the groundwater on the exposed site. Reinforced concrete slabs make up the floors, sitting within a steel structure, with concrete block walls. Increasing thermal performance, rigid insulation predominates.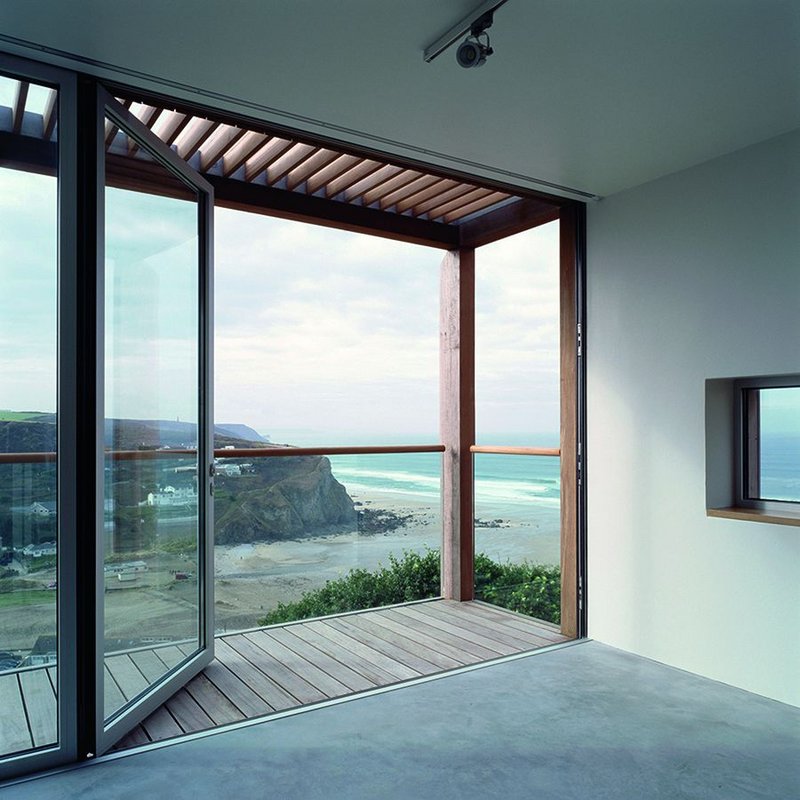 They also provide exterior space, allowing contemplation of some amazing coastal views.
Heat and light
Two main methods of mitigating heat build-up have been employed. The FSC certified iroko hardwood verandah shields the glazed elevation from the strongest south light, mimicking Conder's earlier Mill Orchard project. It is designed using the simple diagram of sun angles – 60° to ensure direct sunlight does not enter in summer, while at 22° the sun's rays reach into the back of the house. On the south, a double-glazed, low 'e', argon-filled and thermally broken Schueco ASS system is used, with a typical 'u' value of 1.2W/m2K. Conder designed in a glazed courtyard as well, which aside from creating a good quality of light deep in the plan, can be opened to allow cross-ventilation through the buildings' living spaces. With windows pierced in the side, there's ample opportunity to reduce internal heat gain should it occur. While the glazed walls lead to a certain amount of overall heat loss, the building is performing 78% better than Part L regulations require, even without considering the thermal mass component, which brings it up to 90%.
With the building's structure performing as it does, the underfloor heating system needs only to be fed by the Viessman solar collectors positioned on the iroko timber roof deck. These also heat the homes' hot water in large storage tanks in the utility rooms. Any other residual heating requirement is met by a wood-burning stove supplementing the passive solar gain. With the homes' performance as it is, no PVs have been used here, and Conder admits that on other projects they remain a bugbear of his: he is still trying to find ways of successfully integrating them into a building's fabric, although he likes recent developments in clear class PVs. By necessity, they are part of the sustainability strategy for his latest private house in Sussex, which is now going through planning.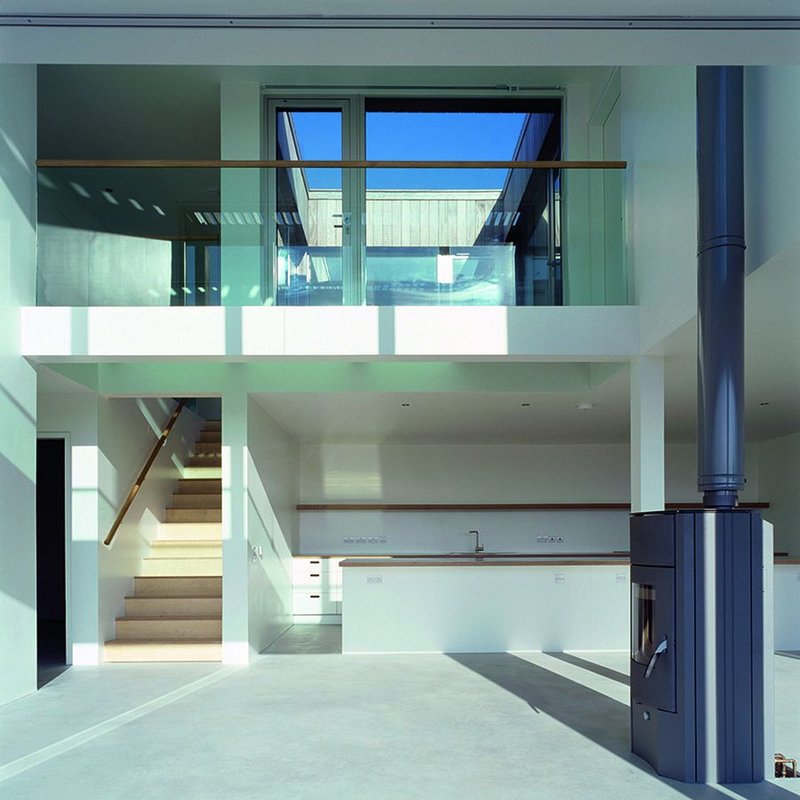 Besides creating a more complex architectonic volume, the upper level courtyard serves to cross-ventilate the building, reducing heat build-up in the summer months.
The Porthtowan houses were procured under the Intermediate Form of Contract – less simple than the Cost+ contract Conder used on Home Farm. But despite poor ground conditions, real site access problems and issues with steelwork, the concrete and timber finishes ended up looking good. In all the combined 327m2 surface area achieves an energy performance certificate of 'A' with total annual CO2 emissions of 5.4kgCO2/m2 – the high build quality and sustainability features reflected in its £2,500/m2 cost whole life build cost, to meet Code level 4.
It is only on the latest project that the firm has engaged a sustainability consultant. Conder describes his sustainable design until now as largely intuitive, based on freely available advice: 'It's almost embarrassing to think that when we started in the early 1990s we were sublimely ignorant of sustainability issues when we were talking about old fashioned values of light, space,volume, etc,' he concludes. 'But we face an extraordinary challenge – how do you create sustainable buildings with little money or mechanical input?' Porthtowan has taught him many lessons. And with his latest Sussex house, which has by necessity been a belt and braces approach (see box), it seems Conder has finally risen to the sustainability challenge.