The famous modernist hamlet at Cap Moderne is being restored for opening to the public. Hugh Pearman strolled down to see
It's one of the great collections of modernist buildings, art and craft, and undoubtedly the quirkiest: and now it is finally open to the public to visit as restoration proceeds. Eileen Gray's pioneering house E1027, built with her architect lover Jean Badovici at Roquebrune on the French Riviera in 1926-9, forms a group with a 1949 prefab holiday home/bar/restaurant owned by local plumber Thomas Rebutato, 'L'Etoile de Mer'. That in turn was joined in 1952 by Le Corbusier's famously minimalist holiday hut, the 'Cabanon' (with a communicating door to the restaurant). And finally in 1956, in exchange for the land on which he built the Cabanon, Corb built Rebutato a brightly-coloured row of five holiday huts ('Les Unités de Camping'), looming right over E1027. They took the basic idea of the Cabanon and extruded it into a terrace.
This modernist hamlet is what I have come to see, and it's with growing excitement that I walk down the half-kilometre path from the station to get to this isolated place. It's still isolated, despite having been surrounded by development as the Riviera was discovered: at the time Gray was a pioneer. There was nothing else here – the village of Roquebrune was inland. But the steep rocky site descending through lush vegetation to the truly azure sea means that privacy around E1027 is preserved. Even at the gate to the property, you can't see it: the path steps and twists down, finally arriving at a terraced garden in which the house sits.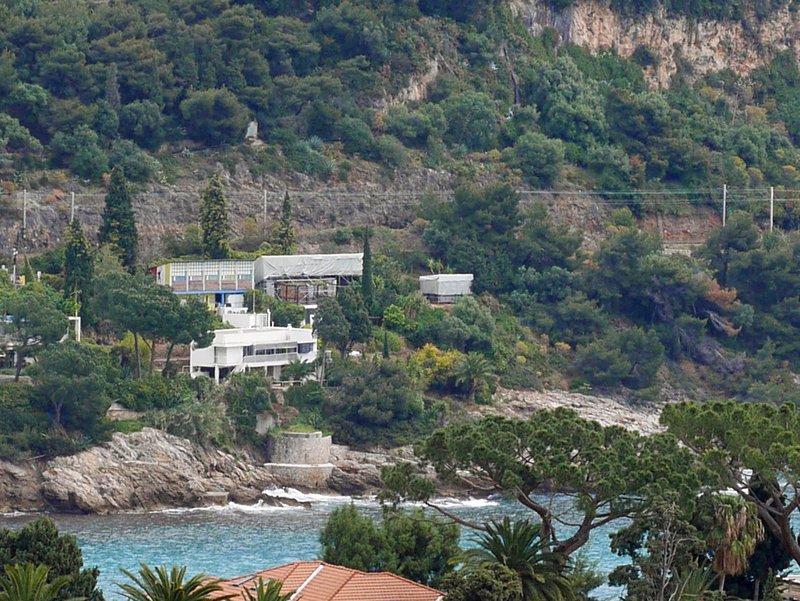 The group from afar. Looming above Eileen Gray's E1027 is Corb's row of holiday huts: on the far right is Corb's Cabanon under restoration.

Credit: Hugh Pearman
Corb's actions are often seen now as a kind of cultural vandalism and it didn't stop with his buildings: he splashed his sub-Picasso murals all over the interiors of both the restaurant – where they didn't matter – and Gray's house, where they did. He liked to do his painting in the nude, as photos of the time attest. In fact, it must have been a bit of an occupational hazard for the locals on their way to the bathing beach – the fateful bathing beach for Corb in 1965, where he drowned - to encounter the leathery modernist in the buff. Never mind the nudeness, why didn't Gray or Badovici stop him taking over their house? Because Gray had split up with Badovici only two years after the house was built – arguing over how it was to be used - and gave it to him. Corb was a chum of Badovici, and was allowed to do pretty much what he liked.
Corb obviously wished he'd built it and certainly learned from it, just as Gray herself had learned from a house he had built his parents in 1924 on the shore of Lake Geneva. Still, after all the ad-hoc agglomeration, there came a time in the late 1950s and early 1960s when the complete mini-complex was functioning (without Gray) as a congenial whole, a holiday hamlet where the family and friends of Corb, Badovici and Rebutato plus their guests in the camping huts made a kind of commune, meeting at the Etoile de Mer. But once all the original protagonists had departed, the place gradually declined. By the 1990s – just as the rediscovered Eileen Gray's reputation was once again sky-high – her house was empty and periodically squatted.
Now officially part of a protected historic site, the house has undergone a long and controversial restoration, run remotely by state officials, which seemed not to fully understand the spirit or technology of the place. But since last September it has been in the hands of a trust, the Cap Moderne Association, with a good conservation architect, Claudia Devaux, overseeing it. Designer and modern furniture retailer Zeev Aram – who knew Gray at the end of her life and who is licensee for many of her key designs – has acted as consultant and donated furniture. The trust is chaired by locally-based British businessman Michael Likierman, with Rebutato's son Robert as vice-chair. Likierman – who once ran Habitat's French operation – has brought commercial nous to the project, set up an endowment fund, and commissioned plans for a new museum in a railway building by the station, and a visitor centre on the site of a later house nearby. He has also set up a group of independent experts to advise on the continuing restoration of the complex.
The house – small but with enormous presence, thanks partly to its steep and elevated site – was even better than I had hoped. Here, for all the deck-rails and awnings, the ocean-liner aesthetic is not cliché'd. Long and narrow, presenting its flank to the sea while making cool secretive places behind and beneath, it is a completely masterly sequence of internal and external spaces. Inside, enough remains of Gray's built-in furniture to give a feel – along with loose furniture by Aram – for the atmosphere of the place. The mix of private rooms and shared space is adroitly handled. And the way Gray extends a narrow concrete spiral stair up through the flat roof, turning it into a delicate glass-and-steel conning tower, is a lesson to all architects.
So too is the way the glass wall to the living area concertinas back, opening up to the balcony and the Mediterranean breezes. Bifold patio doors are everywhere now – but few can compare with this 1920s example. Meanwhile Gray adopted a North African aesthetic for her sliding timber shutters on the exterior.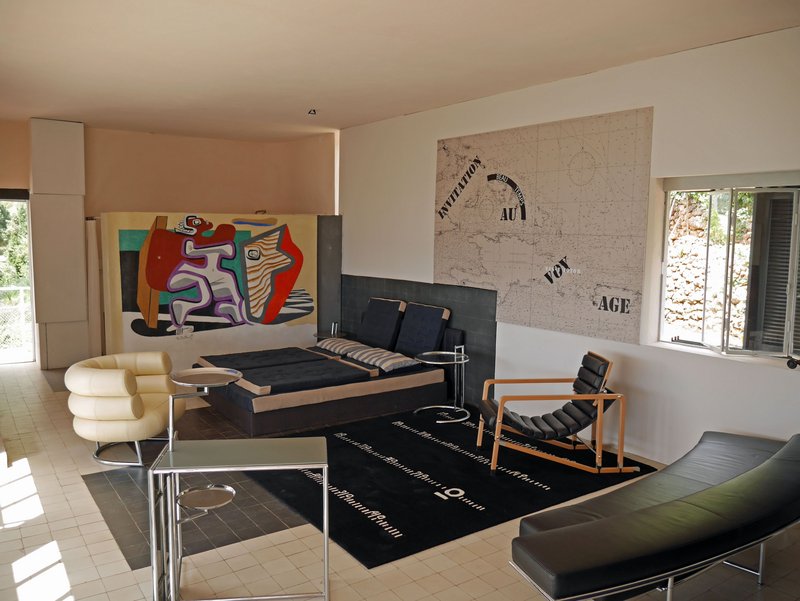 Main living area with Aram-donated furniture

Credit: Hugh Pearman
As for the Le Corbusier murals, well, I don't think they are right for these interiors – they are an irritation, a distraction, in a way, a macho imposition on something far subtler – but they are an intrinsic part of the house's history, and no way will the French authorities countenance their removal.
The gardens are being restored . There's a debate over whether to remove trees which have grown up in front of the house. Of course I wanted to see the Cabanon – particularly in view of our competition to design a new minimalist living space inspired by it, which closes on May 11. But it and the Etoile de Mer were shrouded in plastic as asbestos removal takes place. Repairs are also in progress on the camping cabins: they too will open later.
Still, now you can book visits. Parties of not more than 18 will be taken round. Visit www.capmoderne.com for details. And you still have a few days to enter our Cabanon-inspired micro-architecture competition – entries close on 13 May.
---