Tadao Ando's assured touch leaves the enigmatic Casa Wabi to simmer in the Mexican desert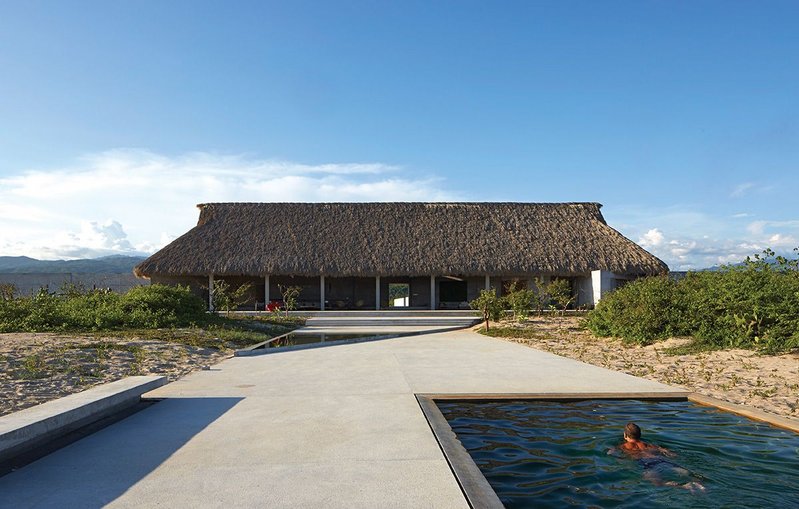 Casa Wabi viewed from the beach. It took 18 workers more than two months to weave 40,000 palm tree leaves to construct the roof.

Credit: Edmund Sumner
A concrete jetty perpendicular to the wall carries a dipping pool, long and thin, into a craggy landscape peppered with flamboyan trees, maguey plants and other cacti. Approaching Casa Wabi from the beach in 30°C heat, it is hard to resist the urge to dive in. A lonely crab scuttles alongside the windbreaker screen. The wall is sticky to touch: the concrete is sweating.
Casa Wabi, a multi-disciplinary arts centre with residential accommodation for six artists, is Tadao Ando's latest export to Mexico. Feeling like one of the apes in the opening sequence of Kubrick's film 2001: A Space Odyssey, I retract my hand and instead inquire into Ando's enigma.
Locals here on the Oaxacan coast, an hour's plane journey from Mexico City, prefer to use something more malleable and easy to build their houses – parota, a hardwood, for structural support, leaves from palm trees for roofs and stems to decorate walls.
Vernacular palapa construction roofs also feature alongside concrete at Casa Wabi, as well as the traditional open-sided structure. The Japanese architect has elevated the roof to create a gap between it and the concrete form so that they never touch. In Ando thinking, 'the open space unifies the two essences' – ie 'traditional' and 'contemporary'.
'I admire Ando's use of raw material, which gets better with age,' says the New York-based Mexican artist and founder of Casa Wabi, Bosco Sodi, explaining why he commissioned Ando.
The brutality of exposed concrete resonates with the earthiness of the thatched pitched roofs. The void between them is pleasing, its execution immaculate and sophisticated. The main concrete screen separates public areas from the private elements of the winged complex sprawled across the flatland, but the programming is not so clear cut. The wall traverses an expansive, semi-outdoors communal room where meals are taken together on a long table and Mezcal drunk until the leaves on the giant palapa roof start shivering in the midnight breeze.
Inside, two freestanding angular pods accommodate Sodi's private living quarters. The interior is left in raw concrete enhanced by perota wood fittings and the structural undersides of the pitched roof thatching left exposed, faithful to the traditional format.
Casa Wabi had originally been envisaged as a retreat for Sodi and his artist friends, and as a host Sodi wanted to be at the centre of things, welcoming the guests. However, when Patricia Martin, a well-known art curator from Mexico City, was appointed as director of the foundation, everything changed. Martin hired two local anthropologists, Genaro Guevara Cortina and Denise Lechner, to connect the artists to the locals and vice versa. Community engagement is now a vital part of Casa Wabi's residency programmes.
And so, with assistance from Martin, Guevara and Lechner, a synergy of the most beautiful kind is emerging at Casa Wabi between 'traditional' and 'contemporary' forms of architecture and community. With this in mind, Ando's enigma is dissolved.
Yuki Sumner is a writer on architecture
---