Maggie's Nottingham has been the subject of an unusual post occupancy evaluation. This one set out to put a monetary value on the building's social impact, as experienced by its users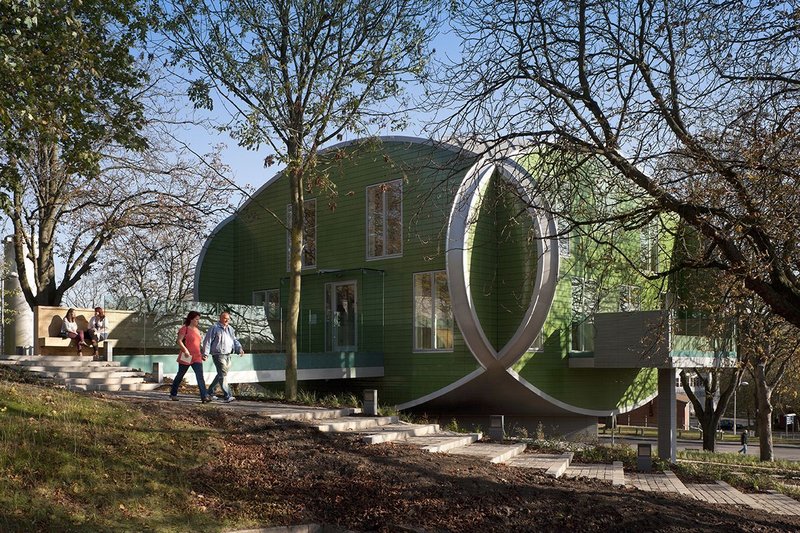 CZWG's Maggie's Nottingham was the subject of a study on how to capture the social value of projects.

Credit: Martine Hamilton Knight
Designed by CZWG in 2011, Maggie's Nottingham provides free practical, emotional and social support to people with cancer and their families. The centre is designed to be a striking and uplifting space while also creating a welcoming, comfortable and homely feel.
The building, a bright green, domestic scale structure with interlocking and curved external facades, sits among trees on a sloping site within an NHS hospital campus. It has a bridge entrance, a sociable kitchen space with a large kitchen table, several small sitting room spaces, a library, a set of small private spaces upstairs, an activity room and a small staff office. There is plentiful natural light with large operable windows offering views to the trees outside. The kitchen opens onto a spacious balcony.
The interior design has a non-institutional style with plaster walls and ceilings, an oak floor and familiar domestic furnishing.
With funding from the Economic and Social Research Council (ESRC), Kelly Watson from the University of Manchester worked with Arup to trial social return on investment (SROI) as a post occupancy evaluation (POE) methodology at Maggie's Nottingham as a way to investigate and capture the social value of the project.
SROI is a framework for measuring a much broader concept of value than is captured in traditional financial accounting, including social and environmental costs and benefits. The approach tells the 'story of change' that has been created by a particular activity or intervention and describes outcomes for those involved in both words, data and, crucially, in monetary values. It has been used in other contexts, most notably the housing association sector, but has never before been applied to architecture.
SROI involves the quantification of social outcomes identified through qualitative stakeholder engagement.
Financial proxies are applied to the results which are presented as a monetised ratio of £ costs per £ of social outcomes. This means that the social returns per every £1 spent on a project can be disseminated and the payback period can also be calculated.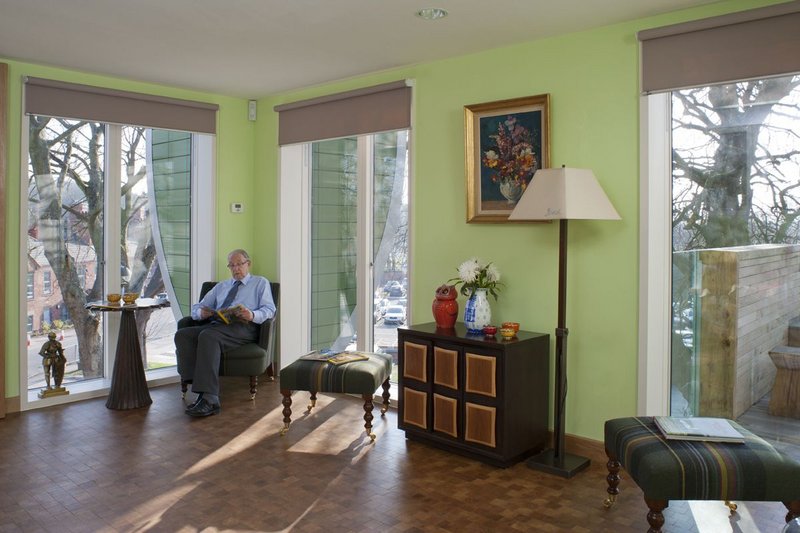 Social value was translated into a monetary value. This allows the social return on the project value, as at Maggie's Nottingham, to be calculated.

Credit: Martine Hamilton Knight
The SROI methodology has six stages:
1 Establishing scope and identifying stakeholders
2 Mapping outcomes
3 Evidencing outcomes and giving them a value
4 Establishing impact
5 Calculating the SROI
6 Reporting, using and embedding
The analysis was carried out over six months, five years after first occupation, through a series of interviews with the project team and centre manager, focus groups (visitors, centre staff, session leaders and volunteers), a series of user surveys and by applying monetisation techniques to the quantitative results.
The SROI analysis produced a range of different data including qualitative narratives, quantitative user feedback and financialised returns data. This proved very useful for communicating effectively with different audiences.
The total impact of the design of Maggie's Nottingham for the building users was found to be £134,800 per year, projected to £3,572,800 over the 60-year lifetime of the building using HM Treasury discounting rates.
Of the outcomes of the design reported by building users, the ones with the most significant value were wellbeing and performance related. Important design features reported included:
the non-clinical, homely environment evidenced by preference for interacting at a kitchen table rather than a desk;
the variety of both social and private spaces, eg open plan kitchen area and small private sitting rooms providing a range of environments for different user preferences;
the window design and related access to natural light and views to nature, promoted a connection to outside while maintaining privacy;
the quality and choice of furniture and fittings, colourful and quirky, gender neutral, domestic scale lighting rather than overhead strip lighting, surface materials that are warm to the touch.
Applying SROI to the built environment as a form of user-centred POE is worthwhile but time consuming. Consideration should be given to data access issues, the balance between qualitative and quantitative methods used, their suitability to the environments where they will be carried out and the build type when inputting cost data. It was concluded that SROI has considerable potential as an early stage investment evaluation tool for planning and commissioning, rather than as a tool for detailed design decisions.
The findings suggest that investment in professional fees, rather than the contract sum or furniture, fittings and equipment (FF&E) costs, produces the most positive long-term impacts on building users.
This is an extract from Building Knowledge: Pathways to Post Occupancy Evaluation, which will be launched at the Professional Practices in the Built Environment Conference, 27-28 April 2017 at the University of Reading
---