Landscape and building co-exist, complement and collude in New Canaan, Connecticut, where Christina Seilern finds her admiration for Sanaa's values undiminished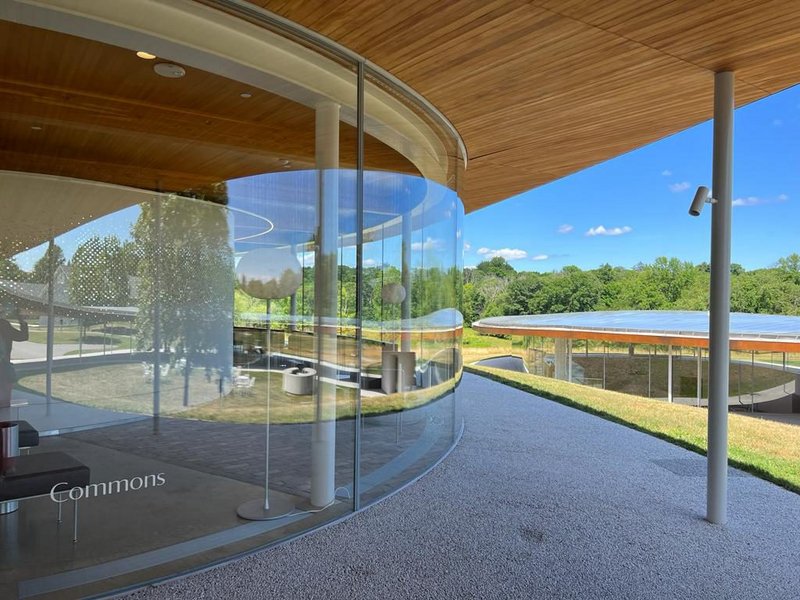 Credit: Christina Seilern
We are contextualists at heart: our work is often inspired by the integration of our buildings into their physical and cultural context. Modulating how landscape can coexist symbiotically with the building is key to our thinking. How is the structure influenced by topography, and how can we avoid disrupting the landscape to allow living flora or fauna to become part of the story we are trying to tell through our buildings? We often try to move away from the idea of a building in a landscape, and turn the formula on its head by thinking of the landscape within a building.
Last week, on a site visit to a large residential building in Connecticut that tackles these very ideas, I went to Sanaa's River building at Grace Farms, set in 32ha of rolling hills in New Canaan.
To keep the land open and protected for the benefit of the larger community, Grace Farms Foundation presented a programme for a building based on its mission – where visitors and congregants could 'experience nature, encounter the arts, pursue justice, foster community and explore faith'. Designed as an architectural river meandering down the rolling hills of the site, the building offers a diagram of four glass enclosed sanctuaries (library, auditorium, community gym and small gathering space) connected by a serpentine covered walkway creating loops and outdoor courtyards. The effect is ingenuously simple, whimsical and delightful; the multiplicity of views framing the landscape amplified feelings of man and nature co-existing in harmony.
The curved glass reflects the sky and landscape in such a way as the transparent volumes practically disappear in homage to its wider context. The refinement the architecture, not reliant on a need for attention or a radical intervention but pure simplicity, makes it new, fresh and timeless. From the highest point of the site, the anodized aluminium roof covering makes it indeed look like a river that shines in a green prairie. The building doesn't just frame the landscape, it intensifies it.
While studying at Columbia GSAPP many years ago, Sanaa co-founder Kazuyo Sejima – young, then unknown, and mind-blowingly talented – gave a small lecture about her work to a class of three of us taking a course in Japanese Architecture. She amazed me then, and still does.
Feel like more architectural travels? Visit the world via postcards here.