With no extra budget for low energy targets, Sheppard Robson avoided importing expensive technologies for Siemens' Masdar HQ. Future investment in the workforce is surely the only real sustainability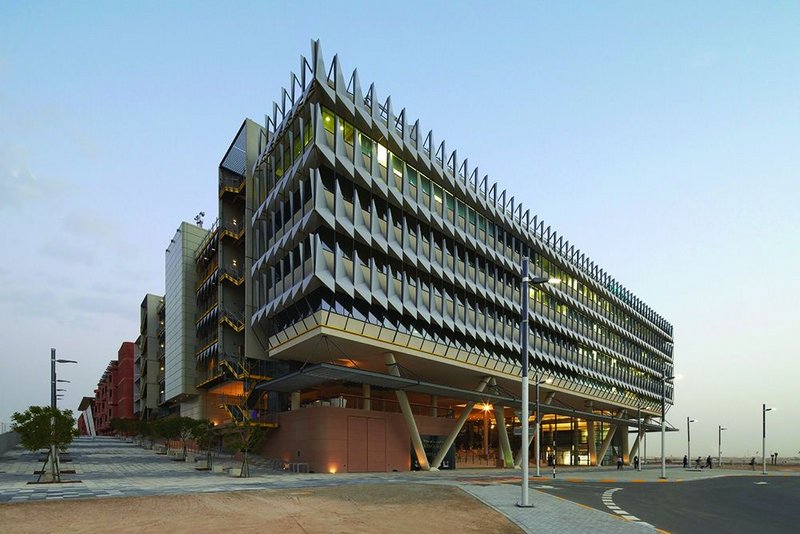 The formal face of Siemens' new Masdar HQ, in preparation for the intended public square to be realised in front as the city is built out.
A distant sight from the Dubai-bound highway, obfuscated in a heat haze on the plane between Khalifa City suburbia and the periphery of Abu Dhabi airport, Masdar City appears at first indistinct on the horizon. Yet on approaching it is revealed for what it is: raised above the flat datum of the desert and standing in relief against its dusty yellow, it configures itself as an isolated citadel of rich terracotta – and, since Sheppard Robson's new regional HQ for German firm Siemens recently completed – of pale, faceted steel.

This illusory first impression, contrasting with the true solidity of this desert development, could be read metaphorically. The creation of Masdar City has to some extent been a game of smoke and mirrors: the concept of a pioneering sustainable city in an aggressive, arid context would seem to an impossible contradiction. Yet since 2007, when Foster + Partners was brought in to devise the masterplan for a 600ha trophy project on the outskirts of Abu Dhabi and to design its sustainability showpiece, the Masdar Research Institute, it has refused, despite a crippling global economic downturn, to surrender itself up to the sands. This latest office building, knitted into the northern edge of the Institute complex, not only generates critical mass for Masdar's sustainability agendas; it's an exemplar of economic viability – which is crucial if the city is to reach its projected 2030 maturity.

To call the Foster + Partners project the Arabian stallion to Sheppard Robson's camel would be trite, but there's an element of truth to it. Conceived in an economic boom, the Masdar Institute was intended to be the poster boy of the scheme. With performance levels 51% better than the 2004 ASHRAE benchmark, and up to 68% better than comparable Abu Dhabi building stock, it comfortably met sustainability criteria – but at a cost. Foster + Partners' commitment to precision-engineered quality meant its signature curved terracotta dormitory and ETFE laboratory facade panels were pre-fabricated and brought to site, with high spec installed mechanical plant imported from the US. Add in the fact that the whole facility was up on a 10m high concrete podium, to be rolled out across the site, under which jetson-like driverless cars of the city's eco-friendly personal rapid transport system (PRT) were intended to shuttle residents and workers from centre to city edge where their cars were parked, the whole thing smacked of blank cheque economics.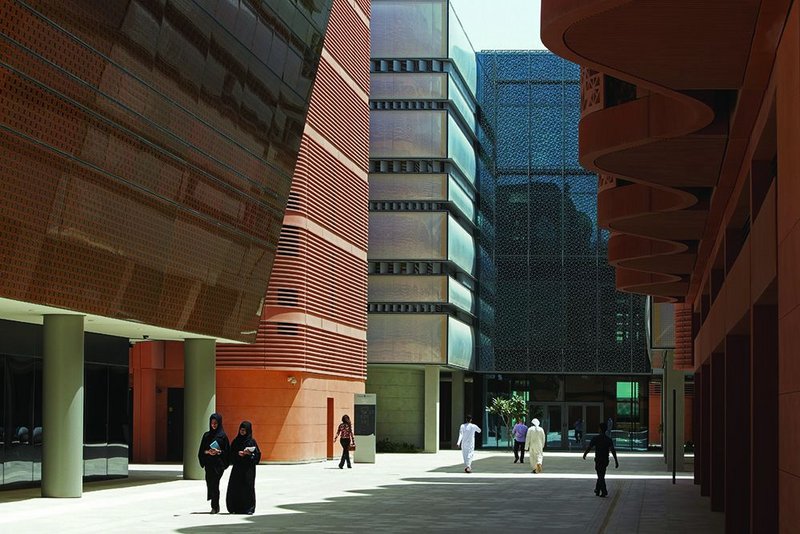 Siemens acts as another city building block attached to the central complex of buildings making up the Masdar Research Institute.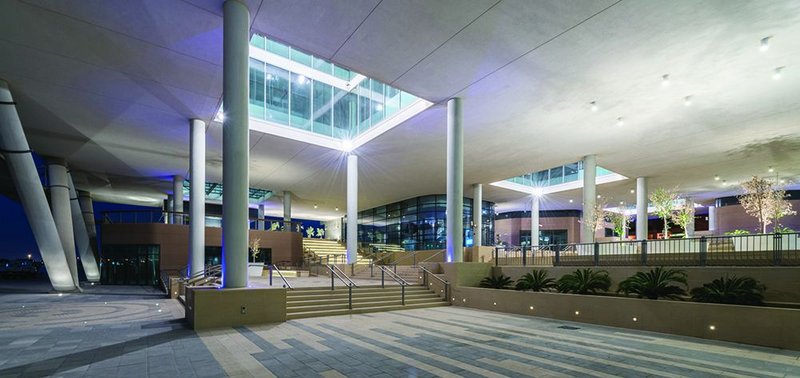 The ramped area below the Siemens HQ not only connects ground with podium with seating and cafés, it provides a comfortable shaded public plaza of itself.
In today's tougher financial climate, the Siemens regional HQ is something of a paradigm shift for Masdar City, involving a reappraisal of all the givens. First, with Google about to launch a driverless car, leaps in hydrogen fuel cell technology and a new urban metro link proposed, the 'closed system' of the PRT has been replaced by an 'open' one, allowing the city to adopt multiple transit technologies concurrently and obviating the need to extend the podium. Second, to reduce embodied carbon, procurement models should encourage local construction techniques and sourcing; and thirdly, government owner/developer Mubadala is expected to step back from its stringent carbon reduction demands to create conditions ripe for 'musataha' third party investment. This last was a self-realisation for Masdar – while born of zero carbon , it has to relax this demand to survive.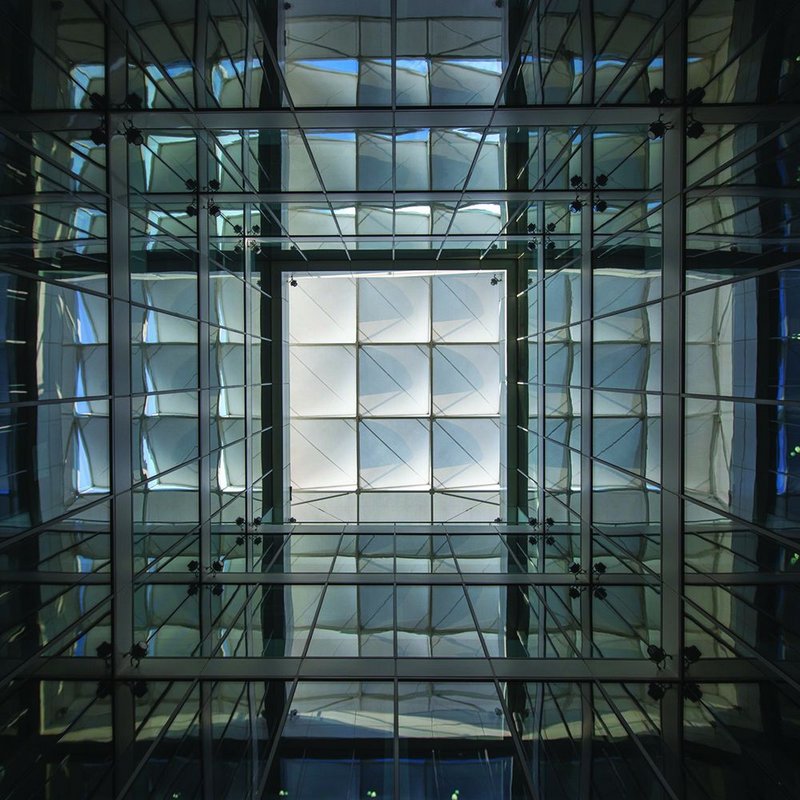 The nine atria, of which the open ones are part of the building's cooling strategy, also mean staff are never more than a few metres from daylight.
Evangelical design manager of Masdar City, which answers to Mubadala, architect Chris Wan, was clear about the terms of Sheppard Robson's challenge – both carbon and cost: he aims to make it sustainable in the long term, based on a viable economic model. For the 22,800m2 Siemens HQ the firm had not only to achieve cost certainty, but also LEED Platinum status which could not come at a premium – the scheme was going to have to compete favourably in terms of build quality and cost with any other downtown city office. Also, in a slump, the practice was given a budget in 2010 around half that of the Fosters building completed three years earlier. Guided by partner David Ardill, Sheppard Robson began an 'inside-out' parametric design process, optimising variables of the 85m by 85m site, its orientation, user requirements, core positions and daylight demands, which was analysed via Masdar's sustainability indices. Ardill says this was interesting, as while LEED criteria are based on energy use, the UAE's Estidama Pearl criteria are water driven, and Masdar's own key performance indicators are carbon-based. At higher levels the standards began to conflict, triggering the search for a 'sweet spot' that optimised all three.

The parametric process ran models for up to 140 floor plates. Then the aim was to close down the design, making later 'revisits' unnecessary. Any design had to take account of the masterplan which is orientated north-west to face the prevailing wind and increase shading levels once built out, but gave the Siemens building a 15% higher energy load than an 'ideal' north-south alignment. A four-storey 4500m2 floor plate of nine atria and six edge cores is raised over a shaded public realm area, ramped up to reconcile the city's new grade datum level with the Institute's podium. Not part of brief or budget, this was subsidised by high 91% floor plate efficiencies, far exceeding the 83% budgeted for.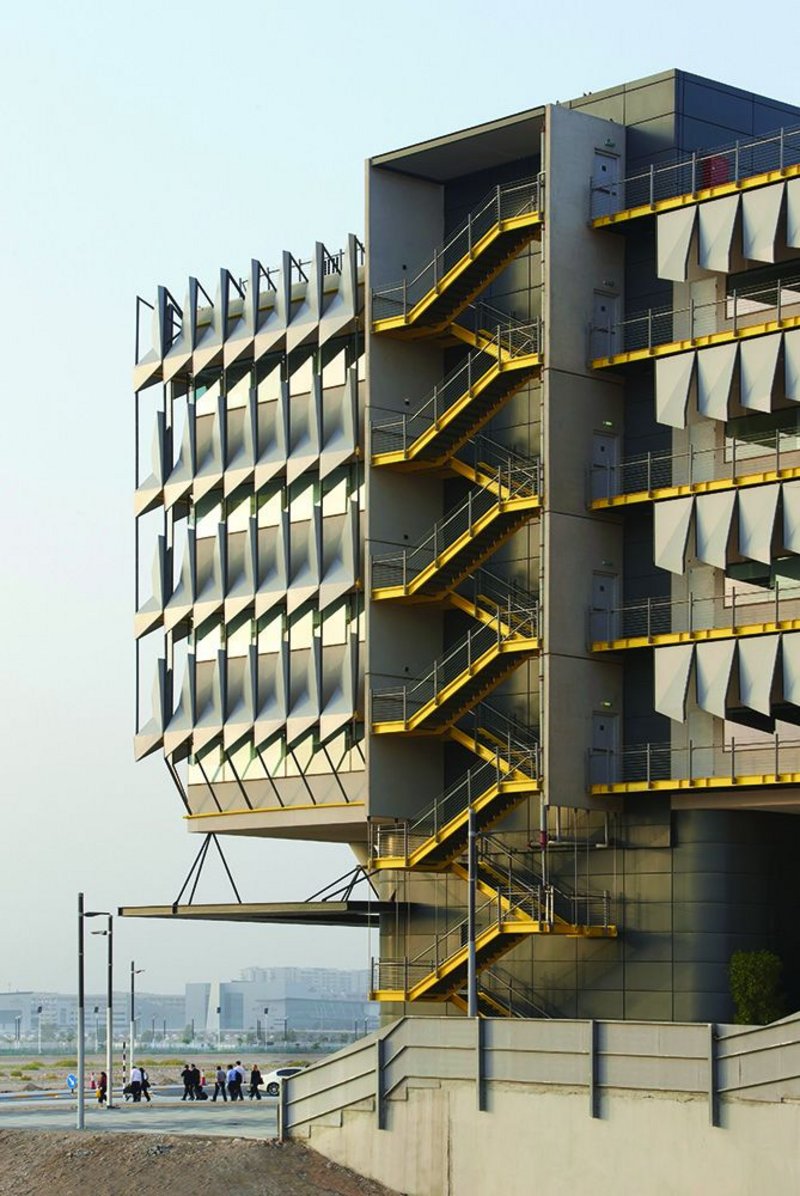 The north-west elevation takes good advantage of its steel sunshading facade to cut out low west light and demonstrates the strategy of the escape stairs, made external to reduce added cooling load on the building.
Sheppard Robson worked with tenant Siemens to understand needs such as hot desking strategies. It chose a 15m structural grid to give column-free office spaces that, with the atria, meant staff were no more then 7.5m away from a natural light source. Siemens' desire for a dedicated entrance meant two cores coming to ground – a narrowing device creating the funnel geometry for the Venturi effect, accelerating the prevailing wind south-east to the podium and up through the three open atria. To lock down costs, issues like glass to wall proportions were almost fixed from the outset, with performance demands setting U-values and daylight, to a ratio of 33%.

Everything about the design has been analysed and optimised, with real effort put into minimising material use to cut embodied carbon. This accounted for the 400mm thick post-tensioned void-formed flat slab – claimed to cut concrete use 55% – and creating clear runs for soffit services. The building volume was tweaked at the earliest stages to give the most efficient wall to floor ratios to minimise external surfaces, and thus heat gain. And Ardill's team obviously spent a few Arabian nights developing the dramatic external steel shading facade. This was folded to keep it thin but strong, and articulated differently on every face to deal with the worst effects of a penetrating sun while maximising views out for users, and removing the need for solar coatings on the glass.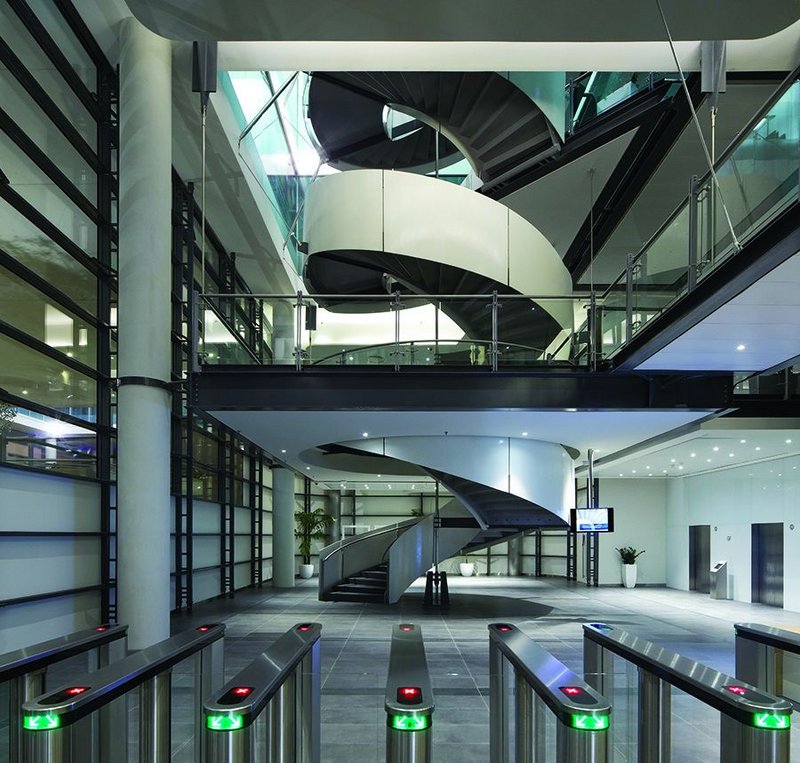 The stainless steel stair and lobby walkways are hung from Macalloy bars, getting the minimum amount of material to work hardest in tension.
Sheppard Robson's approach has been ground-breaking, evolving a strategy that met energy use targets without incurring the carbon penalties of imported systems. Its innovation was to adopt simple, robust, locally available technologies and combine them cleverly, with 'quick wins' and nimble moves. For the facade, decisions like using cores as a buffer to reduce heat gain on sun exposed sides (and cooling load by having external escape stairs) were obvious. But choosing to cast facade upstands in concrete rather than risk air penetration through badly laid breeze block (also giving structural stability), or having glazing units flush with the finished face to minimise sand build-up, were more nuanced. And the decision to use steel only in tension, such as with the suspended spiral staircases was not only elegant: hanging off Macalloy bars meant less use of the material. All had incremental, positive effects on both energy use and cost.

Masdar City director Anthony Mallows concedes that the procurement approach in evidence on the Siemens project counterpoints the Foster+Partners scheme; one opting for the higher cost off-site prefabricated, engineered approach; the other lower cost, but with qualitative constraints of using unskilled labour and local supply chains. But he's aware that if Masdar is to realise its potential as a viable city quarter, it's going to have to be through a combination of the two, stating the city's new story as being 'about the sustainability of the process itself rather than just the buildings and neighbourhoods it produces'.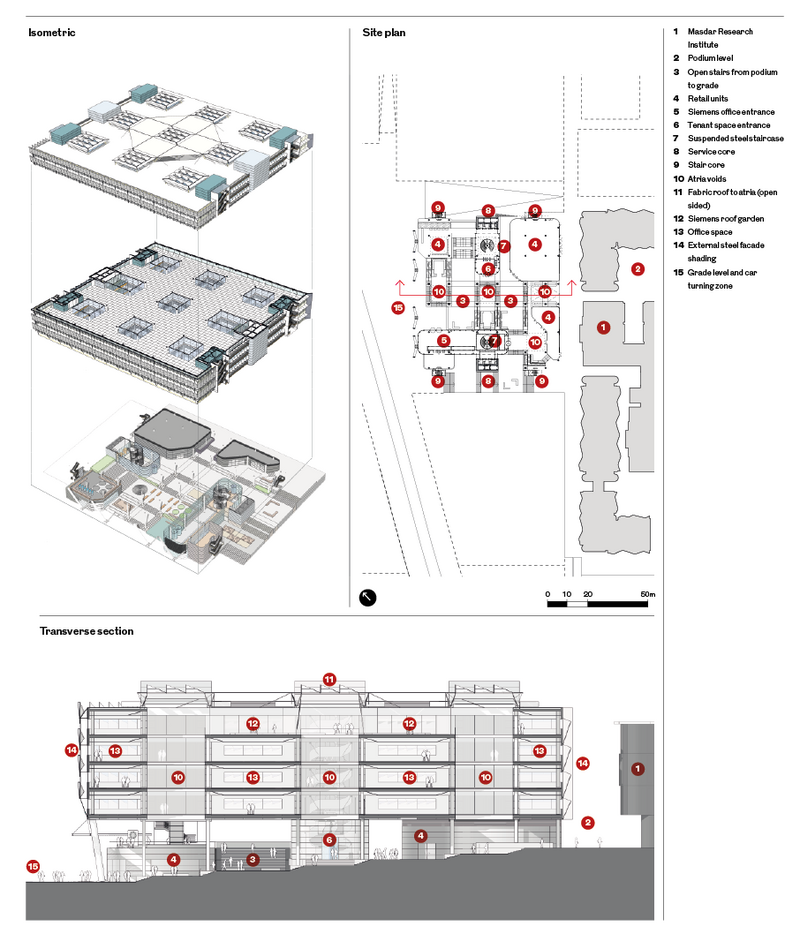 Sheppard Robson's pushing of the low-tech envelope does however raise the question of how far the strategy can be applied. Masdar's Chris Wan – whose mantra throughout was 'Lock the brief. Lock the budget. No value engineering' – is more aware than anyone of the correlation of cost/m2 to use of local labour. Here's a thing; Ardill claims they budgeted for a base build of Dhs7200/m2, but design efficiencies managed to drive the figure down to Dhs6500/m2 – that's £24m rather than £27m, in line with Wan's boast that design and project management together shaved 15% off the budget. It means that an LEED Platinum and Estidama 3-Pearl building was delivered not only on time and on budget, but for significantly less than they expected. That said, Wan admits that most of the 'low hanging fruit' have been picked but he still sees potential in BIM and is aware that future carbon savings from the current 40% to 80% and beyond may only be met by incremental performance as long as the 'sustainability for zero additional cost' status quo remains in place.

By my reckoning then, two scenarios for Masdar's build-out begin to present themselves, both involving additional expenditure. Either the use of unskilled labour is continued and a push made for off-site fabrication to get the requisite quality, or investment is made in the workforce to develop the skills that can be then carried forward into future projects; it's only this way that, say, Masdar's eight residential neighbourhoods which are likely to be procured via third party developers, stand any real chance of meeting sustainability demands. Also, given the UAE's questionable reputation for guest worker treatment, the Estidama Pearl rating's 'social' component – which covers worker rights and accommodation and which Masdar is signed up to – is a real step forward. If this thinking could be combined with a long-term programme of worker training and investment in those building the city, encouraging skills development and transfer across projects, a truly holistic model for Masdar's construction becomes apparent. If this city is really about ground-up rethinks, Siemens could be the catalyst for a social and sustainable approach for the region that would be nothing short of game changing.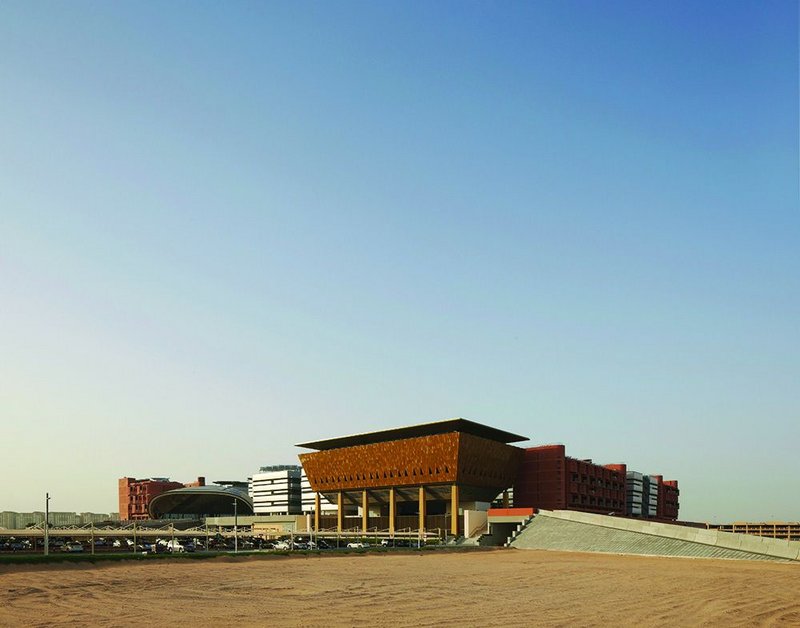 Masdar looking from the south-west – a citadel that wants to be a city. Siemens sits on the opposite corner.
Credits
Architect Sheppard Robson
Structural engineer Aecom
Engineer Aecom
M&E consultant Aecom
Project manager Morganti
Main contractor Al Fara'a General Contracting Company
Suppliers
Concrete/precast Al Falah Ready Mix Factory LLC
Concrete Blocks Hussain Mohd. Abbas Block Factory
Flooring Systems RAK Ceramics (landlord areas only, C&S building)
EIFS System/Insulation BASF
Tension Steel Rods Macalloy
BMS Siemens
FAHU Flaktwoods
Glass Emirates Glass
Gypsum boards Gypsemna
Fan Coil Units Carrier
MEP Insulation Kimmco
Solar Water Heating System HRS