If Cliveden retirement village looks like paradise in a modernist guise, it still isn't tempting enough
Driving along the road to Taplow in Buckinghamshire, we passed the familiar sight of a sign-bedecked entrance to a new housing estate. Countryside Homes, in collaboration with the National Trust. 'Cliveden Village'. Of course! This place has been years in the planning and making, with various architects involved over time, starting with a scheme by Jeremy Dixon a quarter of a century ago. Inevitably it has also had its share of controversy, this being part of the historic Cliveden Estate with its 1852 Italianate Charles Barry mansion (scene of famously louche Profumo-era liaisons), and woodland rides culminating in a remarkable high-level outlook across the Thames and Berkshire. Here, where Range Rovers and BMW X5s and pony-riding schools rule the Thames Valley lanes, you find the very beating heart of NIMBY-land.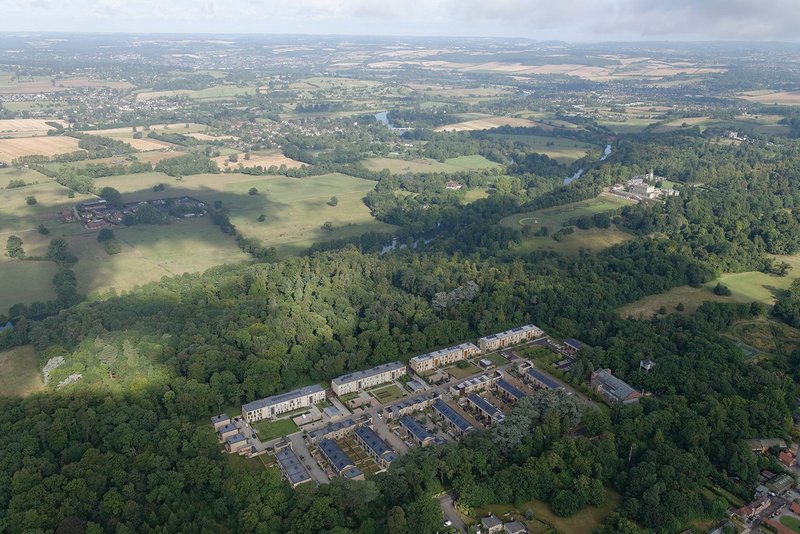 Cliveden Village aerial view – there used to be a wartime hospital here.
Now, having been built in phases since 2007, Cliveden Village is finally complete – to the extent that the person managing the sales office said in satisfied tones that only seven houses were left to sell out of the total of 135 houses and apartments built. 'They are only for the over-55s,' she warned us as if we were callow youths liable to hurl beer bottles. Covenants protect this. Nice of her to pretend, but both of us are clearly over 55, thanks all the same. So we, in theory, are the target market for what is, let's not beat about the bush, a gated-community retirement village complete with concierge service. Aaaargh! But a MODERNIST gated-community retirement village.
Well modernism-lite perhaps – with pitched roofs set back behind parapets to maintain the cubic aesthetic – but it's aesthetically a great deal more progressive than the National Trust's previous foray into spec housing, 750 units at the Stamford Brook development on its Dunham Massey estate in Cheshire. That partnership with two developers, Redrow and Bryant Homes, provided the standard semi-trad volume-housebuilder look, but for their time (mid 2000s) they were ahead of regulations in terms of energy performance in use, and involved a lot of restoration of a decayed 25ha landscape. In contrast, the partnership at Cliveden Village is with Countryside Homes and has a distinct post-Accordia feel to it. Concept design was by ECD and ONKO architects, with Countryside's own in-house architectural team doing the detailed design.
The reason there are so few such NT developments is that the whole point of the Trust is to preserve land and buildings, not redevelop them. Their land is usually 'inalienable'. But occasionally, particularly on large agricultural and woodland estates that cost a lot to maintain, pockets of land arise that are exploited – and this is one of them.
This is a sizeable village, arranged on a grid plan on the site – a long rectangular brownfield site formerly occupied at the invitation of Cliveden's owners, the Astors, by the Canadian Red Cross Memorial Hospital. This was an echelon of mostly single-storey wards built in wartime but turned over to the NHS after the war. The hospital closed in 1988 (hence that early Dixon scheme) and remained derelict until finally being demolished in 2006, once Cliveden Village had received planning permission. In the meantime, Lord Astor had handed over the Cliveden Estate to the National Trust in the 1960s, who accepted it on the basis that it should be self-financing. Astor identified the hospital site as a future source of money, and the local authority zoned it for housing.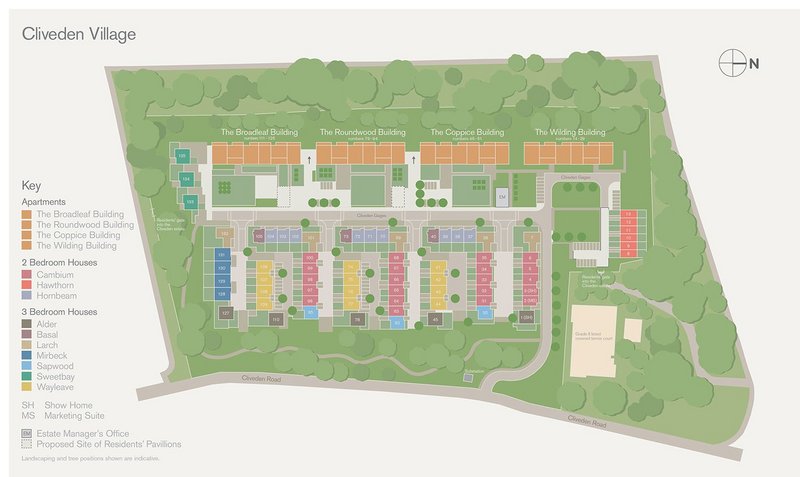 Housing layout complete with woody type names.
So to today. It is an arrangement of four long sandstone-faced three-storey apartment blocks running north-south along the western side of the site, and on the eastern side a matching row of housing terraces with return terraces at right angles to them. There's a partial memory of the long rows of hospital wards on the site in this arrangement, but they were more closely packed.
The show home we looked round had that overwrought look common to all show homes – who dresses these places and how many cushions do they think we all need? – but had generously dimensioned, high-ceilinged rooms and a good quality of fit-out. A smaller house seemed less well laid out – enormous bathrooms, slightly poky bedrooms. They've taken the garage-door detail from Accordia – the mechanism sliding round a corner on tracks rather than the familiar up-and-over arrangement – and this reduces the horrible impact on a small façade of an integrated garage, but in this context it's a surprise to find built-in garages at all. Will all this land available, couldn't cars have been tucked away discreetly round the back?
It's a curious kind of place, Cliveden Village, with the early-phase apartment blocks being rather better finished externally – with timber detailing – than the later, plainer ones. They share that facade of ashlar sandstone, however. Elsewhere the facing materials are brick, render, copper and zinc. Some houses have rooftop terraces, while the apartments have balconies facing straight into the surrounding woodland – to which, with their miles of walks leading down to the Thames, you have access as a resident. You can join the Cliveden Club, associated with the Barry house which is now a hotel. Part of this is a restored Edwardian covered tennis court right next to the entrance of the new village.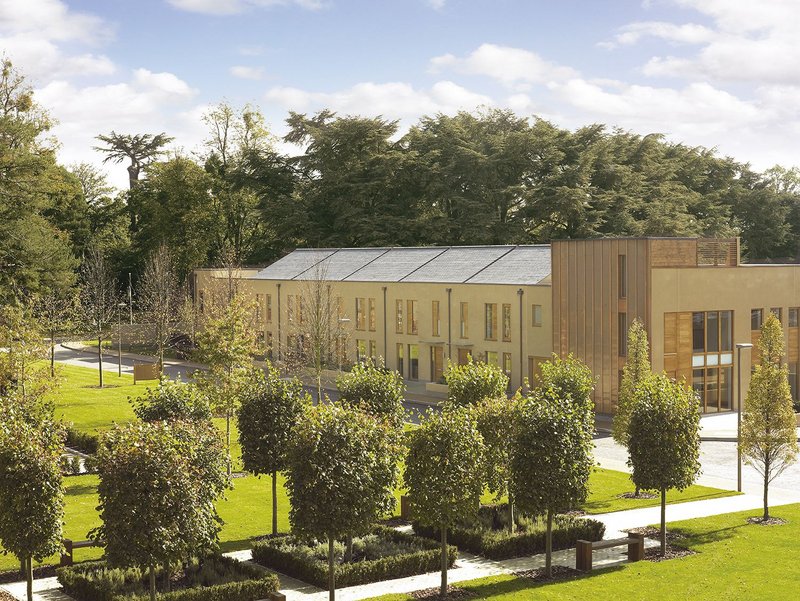 And how the developer pictures the boskiness.

Credit: Countryside Homes
For all its BREEAM 'Excellent' sustainability credentials – solar panels, rainwater recycling, heat recovery systems, bicycle storage and so on – and a high level of landscaping – one suspects that most residents will be hopping into their cars, given that there is no shop on site. There appears to be no public transport until you get to Taplow, on the railway to London. Mind you, new corner shops seldom work financially any more, given that everyone orders grocery deliveries online. So at Cliveden Village, as everywhere else, you need never leave the house.
Then again, how many people really 'retire' to such places in the sense of living there? There's a bit of a lock-and-leave country home thing going on here, we discovered. I'm not sure how much of a week-long, year-round community there actually is here. And with house prices ranging from £575,000 for a 123 m2 two-bedder to £1.25m for a 207 m2 three-bedder, it's not exactly going to solve the affordable rural housing problem.
Target market we may be, both age-wise and as the kind of people partial to the odd visit to National Trust properties – but I can reveal that we left without slapping down a deposit. After all, it's not in a town, is it? Besides, our car isn't new enough or fat enough for us to join the Thames Valley set.