Winner: Sam Wanamaker Playhouse, Globe Theatre, London
A unique mixture of historical research, craftmanship and pragmatic decision-making informed the creation of this indoor theatre. It is built within a shell that was created when the Globe Theatre was erected: it was always part of Sam Wanamaker's vision for the Globe complex but funding was not then available.
Drawings from the 17th century for an indoor theatre – discovered at Worcester College, Oxford – inspired the design, which is based on scholarly research and study of surviving Jacobean interiors and details.
Inside, the new playhouse is constructed almost entirely from wood. Much of the timber has been left natural with hand tooled finishes and untreated, although certain surfaces are painted and particular details highlighted with gilding. The variation in surfaces contributes to the overall dramatic effect that is enhanced further by candlelight used during performances.
Following historic practice, oak used for larger dimensioned members of the timber frame was left unseasoned, while elements such as handrails and brackets are of air dried oak. Jointing of the structural frame is largely pegged mortise and tenon, and the finishes have been hand planed with chamfers and stops applied where appropriate.
Arcade brackets and turned columns with their doric and ionic capitals are based on examples from 1608 found in the grand staircase at Chilham Castle. There is a very subtle hint of the turners' gouge on the shaft of the columns while the carvers' tool marks can be seen in the carved ionic capitals.
Joinery received the same level of attention. The judges said: 'This is a tour de force of joinery and is also to be applauded for satisfying fire regulations with a timber structure that is lit by candlelight.
Credits
Client: The Shakespeare Globe Trust
Architect: Allies and Morrison
Main contractor/builder: Virtus Contracts
Specialist timber: McCurdy and Co
Turned columns and balusters: Spindlewood
Carved capitals: Hugh Harrison Conservation
Suppliers
Wood supplier: Tyler Hardwoods
Reconstruction architect: Barron and Smith
Co-ordination of scholars, building consultants and research for the design: Globe Architectural Research Group
Specialist fire consultant: The Fire Surgery
Historic lighting consultant: Bristol University
Wood suppliers: Whippletree, EE Olley & Sons, SH Somerscales
Structural engineer: Momentum Engineering
Timber: English and European oak, European redwood, German spruce
---
Highly commended
Living Planet Centre, Woking, Surrey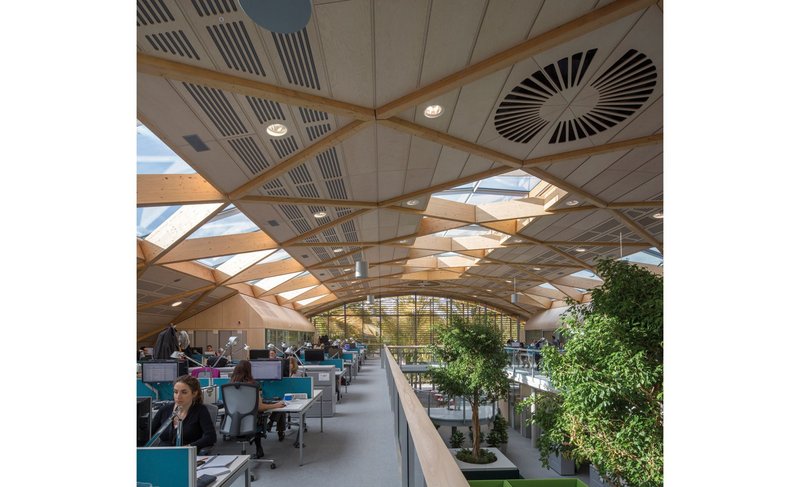 Located on a prominent and challenging brownfield site above an existing car park at the edge of Woking town centre, the Living Planet Centre is WWF-UK's ultra-green administrative building. Timber has been chosen for its aesthetic, structural and sustainable properties and features prominently throughout the interior and exterior. The striking curved roof is composed of a structurally-efficient curving grid shell. Horizontal larch louvres provide protection against solar gain at the building's glazed ends and help enhance its appearance from the outside. The judges said, 'We were impressed by the effort that was put into the sourcing of materials to take sustainability another step forward.
Client: WWF UK
Architect: Hopkins Architects
Joinery: NH Etheridge
Main contractor/builder: Wilmott Dixon
Services engineer: Atelier Ten
Diagrid joinery: Constructional Timber
Glulam supplier: Timbmet Group
Structural engineer: Expedition Engineering
Wood supplier: Mayr Meinhof Kaufmann
---