JW3 is London's latest, US-style, centre for the Jewish community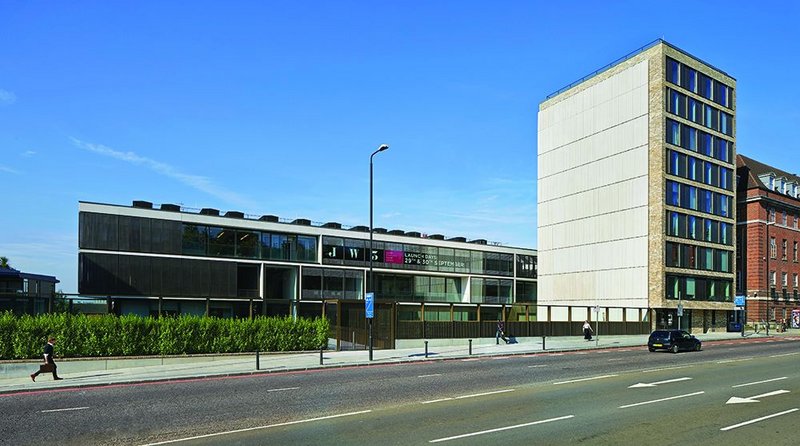 While the community centre is buried on its sloping site the residential tower alongside climbs up the hill. Close to the tower's flank has an interesting ripple texture, but from a distance it appears unappealingly blank.
It's hard to imagine that the original design for this project came complete with an underground swimming pool. Now the re-­engineered Jewish community centre JW3 sits alongside the busy Finchley Road in north London with the sort of pared logic, flexible floorplates and restrained circulation that one expects from Lifschutz Davidson Sandilands.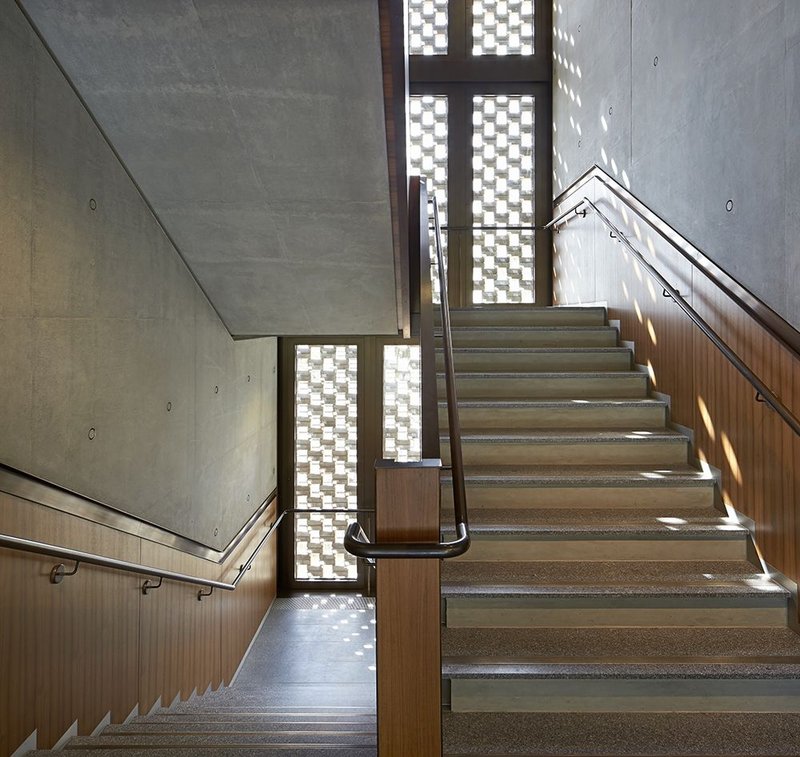 Hit and miss brick on the stairwell has the same effect to prevent overlooking into homes beyond.

Credit: Hufton + Crow
The cultural connection comes with the materials and the external form. The main entrance is by bridge, over a courtyard that is protected from traffic noise by a retaining wall and a glass screen. The screen may take its clues from Tony Fretton's Camden Arts Centre opposite but there it is draped with trees and woodland planting. JW3's face is more visibly a barrier, however neat the planting solution – one section shrubs and a bench in front, the next a kitchen herb garden behind the screen. Alongside, a nine storey tower preserves the residential units that previously occupied the site.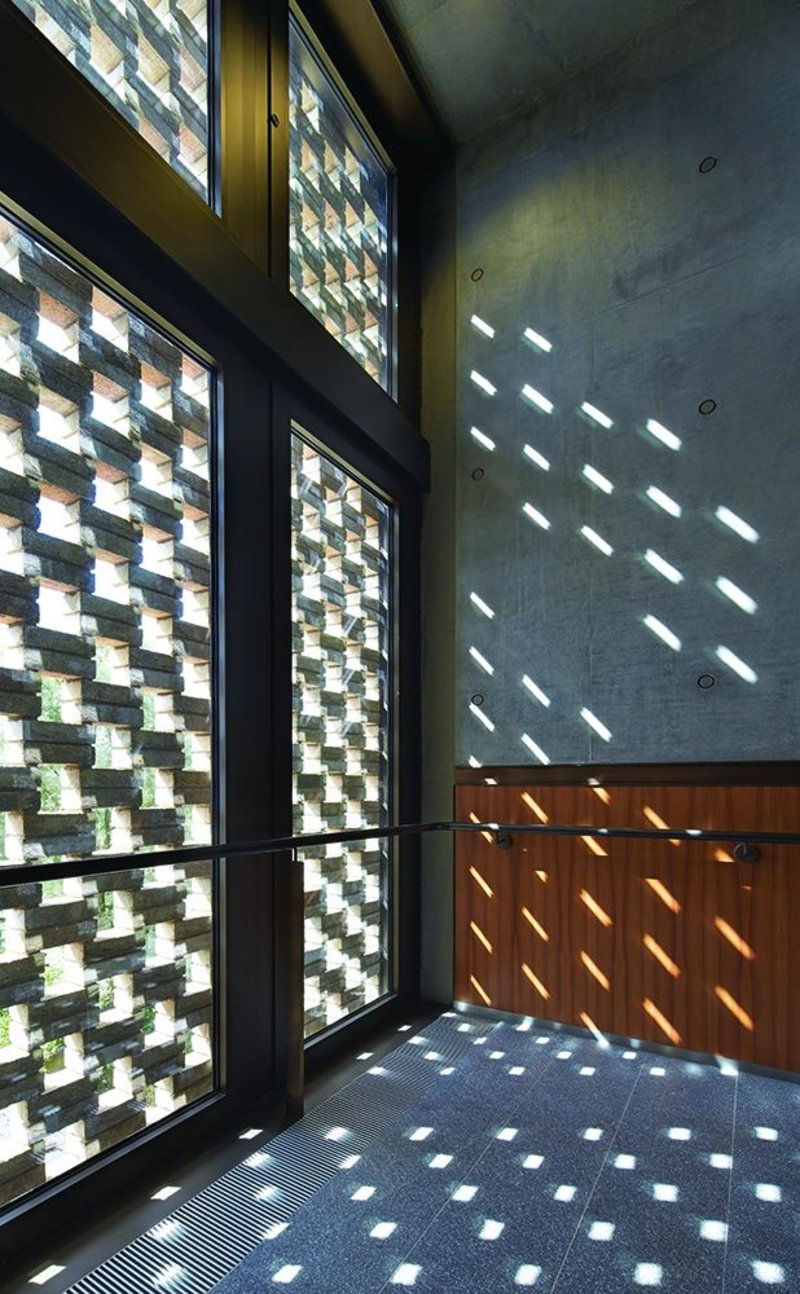 Hit and miss brick on the stairwell has the same effect to prevent overlooking into homes beyond.

Credit: Hufton + Crow
Philanthropist Dame Vivien Duffield instigated the project, based on a US model, but the brief adapted to its north London context as it went along. So out went the swimming pool, but the screening room, youth club, nursery, dance studio, hospital consulting rooms and demonstration kitchen make for a complicated set of functions, which will have to develop a character based on use rather than the design. But that shouldn't be a problem: the first season includes Ruby Wax, Zoe Wanamaker, singalong Mary Poppins, a mouse taxidermy course and Superhero Sunday.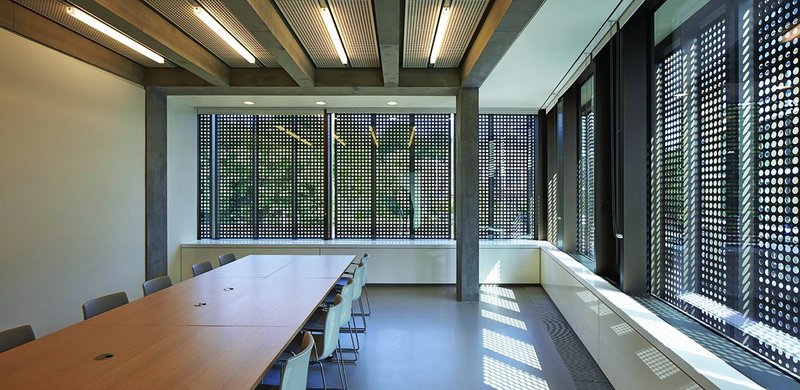 Dappled light is the pleasing product of dealing with shading on the main facade.

Credit: Hufton + Crow
The painted steel fin balustrades on the bridge are delicious and double up at intervals to take on a more supportive role. Brass and anodised aluminium are used throughout the building for window frames, panels and banisters (alongside a handsome bronze recessed channel). Internal spaces are liveable but unremarkable. The entrance onto a mezzanine level feels compressed and, leading immediately to a resources room, banal. The ground floor – with bar, restaurant, theatre and courtyard – is the place to feel at home for both Jew and gentile, where the compression makes a comfortable space for the bar while the restaurant's double height gives breathing space as you leave the theatre, probably still laughing.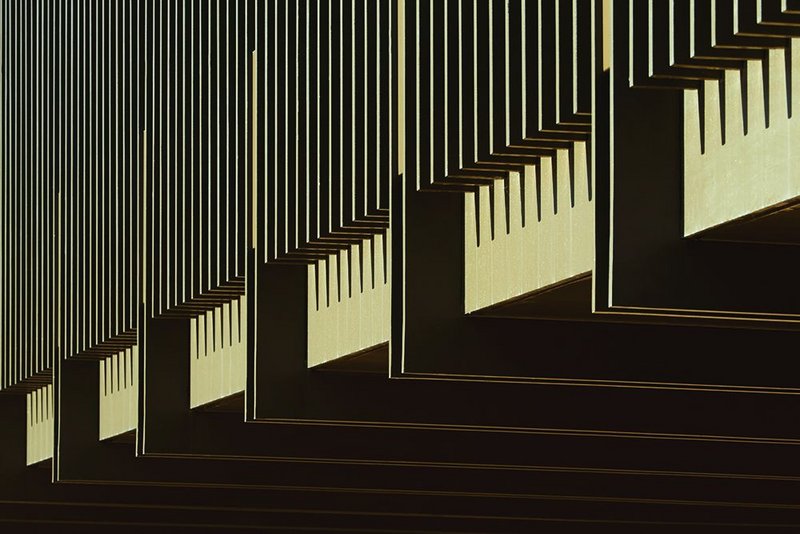 The underside of the entrance bridge, a steel balustrade giving it a delicate presence in the courtyard below.

Credit: Hufton + Crow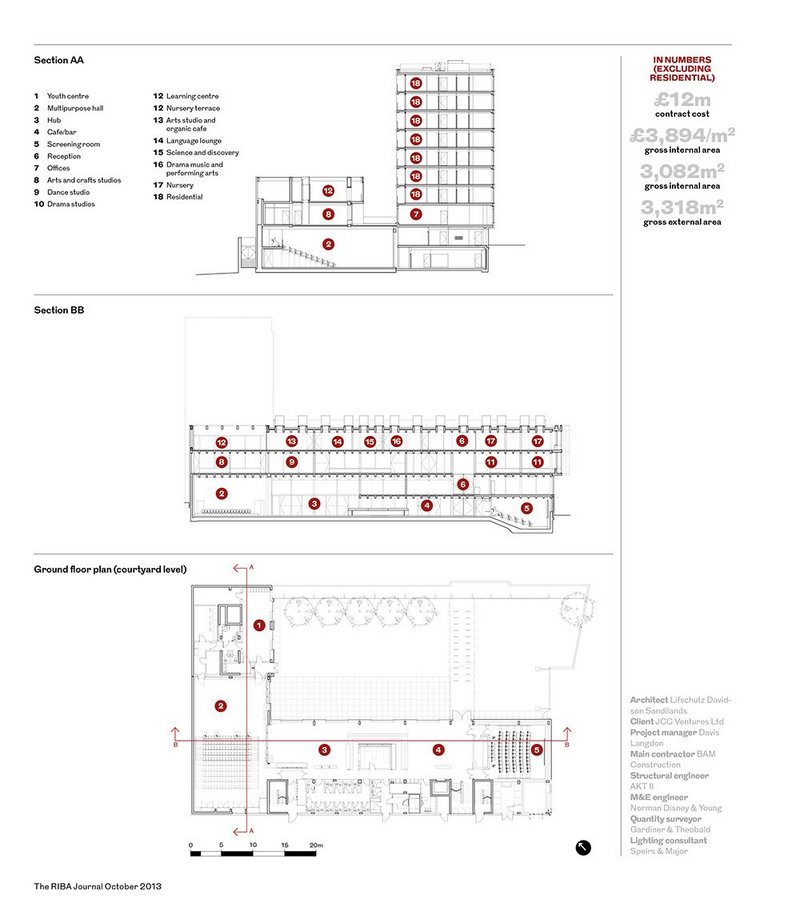 IN NUMBERS (EXCLUDING RESIDENTIAL)
£12m
contract cost
£3,894/m2
gross internal area
3,082m2
gross internal area
3,318m2
gross external area
Credits
Architect
Lifschutz Davidson Sandilands
Client
JCC Ventures Ltd
Project manager
Davis Langdon
Main contractor
BAM Construction
Structural engineer
AKT II
M&E engineer
Norman Disney & Young
Quantity surveyor
Gardiner & Theobald
​Lighting consultant
Speirs & Major