The founder of Macdonald Wright Architects on how teaming up with the right people has helped improve the buildability and environmental performance of projects such as Caring Wood and the Library House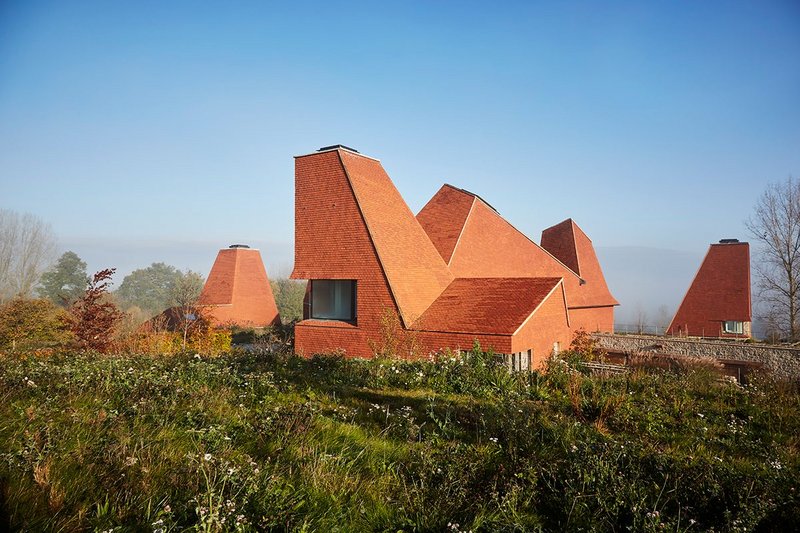 Spacehub's landscaping at Caring Wood, chosen carefully to blend with the colours of the roof tiles.

Credit: Heiko Prigge
Landscape is a significant element of all our buildings whatever the scale. Giles Charlton of Spacehub, which specialises in landscape architecture, urban design and ecology, worked with us on the Caring Wood project. I appreciate how the bespoke nature of Spacehub's practice means that you work with senior people like Giles, an amazing landscape designer with a strong understanding of the relationship between buildings and nature.
The landscaping of the 85-acre (34ha) Caring Wood site illustrates this, with the planting graduating in wildness the further you move away from the house. We wanted to rewild the surrounding landscape, which had been ancient woodland that was felled in the late 19th century, and Spacehub brought in an ecologist who analysed adjacent ancient woodlands and made proposals for replanting native trees of local genetic provenance. The species mix included green hazels, but nearer to the house they suggested planting purple hazel that was a similar colour to the tiling, so that from a distance the two blended together. We planted over 27,500 trees, creating a new woodland as well as offsetting the carbon released by the construction of the house.
We continue our close relationship with Spacehub on projects of varying scale, both rural and urban, with a particular interest in xeriscape, drought-resistant planting in relation to climate change.
---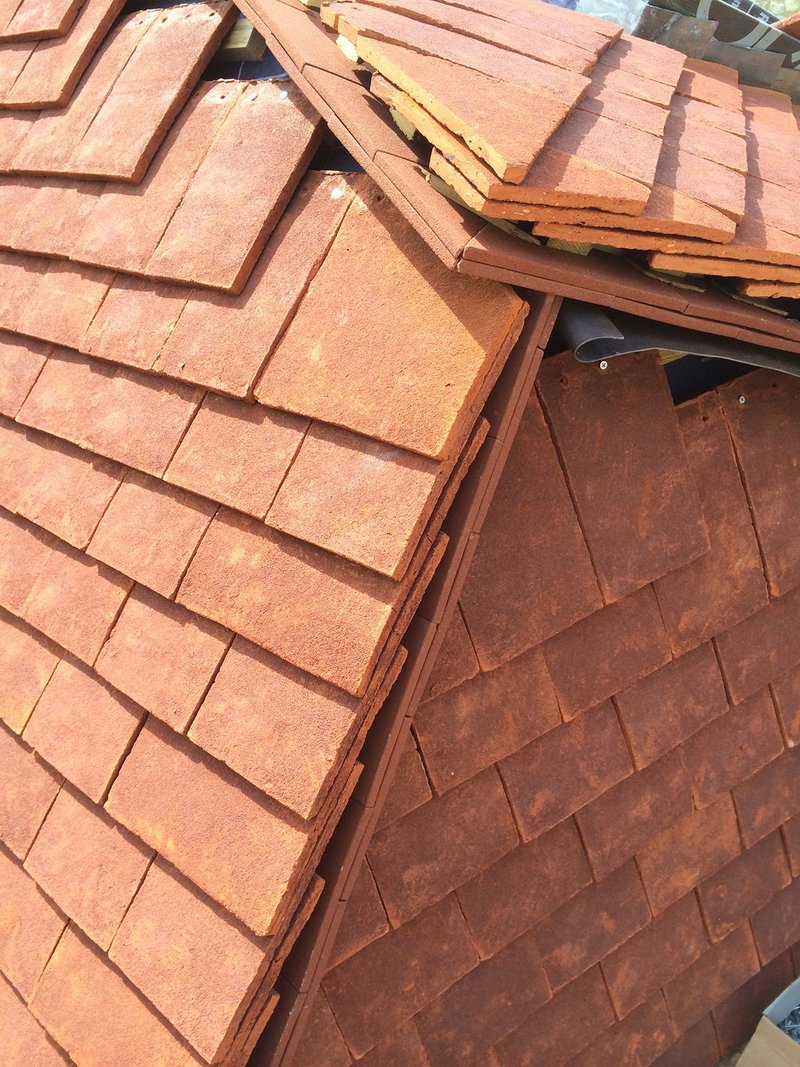 Roof tile mock up for Caring Wood, constructed by Keymer at half scale in their factory to work out the optimum arrangement, and where 'specials' would be required.

Credit: James Macdonald Wright
Our work addresses sustainability not only through low-energy design and the use of clean, green technologies, but also in the regional application of building form, material choices and detailing. For Caring Wood, we wanted to use a handmade clay roof tile with low embodied energy and minimal future maintenance. Keymer tiles had the patina and durability we were looking for, and are made locally using clay from its own site with low-impact manufacturing. Our order for 150,000 tiles was the biggest it'd ever had – and it's been making clay tiles since 1588.
The roof geometry at Caring Wood was complex so we were concerned as to how the tiling would be achieved. From our 3D model we worked with the Keymer team and a local roofer in a corner of the factory to build a half-size mock-up to work out the details. They suggested some unusual things to overcome challenges such as creating specials with additional nibs and holes. The tiles are made using a wooden mould with a sand slip. The clay is then pressed down into the mould with another piece of wood. Placing a hand on the back of the tile creates enough suction to lift it up, leaving the handprint of the maker on the back of the tile.
---
It's empowering to work with a practical expert like Paul Mallion of Conker Conservation as his knowledge has enabled us to enhance the sustainability of our design work. I met him when looking for a sustainability consultant for the Caring Wood house in Kent, designed to meet what was then Level 6 of the Code for Sustainable Homes, and we've worked with him ever since. With each project, the level of sustainability has increased to a point where now we only take on projects where sustainability on all levels is a key objective.
Paul is a skilled RICS building surveyor and a Passivhaus engineer, incredibly practical, good at identifying any issues early on with external envelope design, and avoiding thermal bridging problems. On the Library House, Paul worked with us to find the best possible equipment for the MVHR and install it perfectly. He directed us to use galvanised steel ducting installed by a joiner rather than the usual plastic ducts which can be noisy and poorly connected.
---
I have worked with skilled joiner and artisanal builder Dritan – Danny – for over 20 years. We met when he was a young carpenter and I was working for a developer on sites in South London. Danny was one of the most diligent people on the site, and it was striking how much he cared about what he was building. He now runs a small construction company and I admire how his joiner's eye brings an exceptional attention to detail in everything he does.
It's a challenge to find good contractors who are happy to undertake smaller scale work – he does projects up to £400,000 but some of the projects we've worked on together have been as small as £1,000. In 2016 he fitted out our offices in a former industrial building in De Beauvoir before working on the Library House in Clapton, both in east London.
We gave him a 3D model of the tender design, and it was remarkable how much he was able to improve the buildability, and in particular the performance of the external envelope and air tightness. With contractors, so much comes down to trust and an ongoing relationship. He knew we were on a tight budget on the Library House and I appreciated our open dialogue, resolving problems together. For example, during the pandemic lockdown when supply chains were disrupted, he hand-built the Library House kitchen on site. He's inventive, flexible and able to work up ideas with us in a creative way. So many of the details on the Library House are better because of our dialogue.
As told to Pamela Buxton