Stirling Prize-shortlisted Cork House is a living demonstration of thinking outside the norm – sustainable, research made reality, a radical approach to materials and manufacture. And it's charming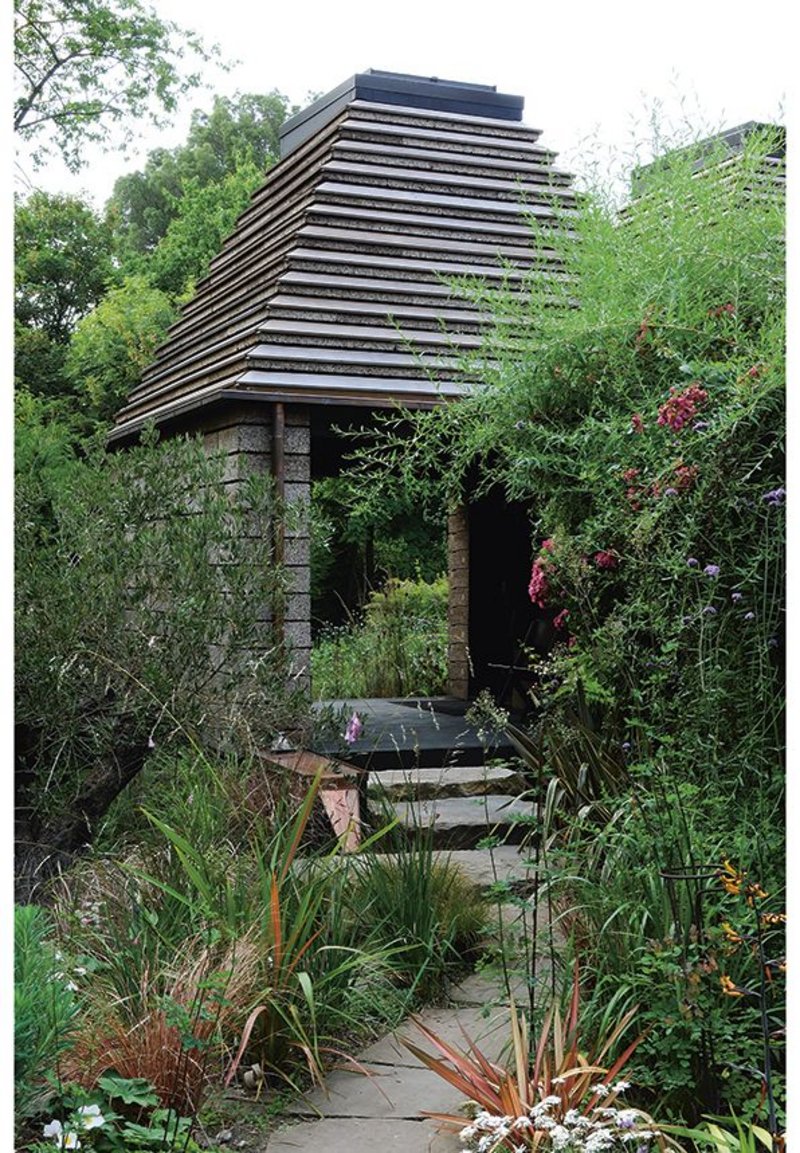 A bountiful flowering garden at the back of the main house leads to the loggia entrance to the Cork House which elegantly resolves an awkward junction between two gardens.

Credit: David Grandorge
Dispel any ideas that this house made of cork is a quirky project, or some sort of gimmick. No, it is a radical rethink of building technology, starting with the wall, and overturning our normal processes of construction from manufacture of the cork blocks to assembly. What began as a research project became an iterative process that included construction and ended with this dwelling, as lessons from data and experience have been looped into this little house. And it is a magical and natural set of spaces that are a delight to be in.
So perhaps it is not surprising to see it shortlisted for this year's RIBA Stirling Prize and winner of the Stephen Lawrence Prize. But it has been a long journey, led by three architects: starting with the research by Oliver Wilton and Matthew Barnett Howland and collaborators (MPH Architects, The Bartlett School of Architecture UCL, University of Bath, Amorim UK and Ty-Mawr Lime, with consultancy from Arup), and ending with a home for Barnett Howland and Dido Milne. A 44m2 spill­over annexe to the family house on an awkward riverside site in Eton – it was primarily built, block by block, by Barnett Howland.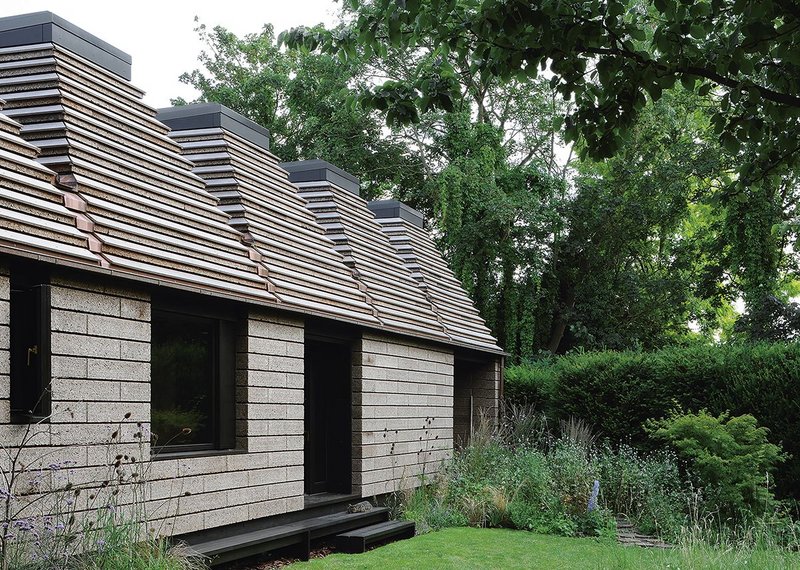 Borrowing masonry corbelled forms for the cork blocks resulted in pyramidal roofs, effectively held down by the rooflights.

Credit: David Grandorge
At the heart of it all was a big idea of going back to first principles in construction. What, asked Barnett Howland, if we could replace the complexity of the wall with a 'single, solid, bio-renewable material'? Could one material handle the elements, vapour control, insulation, structure? Any architect knows that the build up of a wall with double skin, insulation, ties and vapour control easily loses both its promised performance and the integrity of each element in the complex whole.
The research found that cork in buildings had performed all these functions, sometimes for many decades, and it had long been used commercially for insulation board. It still looks good after 20 years, but it could last for centuries, hazards Barnett Howland. Added to this, the cork oak, or quercus suber, contains 45% suberin, a waxy constituent that forms a natural hydrophobic vapour barrier. This combination of qualities suggested the material might work as a system in itself. And infrequently harvested (9-10 years), the trees foster a biodiverse habitat. It all made a very strong case for the use of cork.
Now what was needed was to make cork into a building material with good compressive strength. Heated and stewed in its own juice, cork can make a fairly solid block. And if the building was made of blocks imagined as 'insulative stone' then there were plenty of masonry examples of how it might be put together, with courses of blockwork more or less articulated and a roof of stacked corbels of cork. Timber ring beams at eaves and floor level and supports for the lateral load at the valley joints led to the stepped pyramid roof with its echoes of ancient Mayan pyramids.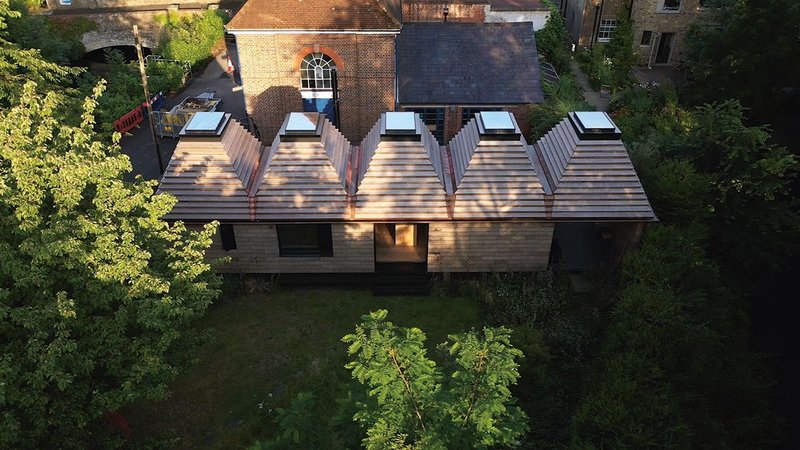 From above the diagram of a series of beehives seems most obvious.

Credit: David Grandorge
The first structure to be built under the project was only 2m high. Nicknamed the hen coop, it used timber dowels and lime mortar but this seemed too complex. A bid for more funding saw the development of a construction system. At first, fitting the blocks together relied on cork's sponginess to lock it in place but making and disassembling these proved slow and almost impossible. Instead a friction fit between the flat surfaces of the weighty cork blocks was settled on. Design geometries were adjusted and after three months in the UCL robotics lab, Howland Barnett had reduced the time needed to cut each block from 15 minutes to five.
The second prototype was the cork cabin, testing for buildability and performance. At 13kg the blocks can be comfortably handled and positioned by two people, or by one with long arms. Then they need to be knocked gently into place. The gable that had graced the front of the pyramid was ditched as over complex, requiring form work and tricky shaped blocks. There was detailed thermal and moisture modelling, and pressure testing following thermal imaging. The air leakage level was just okay but was halved after a rebate between blocks was added with expanding foam tape to improve air tightness. Leaving it out in the rain was not so good, after six months water was seeping into the underside of the roof, via the 15% of fissures that cork is riddled with. So timber weatherboards were added to shed the water. On the walls, a degree of penetration is combated with gravity.
Impossible in a normal build, these refinements are par for the course as part of a research project. Barnett Howland describes them as de-risking the build for the Cork House – which all three architects insist is innovative but not experimental in itself. But the next step of constructing a large building seems at least like the proof of concept. With 1268 blocks needed, a CNC milling machine took over the cutting, block types were numbered corresponding to the plan, and Barnett Howland went into his garden and started building. Another tick – addressing the skills gap.
Two big questions affecting wider applicability concern longevity and fire performance. The architects can't see why it wouldn't last as long as a well detailed timber building – but ultimately only time will tell for the first house of its kind. On fire, a BRE fire test during the research phase established an AB classification for the roof, and the back boundary wall was clad with class 0 cedar, based on the fire engineering by Arup. Internally, the material could have been lined but that didn't fit with the big idea, so this single storey building has an exposed sprinkler system."
The other question, how it feels, is easier to answer. The five volumes, each with their own pyramid with rooflight on top, have quite different treatments. The first is open on two sides, a calm verandah that offers both prospect and refuge at the knuckle of two garden spaces. Next is a hard working volume with a pantry-corridor, bathroom and sleeping mezzanine in the fragrant, lofty roof above.Then the double volume of kitchen and living space with a big window on the garden. Here, where the eye travels further, you most notice the beautifully copper-encased services and sprinklers against the dark of the cork. Finally comes the double bedroom with windows, internal and external, where the head on the pillow can turn and look out when the sky is not enough of a view. Every room has a sense of cave-like protection with a warm airiness. It is a place to be when the doing is done for the day. And after years of research there is no doubt it feels doubly like that for Barnett Howlett and Milne.
---
In numbers
44m2
GIA
619kg CO2e/m2
whole life carbon emissions over 60 years
1,268
cork blocks
Credits
Client Matthew Barnett Howland and Dido Milne
Architect Matthew Barnett Howland with Dido Milne and Oliver Wilton
Structural and fire engineer Arup
Whole-life carbon assessment Sturgis Carbon Profiling
Component 3D modelling RK CAD
Building contractor Matthew Barnett Howland with M&P London Contractors
Research MPH Architects, The Bartlett School of Architecture UCL, University of Bath, Amorim UK and Ty-Mawr Lime, with consultancy from Arup