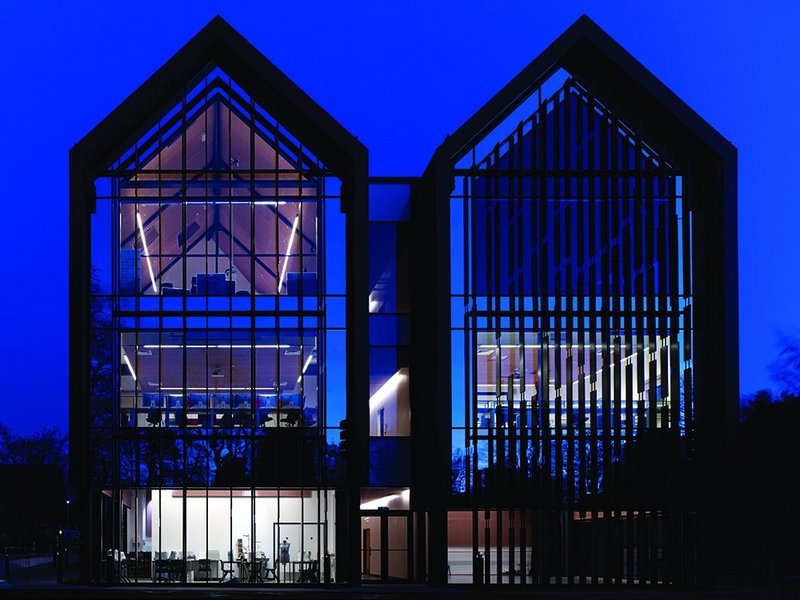 At its purest, end on, the form acts as a lightbox for the college's artistic activities. During the day the mirrored borders give an extra layer of life to this west facade.

When the Learning and Skills Council crashed so did a lot of firms' work in education. BDP lost half the team working on the £110m masterplan for Norwich City College. But the college finally scraped some cash together – and gave BDP just 15 weeks for design plus 13 months on site. So what does a project look like that was based on a strong strategic foundation and then rushed through on a breakneck design and build programme?
BDP architect-director Wayne Head drew on the black massing and visible roof volumes of the ancient barns in Norwich city centre, and the highly glazed west walls of its churches. The form is stylish, even stylised; black extruded barns paired and cutting into the gradient of the site. Head fought hard for the wrap around weather boarded timber skin, with gutters hidden by a snowboard stop and special fire rated timber for the roof. It makes for familiar forms but does it truly belong to its immediate civic-suburban location?
Punched square windows are set in the long forms. A ribbon of clerestory glazing at ground floor level give dancers both light and privacy. The west end wall is glazed. Its border is mirrored, doubling the lawn and trees at the front by reflection. Factory-finished timber fins on rods run down the facade, more here, less there, part rhythm, part shading.
The masterplan's north/south college axis is respected; the plan is pushed out to meet paths front on, inside creating a slip of atrium with light from above. This little bit of generosity gives the sense this building might have a heart – currently residing on the top floor where lovely fine art spaces under the exposed roof trusses team with life and look onto the garden via the glazed end wall.
The building should work for the long term future of the college, the first stage in the masterplan, should that ever be built. And forethought at this level seems to have allowed a knowledge of both city and college to imbue the design with powerful elements that have withstood the rigours of D&B. As well as much-needed quality teaching space the strong form gives the creative arts a presence the college had previously lacked.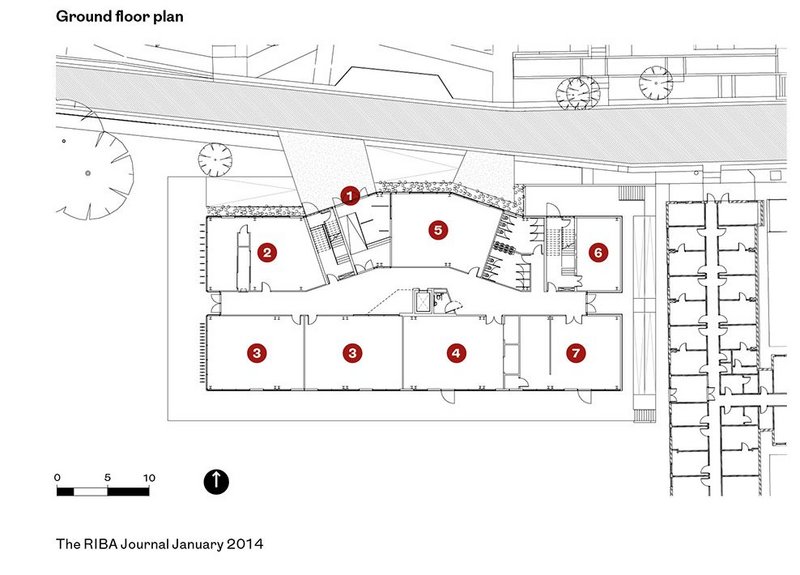 Key to ground floor plan: 1 - Entrance, 2 - Fashion studio, 3 - Dance studio, 4 - Theatre workshop, 5 - Dye workshop, 6 - Plant room, 7 - 3D workshop