Tate + Co's design for York St John University's creative centre uses texture to create a building that is as visually appealing as it is unusual
'This is us doing Supertexture,' says Jerry Tate of the rough-skinned building we are looking at. It's also the largest built object his 10-strong practice, Tate + Co, has done since he left Grimshaw to set up what was then Tate Harmer in 2007, establishing a reputation for highly sustainable buildings.
York St John is the in-town university dating back to its 19th century foundation as a teacher-training college, rather than the out-of-town York University campus. It achieved full independent university status in 2005. It sits on the northern edge of the city centre, its buildings ranging from good mid-19th century Tudorbethan via a fine angular 1960s chapel by George Pace to a 2008 entrance cluster by Rivington Street Studio. Although the creative centre is at the rear of the university's site, it looks directly across to York Minster.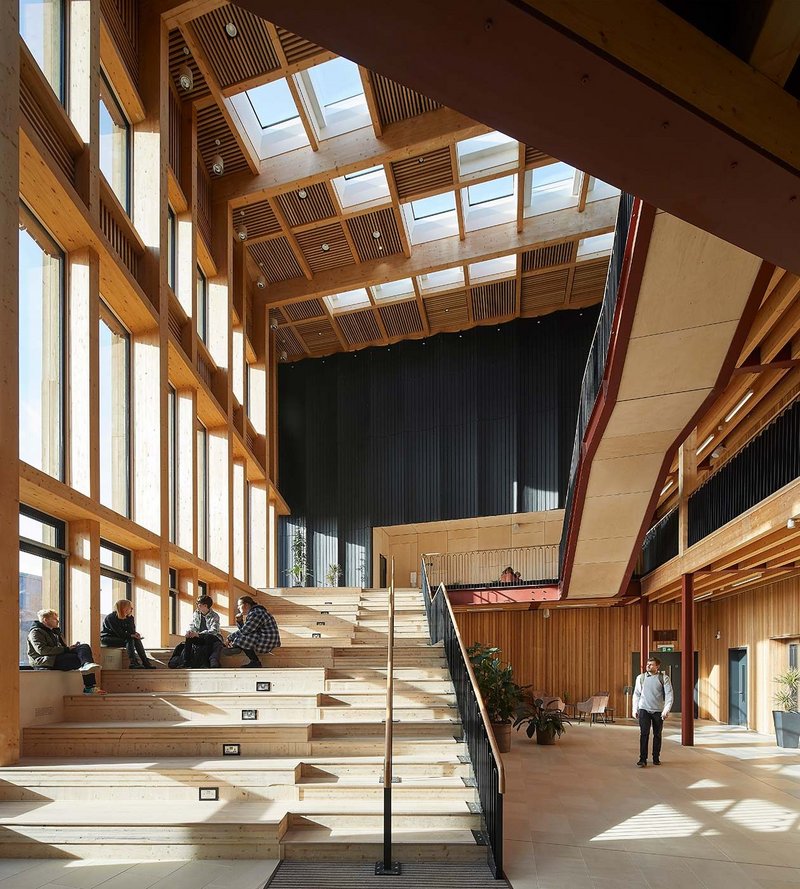 An atrium filled with incident.

Credit: Hufton + Crow
The creative centre houses an unusual combination of activities. It's primarily a place for learning performing arts – music, drama and television – and accordingly has a well-equipped theatre, large recital room and (still being fitted out) TV studio along with all the necessary acoustically tuned practice rooms.
But it's also a centre for computer science, a seeming clash done, they say, quite deliberately to encourage cross-discipline engagement. But both sets of students and teachers emerge from their respective lairs to hang out in the informal areas ('third spaces' in the jargon) Tate has created in the staircase atrium acting as the glue between the three main chunks of building: two at the front and one across the back.
On the train to York, Tate sketches the plan: first a column-free steel and concrete rectangular block at the rear. It's conventional enough, well insulated, designed for total flexibility and so change of use and long life, capable of extension.
Next come the three pieces at the front. As you approach, the large curving form of the theatre is on the left (the curve being the back of the auditorium), and the angled timber-framed glazed front to the connecting atrium is in the centre On the right, rotated slightly towards nearby York Minster, is the projecting rectangular section housing the music recital room with its long glass wall and balcony, plus a screening room beneath. This projecting box is supported on four steel V-columns, the outer two angled inwards as if in welcome. It acts as the entrance canopy to the building.
These projecting sections are clad in black-painted fireproofed larch on their upper two levels. Fluted concave sections for the theatre make it look like a slice of some giant classical column. The convex sections for the recital room chunk have the air of a palisade. This shape reversal continues in plan: the curved outer façade on one side becomes a curved inner façade to the atrium on the other, and vice versa. Visually, as well as structurally, these are semi-independent buildings plugged into the mothership.
The Supertexture game gets gamier still on the rear elevation facing a modestly low-rise council estate behind, where Tate divides up the long flat elevation with just two surface treatments, one very shaggy, repeating in bays on an A-B-AAA-B-A rhythm. All this extreme modelling and colour contrast stems, he says, from a desire to avoid the dullness that can result from large areas of smooth timber cladding.
Inside, Tate avoids the big, empty atrium look. This too, with its sittable stairs and timber deck-access galleries and structure visible everywhere, is a highly theatrical space which manages to be compartmentalised visually while still retaining its floor-to-ceiling height on its Minster–facing side. Despite this heavily glazed south elevation, it is naturally ventilated: elsewhere mechanical ventilation with heat recovery is used.
The 200-seat adaptable-configuration theatre (fully accessible, including the technical level) is one you'd be happy to visit, with decent scene-changing capacity, if no flytower due to height restrictions near the Minster. And I can see the recital room with its balcony being good for summer jazz evenings as much as chamber music. The layers of teaching rooms at the back are straightforward, nothing special until you get to the higher-ceilinged music practice rooms on the top floor.
How to describe this kind of Passivhaus-level architecture? Cullinan-esque, perhaps: it has something of that expressed pleasure in robustly slotting pieces together like carpentry, of avoiding slickness, of letting the materials and volumes speak and allowing for change. Of gleeful oddness, too, which is always appealing.
In numbers
Construction cost £12m
GIFA 3014 m2
Cost per m² £3,835
Energy consumption per m2 per year 38 kwh
Contract Traditional
BREEAM design rating Excellent

Credits
Client York St John University
Architect Tate+Co
QS & project manager Robinson Low Francis
M&E and BREEAM engineer and lighting design Atelier Ten
Structural engineer Atelier One
Acoustic and theatre consultant Sound Space Vision
Access consultant Sensory Trust
Landscape architect Colour
Planning consultant McKenzie Town Planning