Crowbrook: clean and complex inside and out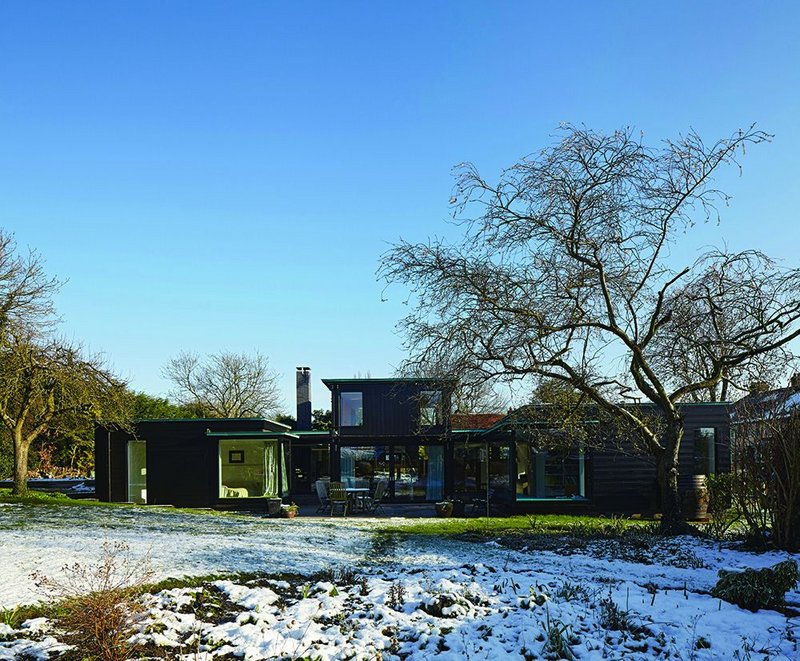 Front on, Crowbrook looks straightforward: a black timbered modern bungalow with a picture window. But with Knox Bhavan you should never expect anything to be plain. This house is a magical breeze of interlocking spaces flowing one into another, with reflections of plants and slivers of views. Windows, mirrors and a double height space at the crux of the plan make the 195m2 volume feel like far more.

This is lucky, as clients Mark and Bea De Rivaz moved here from a larger house. Mark's declining mobility was making it harder to get around, and little tucked away bedrooms meant they couldn't enjoy the full house. At Crowbrook guest bedrooms are conceived as sleeping pods that open up to the house, while accommodating grown up children and their families. The footprint of the previous bungalow on this Hertfordshire site is expanded with projecting bay windows, their ledges becoming seats, desks and even bunks.

Doors slide open as the house flows from room to room and into the garden. But before you are thrown to the edges by the quality
of light, see the landlocked bathroom. This internal room has rooflight reflections of the trees behind and oblique slot windows borrow light and space from the adjoining room.
Architect Sasha Bhavan set herself a ­series of tasks and rules, to minimise circulation; to keep edges thin from the copper roof trim to the fixed glass to ensure the frames are barely there; and to use inexpensive materials not costly surfaces – plain white tiles, plain engineering brick – but pushed these as far as she could, as she did with the largest off-the-shelf panes of glass she could find. As steward of Bedford Estates, client Mark originally worked with Knox Bhavan on its café for Russell Square. The Manser Medal shortlisted house shares the way the café greets the landscape, but with a far more complex and
nuanced interior life.