Crusty Mark, 2006. Andalucia, Spain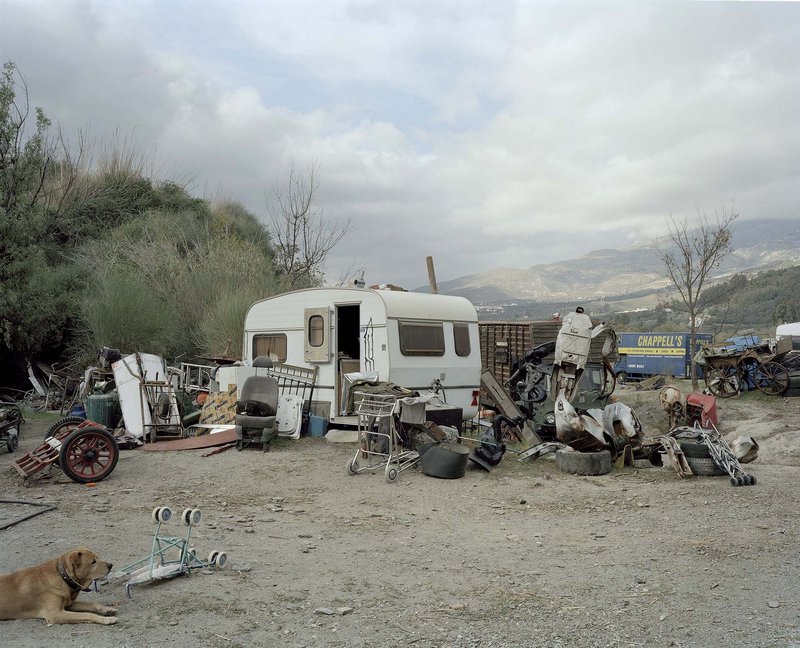 The caravan and Chappell's removals truck might lend this photograph an initial familiarity, but the particularly parched nature of the landscape and curious dilapidated horse buggy to the right add a creeping sense of the uncanny to Ben Murphy's 2006 shot – ultimately borne out by the absence of the protagonist himself. This is one of the images from his show 'The Riverbed', a pictorial study of the habitats of counter-cultural communities in remote areas of Andalucia in south eastern Spain, and being someone who since his teenage years had an interest in those on society's fringes, the subject matter seems close to Murphy's heart.
And in that interest it has been possible for him to engage with the more nuanced tribal aspects of those allying themselves with a rejectionist identity, be they hermit or cyber-punk. 'You're always compromised by the network of entanglements with the hegemonic,' he declares. Although these anti-conventionalists are drawn to each other under the same banner, 'some are there to live off-grid, others to indulge in a hedonistic lifestyle.' He adds that the incompatibility of the two notions can lead to frictions within these small, nomadic communities. The detritus that surrounds Mark's home amounts to the definition of the extent of his and his family's domain on the patch of land 5km along an unmarked road off a highway; a form of self-expression to his neighbours. But there's a twisted picturesque beauty – and Englishness – to the Iberian composition that he's caught, 'like a punk version of Constable's The Haywain': a subversion of the bucolic landscape.
---
Ben Murphy's 'The Riverbed' is showing at the Architectural Association, 18-31 March and 19 April-27 May 2017, aaschool.ac.uk