Winner: Library of Birmingham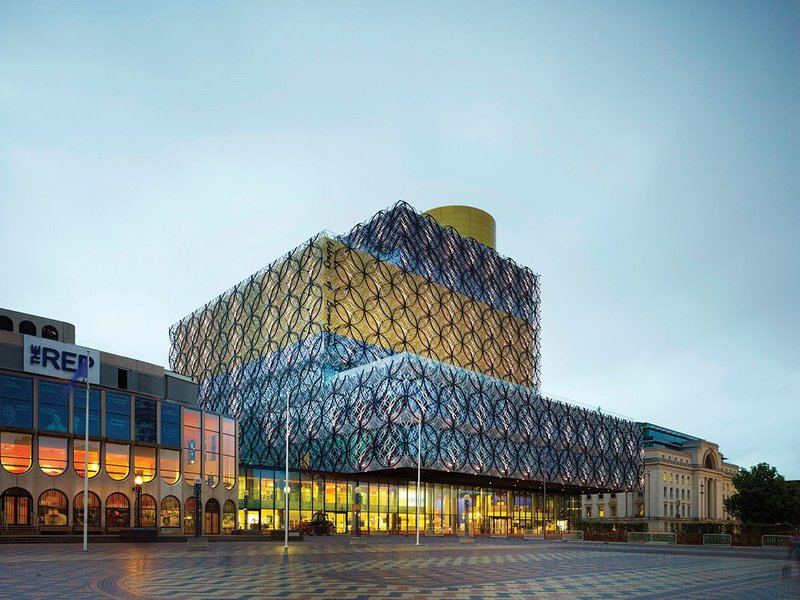 The glazed plinth is a foil to the decorative flamboyance of the rest of the facade.

Credit: Christian Richters
Externally, the Library of Birmingham is instantly recognisable by its stunning filigree facade, created by a combination of thousands of overlapping aluminium rings that form a shining veil over the glazed facade. This combination suited the design intent of architect Mecanoo, which wanted to achieve plenty of natural light without the appearance of a glass building.
As visitors enter the building, one of the most memorable spaces is the double-height foyer. Housed beneath a 11m deep cantilever, it was conceived as a key part of the architect's strategy to extend public space into the generous entrance, and enhance views both into the library and out to Centenary Square.
Here, the facade was created using Schueco FW 60+ SG toggle glazed curtain walling system and Schueco AWS 75.SI tilt/turn windows. The glazing system was fixed against steel rectangular hollow section (RHS) mullions, with external glazing caps. This forms a strong contrast with the intricacy of the metal veil above, which the architect says refers to Birmingham's long tradition of craftsmanship and to the historic metalwork structures in the city.
'The stacked boxes of the Library of Birmingham sit on a transparent plinth formed of a double-height glazed facade – a calm, refined ground condition from which to enter the exciting sequence of internal spaces, and a deliberate contrast with the ornamentalist upper levels,' said judge Hugh Pearman.
The 35,000m2 Library was shortlisted for the 2014 Stirling Prize, with judge's citing both the glittering filigree screen and its bold and transformative addition to the city.
---
Client: Birmingham City Council
Architect: Mecanoo
Main contractor: Carillion
---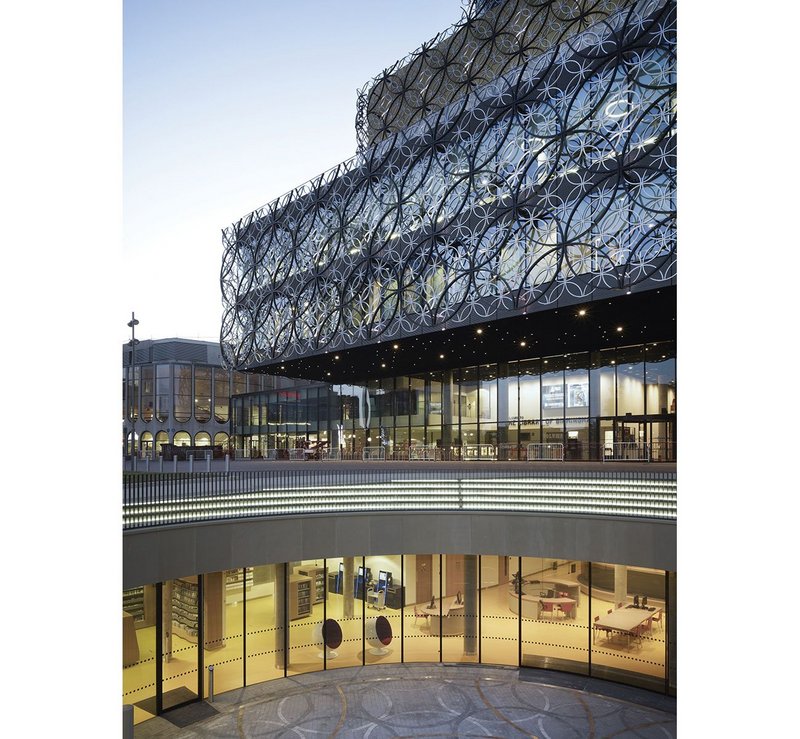 Double-height entrance with filigree facade above and amphitheatre below.

Credit: Christian Richters