Analysis of Bishop Edward King Chapel
In numbers
Contract cost £2.6m, cost/m2 £7264, gross internal area 280m2, column heights 9.5m, length of chapel 244m, width of chapel 13.5m, number of seats 80, expressions of interest 120, number of sisters 6
Tim Marcot, associate at engineer Price and Myers, says that although the chapel is based in the real world and physical laws, the metaphors and stories that Niall McLaughlin wove around it had to be bought into. 'You can't just switch off when you hear them,' says Marcot. 'They help to understand what the architect is imagining, and inform your engineering solution.'
Part of the engineering challenge with the timber glulam structure was to maintain slenderness, especially at the confluence of four timbers in the centre of the ceiling, where metal dowels connecting them all are discreetly hidden within their 60mm thickness. These connections effectively create a continuous mesh of structure independently supporting the roof free of its enclosing elliptical reinforced concrete block wall. Marcot explains that the timber roof was originally designed to have exposed trusses, but that as the design developed, this was deemed too fussy. Instead, the trusses were placed above the lime plaster soffit, letting each tri-partite supporting column make its role clear and unencumbered.
Marcot adds that the elliptical wall, while not supporting the roof, is perfect for laterally holding the glulam structural mesh in place, saying, 'They're slim, and without it they'd flex from side to side. The wall and its stone clerestory are doing all the lateral tying work.'
As the columns converge at the long ends of the ellipse's perimeter, they would logically get smaller as support points concentrate around a locus, but the decision was made to maintain the same dimensions, Marcot explains, leading to an interesting structural approach. 'The columns here are becoming more redundant in terms of needing to take vertical load, but they're still necessary to provide lateral support to the long axis, so we decided to peel the columns' trusses away from the roof. They connect to each other and terminate each long axis,' he says. The effect is sublime, as the roof soffit seems in effect to float free untethered – yet another of the chapel's boating analogies.
---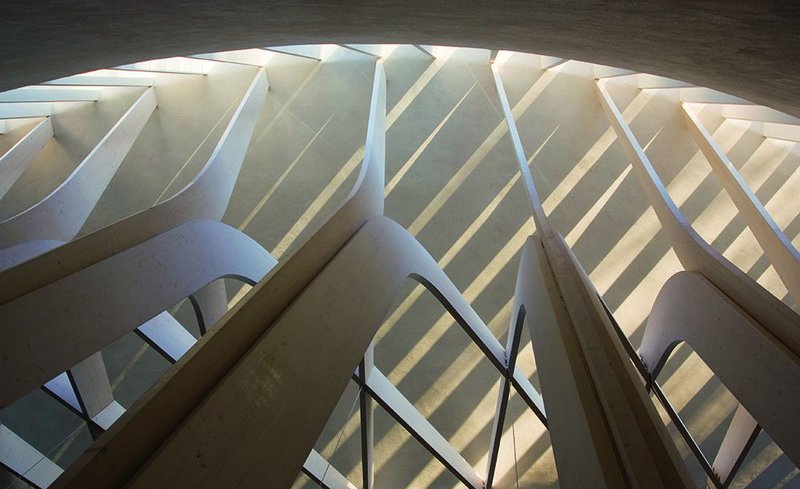 Credits
Architect: Niall McLaughlin Architects
Building contractor: Beard Construction
Client: Ripon College and Community of St John the Baptist
Structural engineer: Price and Myers
M & E engineer: Synergy Consulting Engineers
Acoustic engineer: Paul Gillieron Acoustic Design
Quantity surveyor: Ridge and Partners LLP
Stone consultant: Harrison Goldman
Access consultant: Jane Toplis Associates
Planning consultant: Nathaniel Lichfield and Partners
CDM co-ordinator: HCD Management
Approved building control inspector: HCD Building Control
Construction consultant: Richard Bayfield
Suppliers
Stone: Szerelmey
Windows: Northholt Glass
Flat roofing: Boothville
Electrical: GA electrical
Mechanical: MIH
Joinery: D Smith Joinery
Loose furniture: Westside Design
Structural timber: Cowley
Steel work: LJKimber
Bell foundry: Whitechapel Bell Foundry