Analysis of Pangbourne College's Communication Centre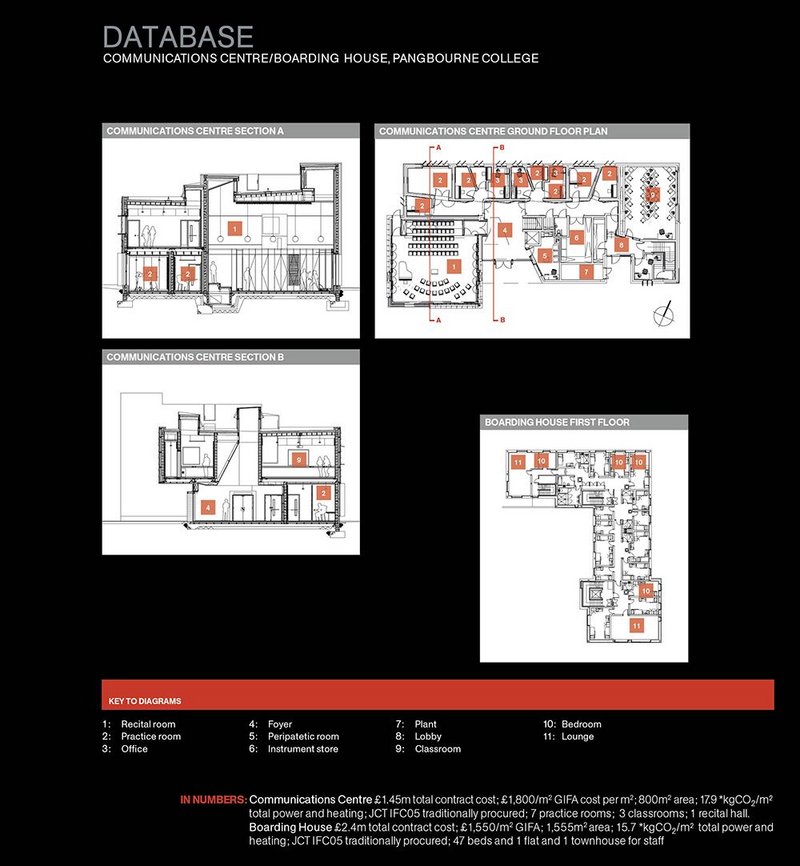 'Textureful' is what Kris Eley of Mitchell Taylor was looking for when he was designing the Harding Communications Centre. The practice was already investigating timber and had used it on a boarding house at another independent school, Badminton. At Pangbourne it came down to the setting. 'I felt there was something missing,' says Eley. 'The campus was surrounded by woodland and timber seemed the right thing – I know that's very literal.'

The naturalness of the material and the patina of aging were important.Eley saw them working in tandem with the mill-finished aluminium. As it oxidised from silver to a simple flat grey, so the timber would lose its bouncy yellow as it aged. Silver was all part of the package. The governors took some convincing, as did headmaster Thomas Garnier. But Garnier is proud of it as a demonstration of Pangbourne as a modern school, although as the practice has proved with the boarding house, brick can look just as modern. Advised by Trada, Mitchell Taylor won through with its tightly researched specification of larch (fine grained, hard and low knotting) weatherboarding on the communications centre. To give the building a sense of scale, and the architect greater control, the oversize 2.5m by 500mm panels were made up off site where angles could be perfected and corners mitred to its satisfaction. Eley compares it to specifying a cladding system, although a natural material is harder to control. On site, the panels were quickly erected by carpenters.

Timber panels on the boarding house were similarly preassembled. The quantity surveyor saw timber and priced accordingly. Eley saw the possibilities of playing with that simple material to break up the sense of a substantial mass and the office spent a good few sessions with yellow tracing paper getting the pattern of boards arranged to their satisfaction. The three board types, 50mm by 50m, 125mm by 22mm and 225mm by 22mm, are set out either vertically or horizontally. 'No diagonal this time,' says Eley.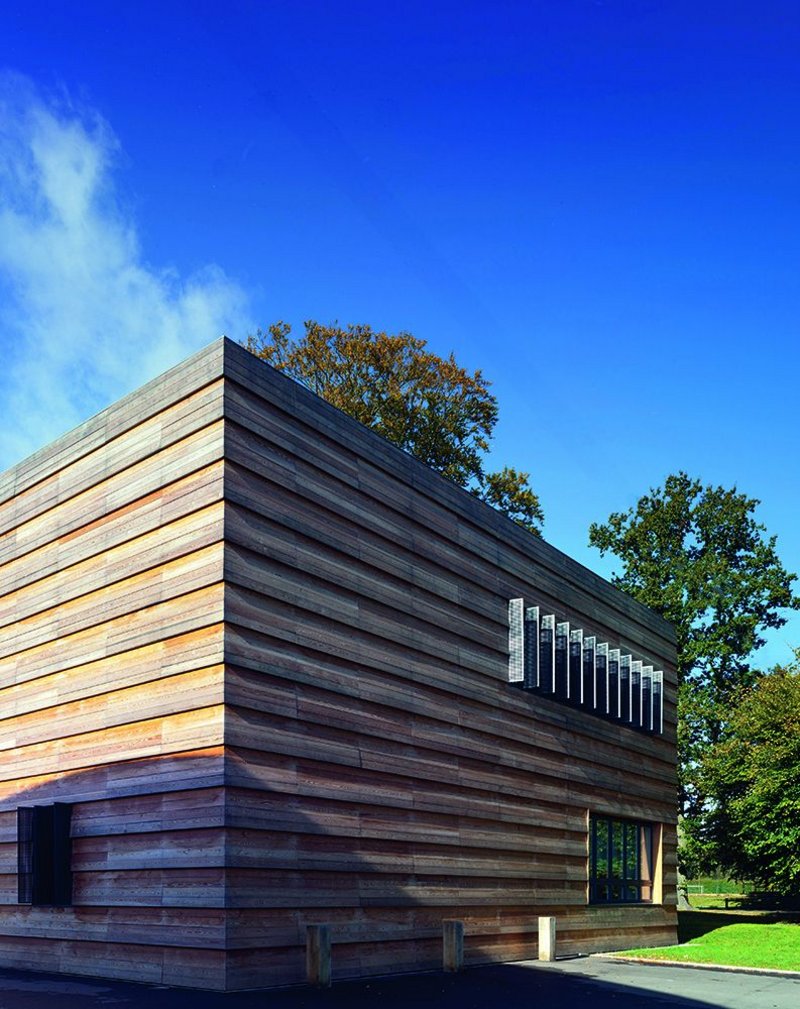 Credits
Client: Pangbourne College
Architect: Mitchell Taylor
Main contractor: Beard Construction
Quantity surveyor: MTP Consultants
Mechanical & electrical: JDP Building Services Engineering Consultants
Structural engineer: Sean Pringuer-James
Acoustics: Sound Space Design
Suppliers
M&E subcontractor: Scion Technical Services
Perforated aluminium cladding: Cadisch MDA
Timber cladding: Russwood
Boarding house windows and
doors and communications centre doors: Velfac
Communications centre
windows: SAPA
Ironmongery: Sitemaster Supplies
Breather membranes: Proctor Frameshield
Blinds: Kensington
Rainscreen system: Eurofox
Sanitaryware: Ideal Standard
Cubicle systems: Armitage Venesta,
Venesta Washroom Systems Ltd
Acoustic panels: H&H
Acoustic floor system: Danskin
Acoustic ceilings and floor systems: Mason UK
Single ply membrane roofing: Renolit Alkorplan
Roofing installation: Tego Roofing
Brickwork: Ibstock
Acoustic louvres: IAC
Loose and bespoke furniture: Wiltley Jones
Acoustic ceiling planks: Rockwool T/A Rockfon
Waterproofing: RIW
Fall restraint systems: Latchways
Plasterboard and acoustic wall linings system: Lafarge
Boarding house wall system metal stud: Metsec
Rubber flooring: nora flooring systems