A detailed look at the facade of Oxford Brooks University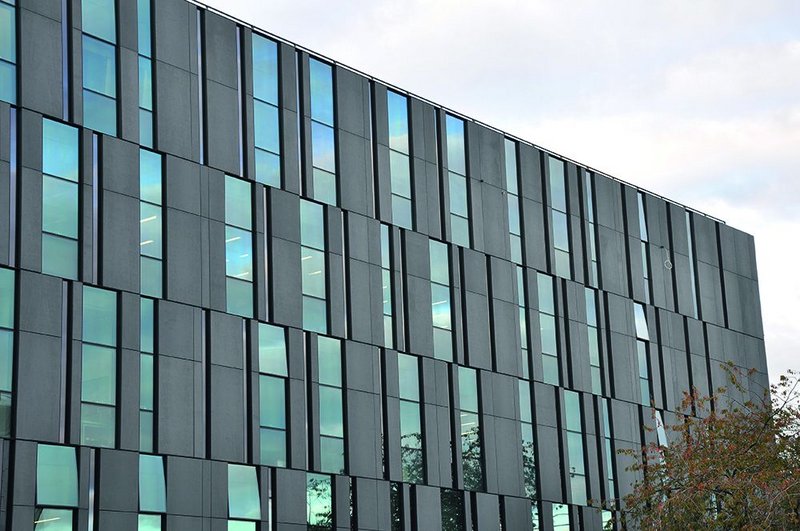 In numbers
£132m overall cost; £16.2m for first phase; 4,800m2 in first phase; 3 'pegs' of new buildings; 1 new core building;18,167 students at Oxford Brookes; 47 out of 122 Sunday Times ranking
Facade
The facade design refers to the concept of a glazed box (the library) at the heart of the campus with a series of solid 'pegs' intersecting the box. This relationship allows buildings with different functions to come together, one 'peg' being the Abercrombie Building. The extension and existing building are separated by a fully glazed atrium that links them visually and physically. The facade arrangement includes a complex layering of structural and planning grids to offer flexible planning behind.
The different facade types used in the new building include:
> Fibre-concrete cladding: A unique cladding material consisting of 13mm thick reinforced concrete cladding panels fixed back to a rain-screen support system.
> Unitised curtain-walling: SSG curtain-walling with fixed clear and coloured glazing, manual and automatic opening windows and fibre-concrete cladding. Factory-assembled units installed in 2m by 4m sections has ensured a high quality product and fast installation.
> Pre-cast exposed concrete cladding: Reveals on the outside the material used for the structure.
> Coloured glass rain-screen cladding: Focchi developed a bespoke system ensuring the panels remain in place if the bonding system fails. Focchi also used this concealed clip system for the SSG glass units.
> Glass louvres: Proprietary system by Colt offering efficient ways to open the top of the atrium for ventilation.
> Sky-frame sliding door system: Very slim framing members with large areas of opening panels.
Design Engine is working closely with facade specialist Focchi from Rimini, which is designing, assembling and installing all the facade except the pre-cast concrete cladding. This has been made in the innovative Laing O'Rourke precast concrete factory near Nottingham.
Credits
Client: Oxford Brookes University
Architect and interior designer: Design Engine Architects
QS: Turner and Townsend
Contractor: Laing O'Rourke
Civil and structural engineer and facade consultant: Ramboll UK
M&E engineer: Grontmij
Landscape architect: Land Use Consultants
Accoustic consultant: Sandy Brown Associates
Signage consultant: Holmes Wood
Lighting consultant: Speirs and Major
Access consultant: QMP
Planning consultant: West Waddy ADP
Original masterplan: RMJM
Suppliers
Facades and external doors: Focchi
Green roofs: Blackdown
Flat roofs: Rock
Maintenance and access systems: Façade Hoists
External works: Laing O'Rourke
Concrete frame: Expanded
Pre-cast concrete stairs: Bison
Structural steelwork: London Engineering
M&E: Crownhouse
Platform lifts: ECA
Specialist steelwork: Glazzards
Glass bridges: Littlehampton Welding
Ceilings and drywalls: BDL
Internal cladding: SAS
Joinery: MJM
WC fit-out: MJM
Internal doors: SJ Eastern
Sliding partitions: Alcowall
Ironmongery: Timbmet Door Solutions
Access control: Contract Security
Fire shutters: Cooper Fire
Raised access flooring: Kingspan
Fire stopping: Kilnbridge
Lighting: DAL, Zumtabel, Enliten, Encapsulite, Insta
Audio visual: ProAV
Blinds: Levolux