The DSDHA director visits Thomas Heatherwick's park on a pier in Manhattan and is pleasantly surprised to discover an inspiring and restorative pitstop whose users are overwhelmingly local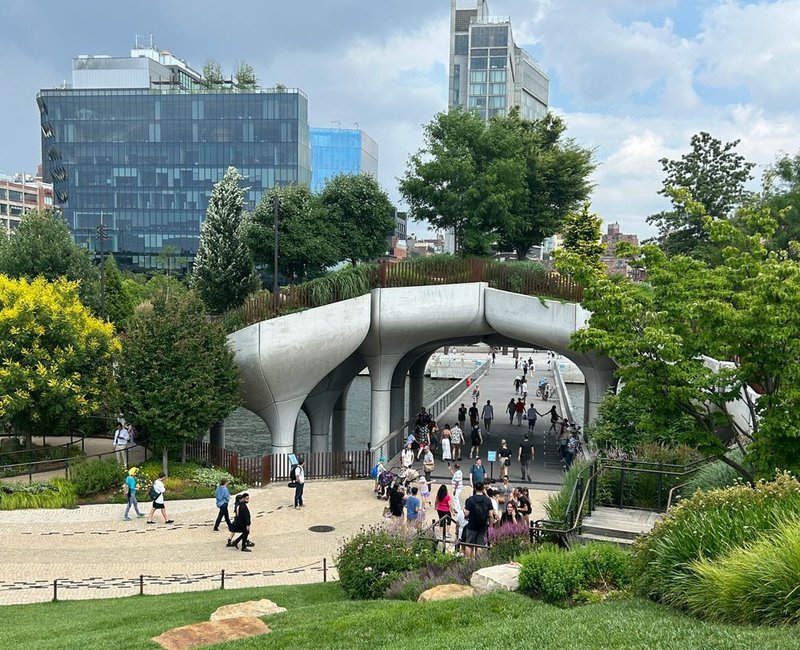 Entrance Arch from within Little Island.

Credit: Deborah Saunt
As a champion of democratising public space, Little Island is the kind of place I venture into with my senses on high alert. Described as a 'gift' to New York by society couple Barry Diller and Diane von Furstenberg, the new privately funded, Heatherwick-designed public pier floats over the Hudson.
But visiting it on a recent trip, to my surprise and after a little fact-checking on-site, I was completely won over by this 'miniature' park. A compressed, abundant landscape sits atop bespoke stiletto columns teetering in the water, both graceful and robust, with hordes of people visiting on a summer's afternoon to catch the breeze and soak up nature. While similar sweeping Hudson views might be had on dockside, being elevated above, projected into the river and surrounded by plants makes everything feel special.
On its hillocks and valleys are lookout points, a playground, an amphitheatre, pockets of shelter from the sun, and world-class WCs, all set within a vivid landscape designed by Signe Nielsen of Mathews Nielsen Landscape Architects.
While the pier boasts a huge variety of landscapes and vantage points, Little Island is not all bells and whistles. As you wind through its ramped pathways, alongside Instagramming tourists, there are also couples out taking a stroll, families spending time together, children and adults clambering purposefully up stone-faced vertical shortcuts between levels. Above all, there are many people simply reading books.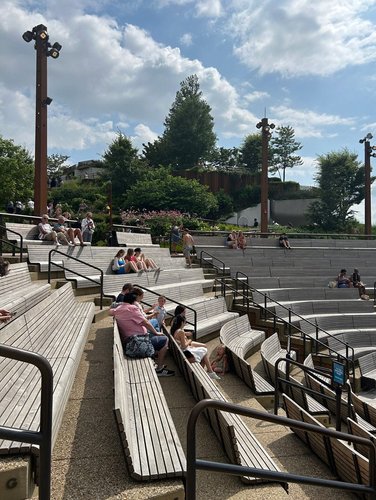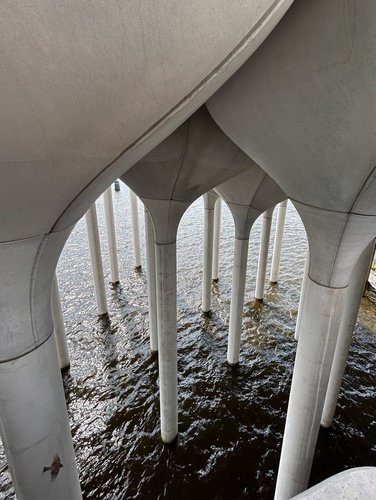 This distinctly Heatherwick project delivers on spectacle but it also accommodates everyday life. Most of the people here are locals, living in Manhattan's West Side, a point statistically proven by post-occupancy surveys. It really is a local park, open to local people all year round.
Situated next to Google's central hub, Pier 57, on the intersection between the Whitney Museum and the High Line, Little Island is the perfect antidote to urban intensity. And while the High Line is all about movement, Little Island offers up a moment of pause.
Part of New York's re-engagement with its waterfronts, and following the pandemic, Little Island rekindles nature's role in city life. You enter via a footbridge but,as soon as you arrive, you feel compelled to come off the main path onto the island and let time stand still. During a busy city break, this off-itinerary destination was an inspiring and restorative pitstop; one which captured a new vision of New York, and the future direction the city is taking.
Deborah Saunt is director at DSDHA and founding director of the London School of Architecture
Feel like more architectural travels? Visit the world via postcards here