With exposed brick and view holes, Studio Octopi makes the Delfina Foundation's latest premises doubly revealing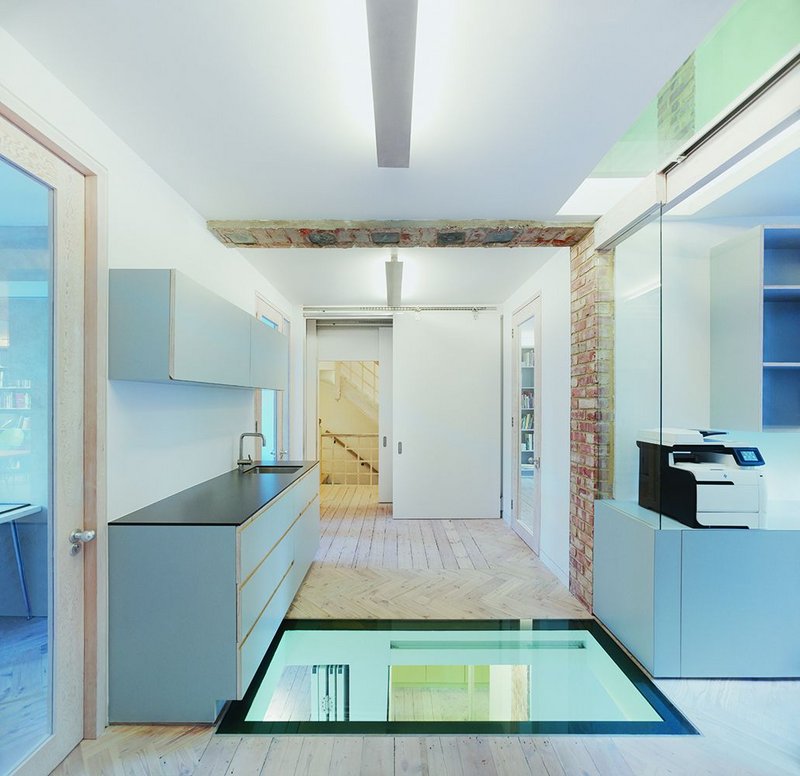 New and old materials in juxtaposition: exposed original brickwork sits alongside clean new plaster and structural glass.

Credit: Julien Lanoo
This is an ingenious conversion of the 'scrape and reveal' type of architecture, brought to the fore by Haworth Tompkins with its late 1990s Royal Court Theatre revamp in London, and which has become very popular since, not least in David Chipperfield and Julian Harrap's Neues Museum in Berlin, or Herzog & de Meuron's 'Tanks' galleries at Tate Modern. Under scrape and reveal, a building is stripped back, exposing various marks of history including previous alterations and structure originally meant to be unseen. Rather than cosmetically tidying these up and covering them over, they are carefully preserved and (usually) distinguished from the latest intervention, to become privileged parts of the new architecture. A visual historical narrative is thus set up, one with a materials fetish: such buildings are rough and rich rather than smooth and clinical.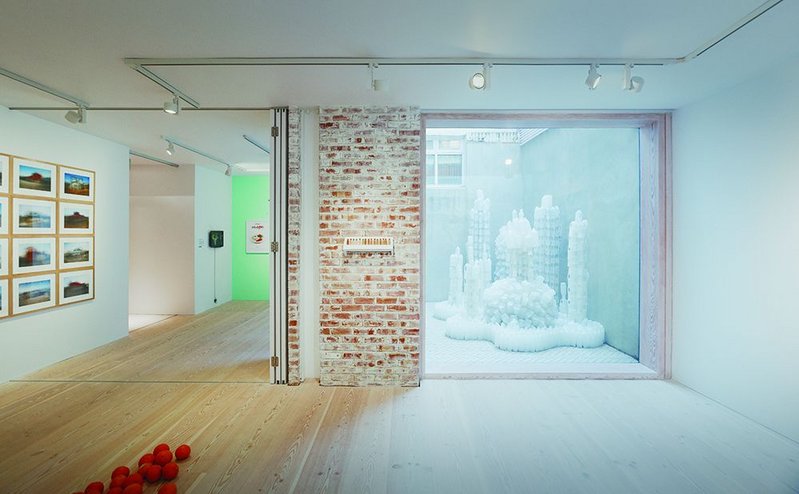 The basement gallery space looks out onto an external courtyard.

Credit: Julien Lanoo
At the Delfina Foundation in London's Victoria, a building for artists in residence and associated exhibitions, two adjacent mews houses have been conjoined, scraped and revealed in this way by Studio Octopi, which describes its approach as 'architects cum archaeologists'. The houses are described as Edwardian but look 1920s to me. My first, unworthy, thought on seeing the project shortly before completion was – how will the poor builders know when it's 'finished'?
Given that scabby old surfaces are mostly given only a rub-down and a thin wash of paint, while in contrast new surfaces get the full plaster-and-three-coats; given that the raw brick and concrete edges where the houses have been knocked through are left raw; given that a patch of 1960s wallpaper in a hallway is as carefully preserved as if it was a medieval wall painting; it must have taken close supervision of builders to make sure that – in contrast to usual practice – they didn't do too much. Then again, in this upmarket area, perhaps it helped that they'll be used to the interior design fad 'shabby chic'.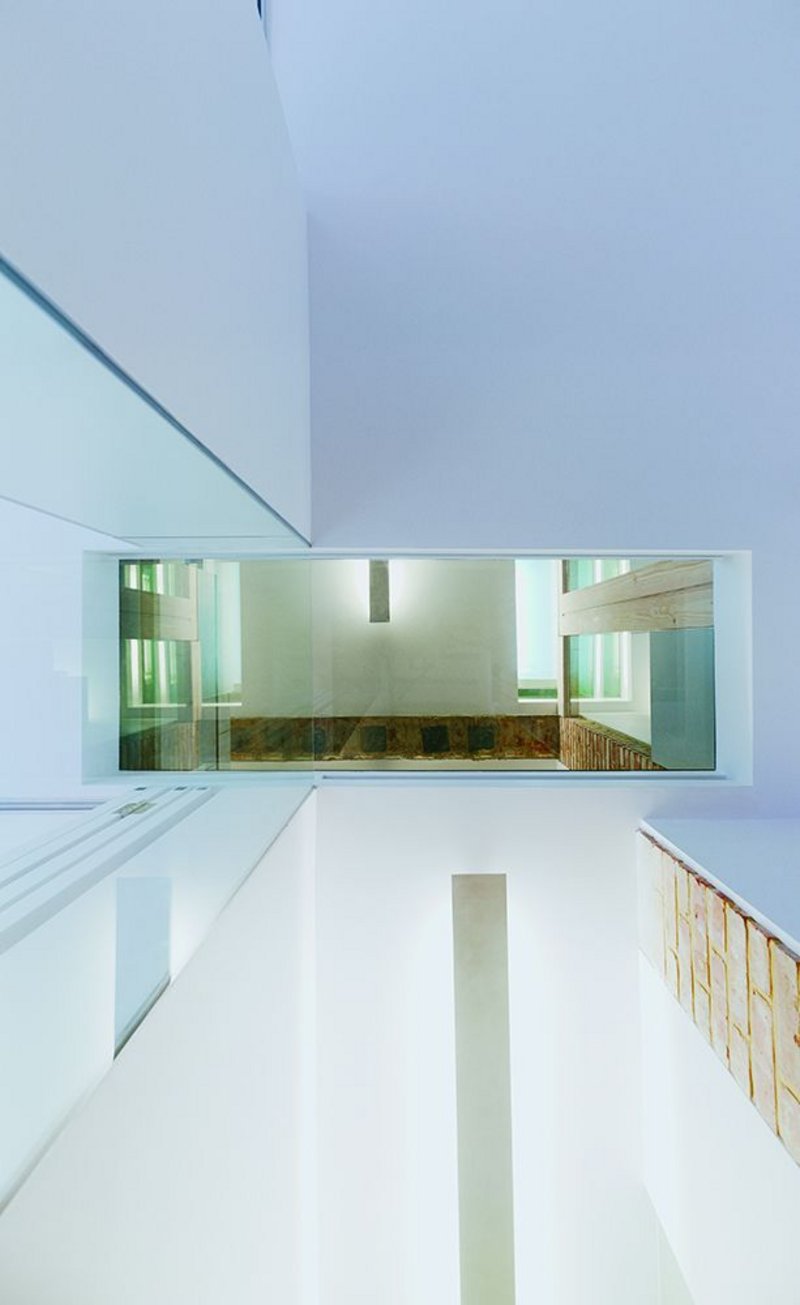 Vertical (shown here) and diagonal views are opened up through the house.

Credit: Julien Lanoo
Key to the design is the extension of spaces both vertically and horizontally, by means of large glazed openings in the floors which allow diagonal views between the private world of the artists' rooms upstairs – eight of them, monk-like in their austerity, sharing bathrooms – and the public and gallery areas downstairs. As with the Royal Court, this is all to do with creating a dialectic between bourgeois surroundings and radical art practice: you would have no idea, looking at these slightly prim, yellow-shuttered houses from the outside, as to what was going on inside.
It has been well done, to the point of obsession. It's a smallish project at £1.4m for a 445m2 area, originally a collaboration between Studio Octopi and Cairo-based Shahira Fahmy Architects in accordance with Delfina's policy of cultural exchange, but thereafter taken forward by the British practice alone. In this context, it works: we are familiar with architect-designed apartments and houses which adopt the scrape-and-reveal approach – come to that, it has long been a favoured if less mannered technique for artists' studios – and this project remains domestic in feel, not least because it is a kind of boarding-house for artists as well as public gallery space. The artists' rooms are on the top two floors while the gallery and workshop (with external terrace) are in the basement, ground floor houses reception, dining/workshop, kitchen and terrace, and the first floor has office and library.
Perhaps it's just a little too arte povera in its aesthetic ambition, but spatially it all comes together well: the sense of inhabited upper regions, the tying-together of private and public realms, is a success. Scrape and reveal has some mileage in it yet.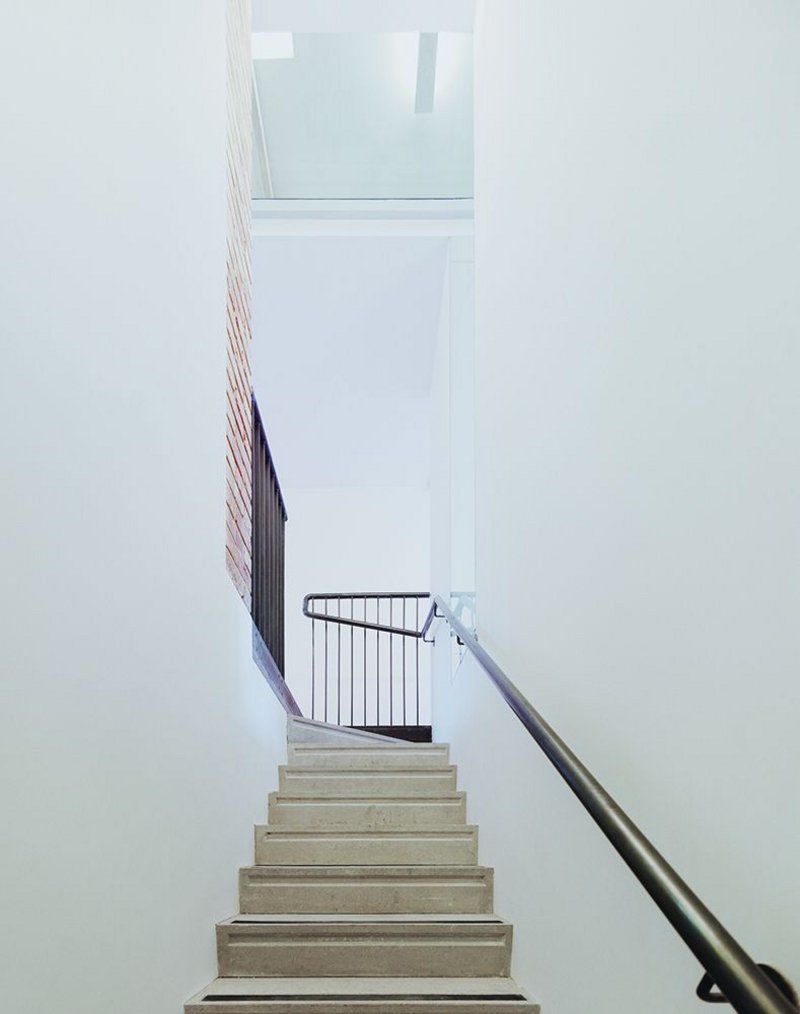 A new cast concrete stairway keeps things plain and simple.

Credit: Julien Lanoo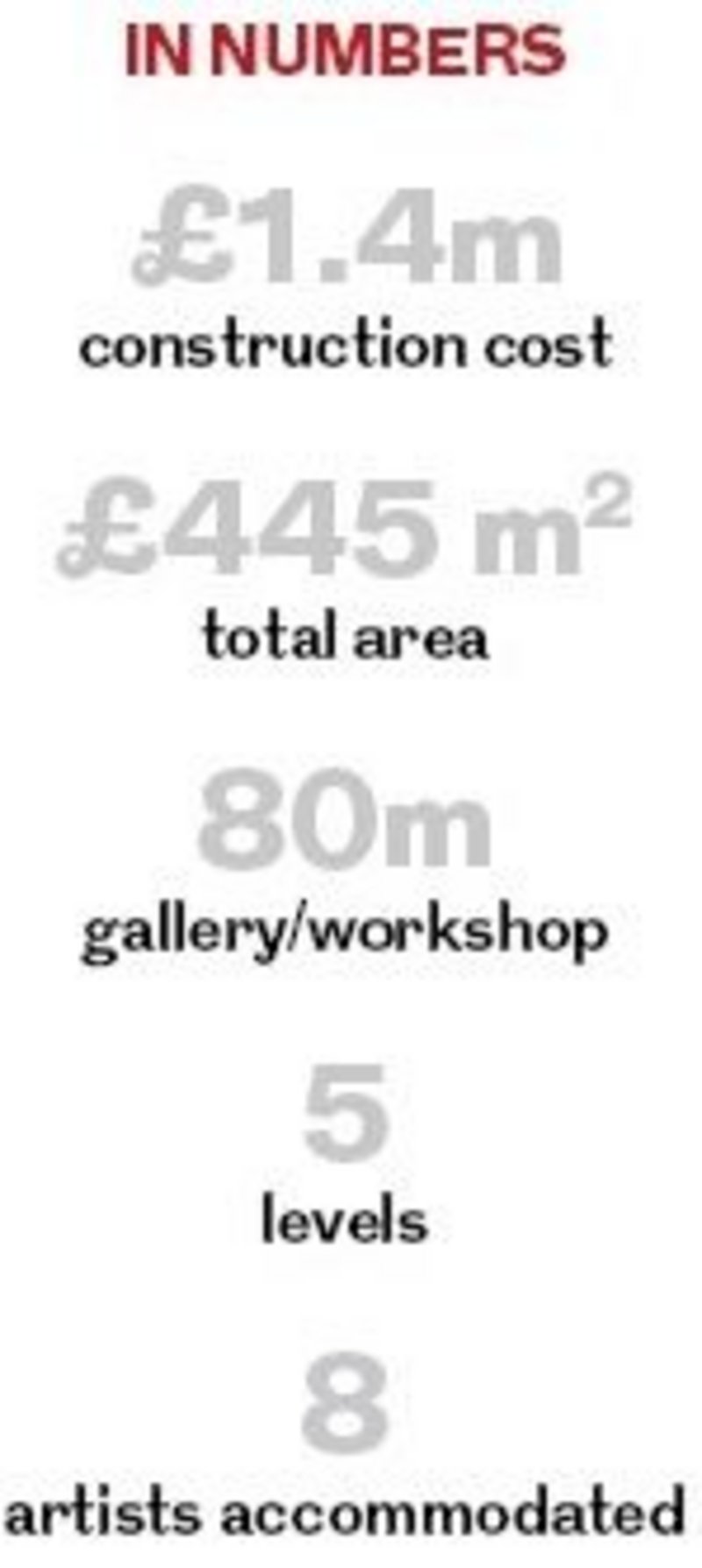 Credits
Client Delfina Foundation
Architects Studio Octopi (with Shahira Fahmy Architects at concept stage)
Structural engineer Nous Engineering
Quantity surveyor Building Construction Solutions LLP
Planning consultant Alliance Planning
CDMC/Building control MLM
Suppliers
Flooring Dinesen
Resin flooring Sensor floors
Glass floors Specialist Glass Laminates
Concrete stairs Cornish Concrete
Internal joinery City Joinery
Block pavers Wienerberger
Lift Gartec
Rooflight Glazing Vision
Sanitaryware Just Add Water
Lighting Erco, Light Plus
Ironmongery SDS London