Derwent Valley Villa by Blee Halligan is an unashamedly modern home that shapes and is shaped by the landscape it sits in
Duffield is a large affluent dormitory village, dating back to Norman times with a number of good Georgian houses and later suburban streets, five miles up the Derwent north of Derby. Other than a heritage railway line running to the nearby quarry town of Wirksworth, there is so little evidence of the activity that was so important to the Industrial Revolution that this valley is now a World Heritage Site. If you're looking for the mills, go south to Darley Abbey or further north to Milford, Belper, Cromford and Matlock.
These mills are cited as inspiration by Blee Halligan, architect of Derwent Valley Villa, for their 'functional elegance and strong, unapologetic proportions'. While this house certainly has an aesthetic of strength, it does not however try to stand proudly in contrast with the landscape as they do. On the contrary, the villa is a wholly landscape-derived design and positively self-effacing.
It reveals itself to the outside world only in glimpses of textured and perforated brick and the occasional large window, peering over its pre-existing perimeter wall and hedge. Set at the junction of two quiet streets, its key view is southwest across the town's cemetery to the gentle landscape of south Derbyshire. This site on the edge of the built up area ruled out anything too prominent. That meant in practice that – despite including a two-storey bedroom block where the large 1960s bungalow it has replaced had only one – it rises no higher than that home's pitched-roof apex did. To achieve this and decent floor-to-ceiling heights required both a flat roof and excavation.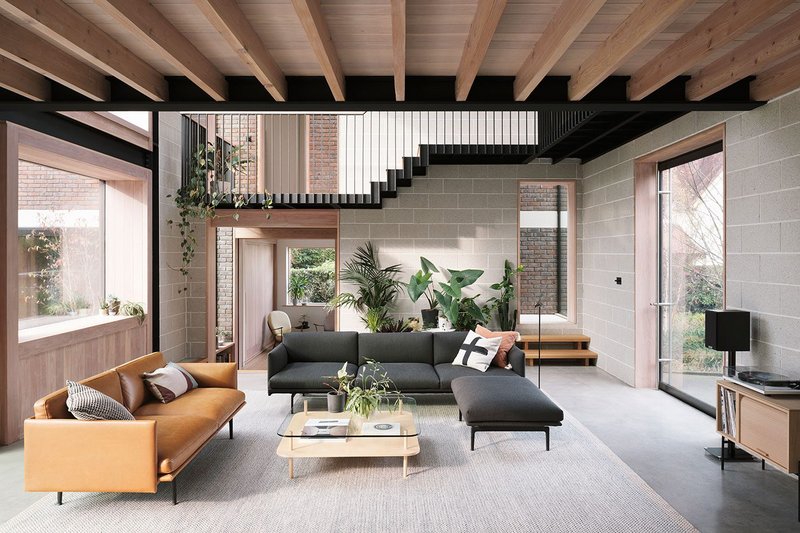 The first-floor landing encircles the atrium.

Credit: Henry Woide
The clients, Craig and Lisa Foster, lived in the village already. They rebuilt to get the quality of accommodation – and especially landscape – they wanted. Tumultuously changing family circumstances intervened: Lisa became seriously ill and died before building began. Craig continued the project, as he describes it, almost as a form of therapy, trusting the architect's design decisions. The house has proved adaptable: designed for a family of five, today it is occupied by what Foster describes as a 'blended family' of seven, with three children from his side and two from his partner's, their ages ranging from 5 to 12. Other than the guest suite becoming one of the children's bedrooms, that's about it: the living spaces and gardens are large enough to absorb everyone.
Liking a house they'd seen elsewhere by ShedKM, the Fosters initially contacted that practice, who, for such a relatively small project, referred them to their former colleagues Greg Blee and Lee Halligan. Friends since Bartlett days, after working for Níall McLaughlin they had set up ShedKM's London studio and then departed to establish their own firm in 2014, soon winning multiple commissions in the Caribbean. Derwent Valley Villa was to be the firm's first, and so far only, all-new house in the UK.
This is a remarkably self-assured house, clear in its expression and separation of volumes
Externally there is nothing showy about it; indeed the large partly half-timbered Edwardian houses on the other side of its street are considerably more assertive. Unlike them, this house has no principal facade. It is set out as a sequence of four separate but linked blocks disposed along the centre of the site. It is somewhat 1950s-60s in feel with its purplish brindled bricks (slightly bluer on the ground floor, slightly redder above), separated by a band of precast concrete incorporating cills. The same material is used as a cornice. The external concrete belly-band belies the fact that there is no concrete upper level floor slab: the structure is hybrid timber and steel.
A single-storey range contains a garage, entrance hall, bedroom suite and link leads to the main two-storey house – a cluster of two blocks set at right angles to each other, the subsidiary wing set slightly lower. In the main block is the enormous kitchen/living/dining area, stepping down to two more intimate living/play rooms in the sunken wing that can be separated off with sliding oak doors. Stairs to the upper level run in a glazed slot up behind the end wall, passing the master bedroom, emerging into a double-height atrium with circular rooflight and continuing up and across the atrium to the children's bedrooms above the main living space. There a row of three small bedrooms for the children concludes with a family bathroom.
Materials are self-finished, with exposed (superior, glass-flecked) blockwork walls, floors variously of polished concrete, oak and tile, Douglas fir beams, black-painted steelwork. The character of the house is dominated by its relationship to its landscape, designed by Johanna Gibbons who happens to be Blee's older sister. Her plan, using wet woodland species, defines three separate garden areas ranging from an intimate courtyard via a large kick-about part-lawned area to the heavily planted south-western end with pond, culminating in a mature weeping willow. The main living area can open right up to this garden via sliding patio windows: the size of the glazed areas throughout is impressive. Blee cites a number of projects as references including McLaughlin's Alzheimer's Respite Care Centre in Dublin – a building stretched through an enclosed garden to form courtyards – and Dow Jones' Garden Museum extension in London.
This is a remarkably self-assured house, clear in its expression and separation of volumes and in the way it works hand-in-hand with its landscape elements, the one informing the other. The photos of course show it pristine, but it also happily absorbs all the clutter of a large young family. And it shows how a new, intelligently designed, modernist house can actively improve its setting.
IN NUMBERS
Construction cost £1.2m
Site cost (2016) £627,500
GIFA 407m²
Bedrooms 5
Living areas 3
Garden zones 3
Credits
Client Craig and Lisa Foster
Architect Blee Halligan
Structural engineering Heyne Tillett Steel
Landscape architect J&L Gibbons
Quantity surveyor Appleyard and Trew
Contractor Derwent Valley Construction