The Design Museum has revealed its £80 million plans for the grade 2* listed Commonwealth Institute.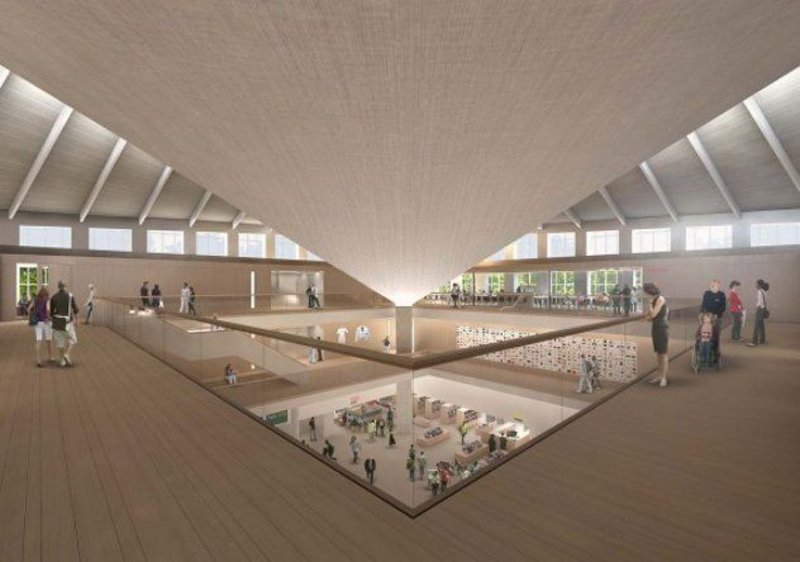 The designs are predicated on changing the way the building operates as well as the need to rescue this building 'quietly and gently' says director Deyan Sudjic, 'It is a fantastic gestural building but it was built on a limited budget and it failed.'
The grand hyperbolic paraboloid roof will remain, in all its glory, but most of the rest of the building is being deconstructed.
OMA will replace the patched outer skin with a glass façade that will give the same monolithic appearance but allow glimpses through. 'The skin was just blue glass and blockwork with a foot and a half of glass,' says Sudjic, 'with no insulation at all.' He speaks with feeling having spent some of the coldest days of his life in the building.
Inside John Pawson's plans show how the basement will be dug out for additional galleries and the existing floors replaced. The floors are already working to the limit of their structural capaciy (or 'peak' as Sudjic prefers) and couldn't even stand up to having lifts inserted in them to take visitors up to the permanent exhibitions and cafe. Compartmentalising the ground floor will be necessary to manage temporary exhibitions but access to the foyers will be free and Sudjic is hoping this will be a new attractor along with the tripled exhibition space of 10,000m2.
Outside getting visitors beyond the set back and the drawbridge entrance may be more tricky. Especially as there will be two OMA blocks for Chelsfield in front of the museum. But Sudjic hopes that a shop and booking office in an OMA block, display boxes plus a more visibly permeable relationship with next door Holland Park will make the Design Museum a visible presence on Kensington High Street.