Hawkins\Brown has given students at the Bartlett a lesson in cost and sustainability, stripping the school's home back to its core to modernise and extend it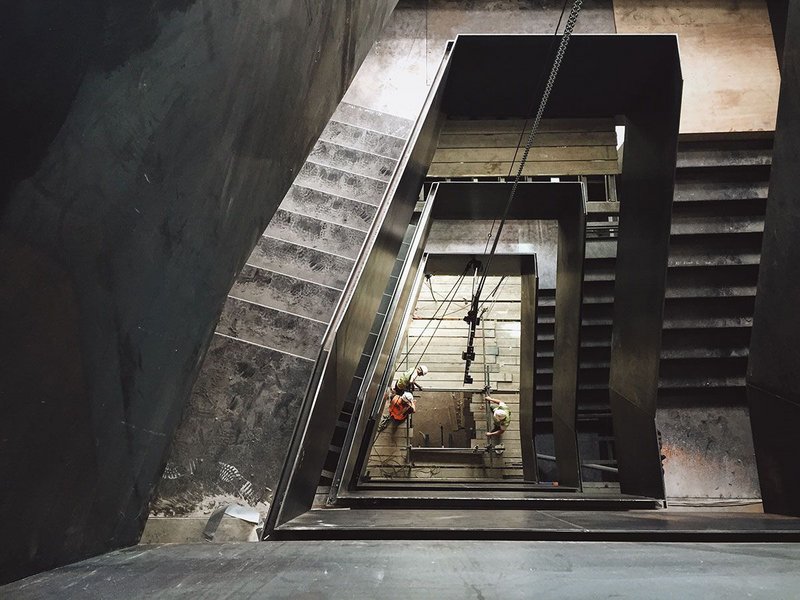 The vertiginous waxed steel staircase is a central focus of connectivity in a building formerly characterised by low, isolated floorplates.

Credit: Hawkins\Brown
When Tom Noonan presented Hawkins\Brown's design for the refurbishment and extension of Wates House, home to University College London's Bartlett School of Architecture in Camden, he was back in the same room he'd held his student crit in just four years earlier. 'This was by far the most memorable crit I have ever had,' he says, 'There was an overwhelming feeling of excitement about the new building.'
With a construction value of £22 million, the revamp of Wates House is now a few months away from completion. It has seen the cramped, opaque and ugly 1970s-built brick building stripped back to its skeleton concrete frame, then expanded out and up to more than double the amount of usable space.
The project forms part of a masterplan intended to consolidate UCL's seven faculties for the built environment, currently spread across a number of sites in Bloomsbury, and will enable Wates House to become a dedicated home for the architecture school for the first time. The School of Planning and the library are being moved to a dedicated new building just five minutes' walk away.
Reputation at risk
The Bartlett has a stellar reputation. It ranked second in the 2015 QS World University Rankings for Architecture and the Built Environment, but its academic prowess was always held back by the quality of accommodation at Wates House, which put the school at possible risk of losing its RIBA validation.
The building was highly cellularised and insular and less than half the students had a dedicated studio desk space. Euan MacDonald, partner at Hawkins\Brown, told RIBAJ: 'People would enter the main entrance in an uninviting side alley, get in the lift go to their own little cell. The only place for meaningful interaction between staff and students was in the waiting areas for the lifts.'
The exterior had a negative impact on the local Bloomsbury Conservation Area, characterised by an eclectic mix of notable and listed buildings, and had no active street frontage. In addition,it faced problems typical of 1970s buildings, including uninsulated cavity walls and single glazing.
Kevin Jones, faculty facilities manager at the Bartlett says: 'The building had expanded well beyond its capacity, student numbers had increased fourfold since it opened. It was unloved, dysfunctional; it ran out of life.'
A range of options from newbuild to radical demolition and extension were explored. The chosen approach won out due to factors including cost – it would be 20% cheaper than newbuld – sustainability, partial demolition which would save embodied carbon, and planning constraints.
'Wates House has fairly low floor to ceiling heights of 2.75m, but if we designed a newbuild we'd have had to achieve a height of 3.25m. To accommodate same amount of floor area would have meant building higher and we knew the planners would not accept that,' says MacDonald.
Hawkins\Brown's upgrade involves a series of structural manoeuvres and three areas of extension, intended to open up the building and maximise space to give every student a dedicated desk. The facade was demolished, but the concrete stair and lift cores retained. Holes were punched through the heart of the plan to improve space and circulation and create areas for people to meet.
Where the old layout was hierarchical – staff and student spaces were assigned to different floors – the new layout encourages transparency and interaction, staff and studio rooms are mixed, and the new circulation creates areas for people to meet and chat.
Most of the building, from floors two to six, is studio space, with a 'co-located' wing of staff offices along the south side and a staff hub in the south-east corner. The ground floor is communal, with a publicly-accessible exhibition space, café, foyer, reception, teaching rooms, and a large lecture room. The first floor is more administrative and features computer clusters, a faculty office and seminar rooms. An open plan basement workshop, the most intensively serviced part of the building, is assigned to fabrication, analogue and digital metalwork and woodwork.
Pushing the envelope
To maximise space a new 1.5m-wide extension was built around the perimeter on the north, east, west and south-east elevations, supported on new steel beams fixed back to existing concrete columns.
This increases the size of studios, offices and teaching spaces, pulls the building line out flush with the neighbouring terrace, and creates new dual aspect spaces at the corners, suitable for tutorials.
A lightweight facade wrapped in 75mm-thick bricks, 25% thinner than London stock, was designed for the existing superstructure and substructure to minimise loading. The textural, light grey bricks harmonise with the Portland stone of neo-classical institutional buildings on the other side of Gordon Street, with windows sized to Georgian proportions.
A key aim was to knit the building into the local context, characterised by grade II-listed Georgian terraces, Edwardian institutional buildings and post-war university buildings.
'The architecture is all about keying into the context and providing a fairly neutral vessel for what happens inside,' says MacDonald. 'We're not trying to impose an iconic, showy building that is not appropriate here, we wanted to deliver a calmly confident response – modern but not overtly expressive.'
Efforts to engage more with the city included opening up the facade to maximise views and natural light. All 25 studio spaces are arranged along the north, east, and west facades; a luminous open-plan attic studio on the fifth floor boasts an impressive 'Mary Poppins' view across a roofscape of chimney pots. A new sixth floor was built above para­pet level to create a generous studio space with a clerestory that rises towards the west.
Key zones such as studio hubs and seminar rooms are expressed on the facade to exploit high level views north towards Euston, and south-west towards the heart of the UCL campus. The first storey floor slab on Gordon Street was demolished to create a new entrance and double height exhibition space.
City infill
A full-height extension in the south-west corner is the largest addition to the project, an 'infill piece of city' between the original building and the neighbouring Department of Chemistry lecture theatre.
Post-tensioned concrete construction allows 10m-wide column-free spans for unprogrammed flexible space. The extension links to existing lift and stair cores and has a new vertigo-inducing feature stairwell. Built in waxed mild steel with timber handrails and soffits, the stair is highly angular, the geometry shifting as it drops from first floor.
Moving between the extension and the original building gives a sense of crossing a threshold as rough unadorned concrete columns butt up against new steel girders. The transition embodies an underlying principle to respect the old and express the new, says McDonald: 'We wanted to treat the existing structure as "found", to leave the concrete exposed and let things exist as they are. New areas are expressed using robust but softer materials – principally timber joinery.'
The raw aesthetic reflects the fact the school has to stand up to heavy use and occupation and extends to the installation of exposed MEP services on most ceilings.
Wates House is designed to BREEAM Excellent standard and includes passive solar measures, high thermal performance double glazed windows, a PV array on the roof, mixed mode ventilation, while retaining much of the existing structure saves 'enormous amounts' of embedded energy.
However, by roughly doubling occupancy, associated levels of heat from bodies and computer equipment mean that on warm days multi-service chilled beams are required in many spaces, increasing energy loads.
The improved Bartlett is expected to reopen this autumn. The fact staff and students had direct input into Hawkins\Brown's design, and a former graduate is on the design team, bodes well for its success in operation.
'That connection to the school helped us understand the real drivers, because every academic has a different idea of what architecture should be and this building suffered from several unfulfilled attempts to address its historic flaws,' says Noonan. 'Combining our mutual skills helped us exceed the sum of our individual parts – even if it did mean going through the toughest crit of my life.'