ACME's Victoria Gate scheme at the unfashionable end of Leeds rejects the traditional approach to shopping arcades to create a somewhere place with big ambitions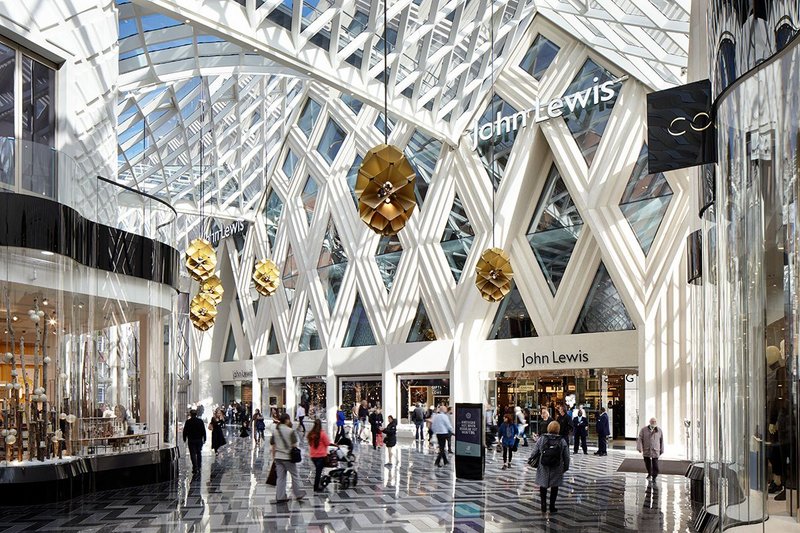 The diagrid roof and patterns of the arcade are given more expansive expression in the cladding on the John Lewis store.

Credit: Jack Hobhouse
A lot is talked about nowhere places. The airport, motorway services, the shopping mall. People often go through them, spending money en route to a somewhere place. Somewhere that stimulates their senses with wind in their hair, complex streets, great views, places as experience, as entertainment. But we don't seem to demand that beauty and detail in our shops in our home towns.
Of course some shops have made more of the place they are in (Liverpool One) or are a performance in themselves (Libeskind's Westside in Bern comes to mind). But new shopping developments are designed first and foremost to serve the retailer itself – which usually has a national brand to be applied. Once inside the mall you normally have to stretch your neck up to the roof for a sense of unity, character and place.
Victoria Gate, remarkably, has all those things from the moment you enter, although it is essentially a 5300m2 loop of new shops in Leeds, with casino and restaurants above, John Lewis and a multi-storey car park.
It is designed by ACME, which was responsible for the charred timber-clad Hunsett Mill on the Norfolk Broads. Leeds is its first big project, and it has been working on it for years. It started by winning a competition for a landmark John Lewis store; this was followed by a masterplan, initially with Benoy, and two more competition successes. ACME found itself designing a full shopping mall. Some years ago, as the scheme was emerging, the excitement of ACME director Friedrich Ludewig at the idea of designing an arcade for Leeds – a city of arcades – was tangible. But that is how he talks – fast and excitedly – could it really be that this was indeed something special?
If ACME had fresh ideas to bring to the mall typology, it also had the benefit of working with a developer whose experience gave it the confidence to be ambitious. Hammerson's aim to push Leeds up to number three in the UK's retail rankings may not thrill – but is something it has a record in doing. Its portfolio includes Brent Cross in north London, and more recently Cabot Circus in Bristol with Chapman Taylor (an uncomfortable zoo of styles) including the beautiful stone facade of its House of Fraser store by Stanton Williams. It commissioned Birmingham's new Bullring too, with its airy, if bland, routes to the silver-disked icon of Future Systems' Selfridges. And Ludewig has some history with the developer, having worked with it on Leicester's Highcross shopping scheme when he was with Foreign Office Architects.
Hammerson has a big stake in making Victoria Gate a success. In 2012, while it was still in planning, the firm bought the Victoria Quarter next door. With a remarkably high spend per visitor (perhaps partly due to Victorian theatre architect Frank Matcham's designs for some of its impressive arcades) this makes a springboard for the ambitious plan spelt out in the brief delivered to ACME by Hammerson director of retail development Robin Dobson. Calling for the largest premium retail leisure destination in the north of England, with buildings of 'architectural merit' and 'places people want to be in', it is a brief that could result in a theme park as easily as a building of quality. The upsurge in the talk of 'experience' must play a part here.
I walked to Victoria Gate through the city's famed, ornate arcades that weave glittering ribbons through city blocks. I browsed the down at heel Kirkgate Market, where rolls of cheap wrapping paper jostle with the Josephine hair braiding salon and stalls have LPs for a pound stacked in plastic boxes. I strolled the busy high street and the echoingly empty Trinity Leeds with its oversized glass canopies – three layers with bridges, roof, Next and Fossil. You might argue Leeds has more than enough shops already – over 1,000 in a city of 750,000.
But Victoria Gate is alive and buzzing with people. No chance of a quiet moment to stop and work out what it is about ACME's simple list of arcade attributes that brings a magic to it. Is it those curving glass facades that draw the eye seductively on? The way you linger a little on the detail as the black of the fascias at the base meets a herringbone of grey granite lengths that break up and intensify towards the threshold of each shop? The two routes that invitingly drop away from the Harwood Street entrance, following the lie of the land, their curves echoed by the gold pendant lamps dropping from the roof (and what lamps, 1.5m tall, all singing all dancing in gold)? Is it the diagrid of the roof that reads as delicate diamonds from the ground floor? The care that offsets the lack of natural light to the north arcade – buried under the casino – by the lighting behind the glass, and a dramatic scoop which does reach the sky? Modulation, rhythm and materiality combine and retail is subservient to the space which has a unity of its own, not through stripping back but by glamming up. And though you can imagine it being copied less convincingly elsewhere, at the moment this is uniquely Leeds.
There is still an element of the ersatz. The pattern moulded in glass reinforced gypsum on the upper level hints at this. Add lift music and casino signage (yet to be installed) and you might stop believing in the whole thing. But once you step outside, the weight and materiality of the buildings reinforces the sense that this a serious, engaged part of the city.
Victoria Gate sits where the shopping runs out as it meets the A61. Two large sites were assembled, one each side of the less desirable end of The Headrow, where it becomes Eastgate. It is the southern side which has been completed. ACME took brick and Portland stone and a certain preciousness at the corners as a guide from The Headrow's civic institutions, which were developed to a Reginald Blomfield masterplan from the 1920s. The Portland stone became precast and is the panellised structure on which the bricks and terracotta are embedded. Brick is stacked in dentate piers in a stock more familiar on driveways, one that can cope with water sitting on it. Onto The Headrow this is given a serious, but syncopated, facade on top of a white concrete ground floor, white ribs and mullions of concrete taking over at corners and entrances with a calm intensity. It works, somehow, with The Headrow's neo-classicism. The market facade is more Victorian and more fun. A black concrete base and the same brick piers are turned into a tall tap dance of rhythm and texture with terracotta.
These are the warm up to the declamatory diagrid of the John Lewis. Ribs of heaving white concrete, the angles faintly recalling those of the John Lewis logo, stand proud in the city. There is sparkle with polished main ribs and acid-etched infills; a little colour may be added in the form of terracotta but this is still in negotiation. There are some oddities. One corner is just a plant screen though you wouldn't know it – the louvres are vertical. Air handling units sit on their appropriate floors to avoid risers. A large cantilever keeps the building clear of delivery lorries while another corner is deeply cut away to allow a long-planned tram route. The car park itself was an unexpected encore, replacing a police station, its metal twists a landmark for drivers cutting through the city on the A61.
Ludewig has a long held desire to bridge this divisive road, pulling out the city centre even further out to the West Yorkshire Playhouse and Northern Ballet. A planned hotel on the Hammerson site would help. He and Hammerson also have aspirations for Kirkgate Market, though with only advocacy to drive them. Ludewig is convinced that market traders will grasp the opportunity of a ready stream of John Lewis customers to tempt them with higher quality fruit and veg, but the current neglected state of the market makes this look optimistic.
But then designing glamorous, grounded new arcades in Leeds was optimistic. Especially when it was always going to be design and build – interestingly operated with some of ACME client side, some working direct for Sir Robert McAlpine. Hammerson's Dobson admits that the level of detail required different thinking. The dusted joints between precast panels were a case in point. Instead of looking shiny and plasticky and, well, like silicone, ACME worked with Techcrete to give them an appearance more like grout with crushed concrete powder, experimenting and experimenting until it became clear a sieve was needed to ensure the crushings were small enough to stay in place. Client and contractor bore with this uncertain process. And so another detail is ironed out and the facades can sing, along with their glittering arcades.
---
IN NUMBERS
5 acre site
110,000m2 retail and leisure space
30 stores
5 restaurants
800 car park spaces
24,000m2 John Lewis floor area
£150m investment
£10m estimated annual income
Credits
Architect ACME
Client Hammerson
Main contractor Sir Robert McAlpine
MEP consultant Hoare Lea and Waterman Building Services
Structural engineer Waterman Structures
---