Enter the RIBAJ MacEwen Award: Architecture for the Common Good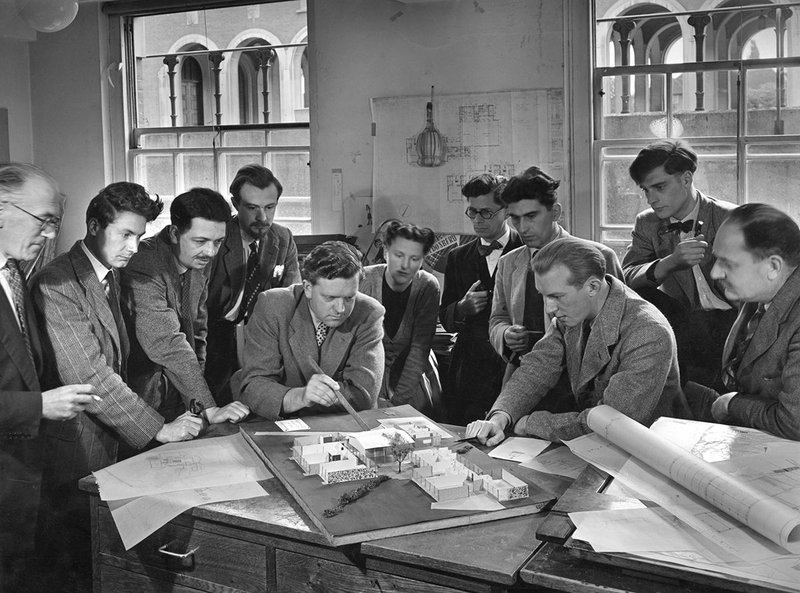 Designing a better Britain: Hertfordshire County architects plan a primary school landscape in this John Pantlin photo of 1952.
The new RIBAJ MacEwen Award is a journalistic investigation. We want to find and publish the best examples in the UK and Ireland of projects with a clear social benefit, right across society.
This is a magazine award – free to enter, open to all – which recognises that an ethical approach is a key part of good design. We want you to nominate schemes: your own, or by others you admire.
Architects and their fellow professionals – especially engineers, landscape architects and town planners – have all the skills to make better places and thus better lives for people. Going beyond the basic brief is an almost instinctive part of what the best professionals in the built environment do. But at a time of great pressure on time and cost, in a system increasingly geared towards private profit more than public benefit, we feel it is time to reclaim some of that idealism.
The MacEwen Award – named after Malcolm and Anni MacEwen, respectively campaigning former RIBAJ editor and conservation-minded architect-planner in the post-war years – will be given to the project rather than an individual, recognising the collaborative nature of such schemes. An architect must be involved but it is cross-disciplinary, welcoming landscape, planning and engineering projects as well as buildings.
Entries must exist in built form. We are looking for – as examples – the best genuinely social, affordable and mixed-tenure housing schemes, much-needed community facilities, accessible workspace, great healthcare and support buildings, new or refreshed public space, enlightened conversions of previously redundant buildings, schools with wider community uses, projects that reclaim wasteland for temporary or permanent uses, and so on. Eligible projects can be community-led, developer-led, architect-led or any other variation. The key determinant is the palpable civic benefit provided. Surprise us!
The RIBAJ MacEwen Award enjoys support from key figures in the profession including RIBA president Jane Duncan who has described it as 'magnificent'. She says: 'One of the key things we need to be doing is talking more about our impact, our social role – because architects do drive changes in their local communities. Their work, their place-making, makes a difference.'
We want to celebrate the best examples of truly inclusive place-making, demonstrating that architects can indeed make people's lives better across society. So join in: enter the RIBAJ MacEwen Award!
---
Rules
All entries must be sent electronically – details below. The projects must be in the UK and Ireland, and have been broadly physically completed within the two years to 1 September 2015. A phase of a longer-term project is eligible. Anyone may enter a project, but an architect must have been involved as part of the design team. The number of awards and commendations given will be at the judges' discretion, and published in the RIBA Journal.
Information required via downloaded entry form
Name, location and description of project (300-500 words) explaining the beneficial social impact of the scheme
Date of completion (phase of larger project allowed)
Credit list of consultants and clients
Maximum of six images, to include photos and drawings. To be sent as JPEGs no larger than 6MB each via a file-sharing service – NOT as email attachments
Entrant's name, email and postal addresses, phone number and (if any) connection to the scheme.
Deadline for submissions
Monday 9 November 2015
---