Nearby trees are integral to the design of this timber-clad home and studio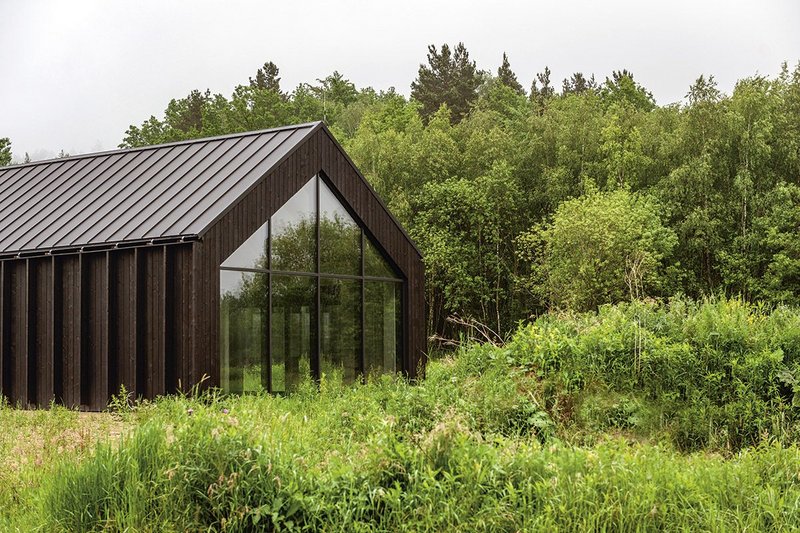 Through reflection, largely glazed gable ends help nestle the decidedly black home and studio in the surrounding landscape.

Credit: Maciej Lulko
Jakub Kowalczyk and Gosia Łapaj – both just 35 – met as students at Kraków Polytechnic and did their Erasmus years in Amsterdam, taking in the Low Countries' new architecture while there. It was as students in 2009 that the pair missed out on winning an open competition for the Szczecin Dialogue Centre, placed second to upcoming Polish firm KWK Promes. But the near miss proved an impetus for the couple to set up on their own as Kropka Studio, following in the winner's footsteps designing high-end homes while developing their brand on social media. Ten years on, they are a small but busy office.
'Domolas' – a house and workshop for a successful artist couple in rural Wadowice, 50km southwest of Kraków, builds on the firm's interests in the local vernacular and contextual appropriation. The earlier 'House in the Landscape', in Skarżyce, used gabions of local Ural limestone as a structural facade while its later 'Split-Level House' outside Kraków divested itself of the staircase by adopting a section of interconnected floor planes at half-levels. It also echoed an old Hoffman lime kiln on the site with its hit-and-miss brickwork base, from which rises a bold, two-storey glazed box of living area, with a hat of black-rendered bedrooms. It's defensive nature, Kowalczyk says, references the Bodzów fort nearby.
Completing in October, the L-shaped, timber-clad, concrete frame home with a black zinc roof, is one of 'three wings'. The invisible third wing is the edge of a of a wood of birch trees; the design drawing this verdant boundary into the demense of the home, to form a nascent courtyard in the process. One long wing is the couple's living space and the other is a large studio/workshop, with two en-suite bedrooms and galley kitchen that allow artists-in-residence to work independently or collaborate. A slot cut into the workshop wing, separating the sleeping and studio areas, is resolved with a snappy, all-glass connection.

Visualisation of the entrance court separating home and live-in studio. Axonometric showing the relationship of the new home to the surrounding landscape .

Credit: Maciej Lulko
The larch cladding's yakisugi treatment is suggestive of the tar-coated timber vernacular of local barn buildings. The design intent had been to extend this up and over the building onto the roof, but the artists curiously baulked at the idea, leading to the compromise of the black zinc standing seam roof. Augmenting the walls' thick insulation, triple-glazed gables frame views of the expansive landscape.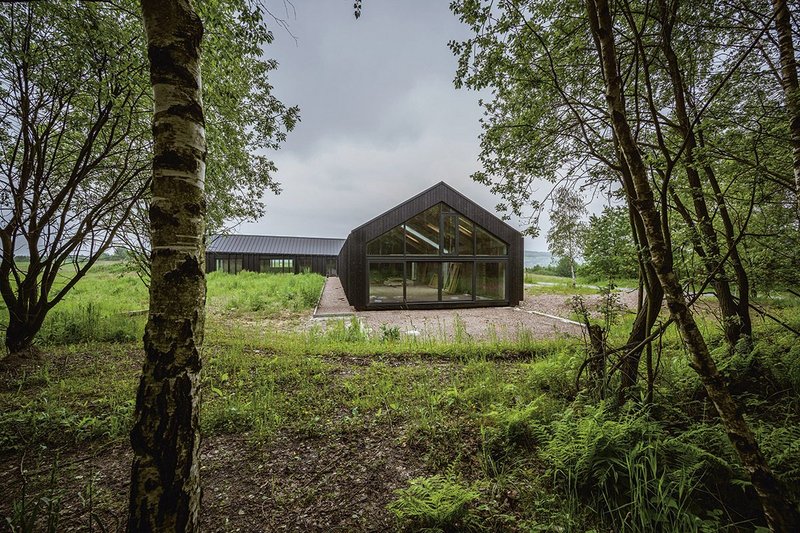 Looking to the building from its 'third' wing – the line of birch woods beside it.

Credit: Maciej Lulko
Kowalczyk says that things were booming in terms of quantity, if not quality, before the lockdown was imposed – the after-effects of which might stifle Poland's young design practices. But as far as Kropka Studio is concerned, the Covid caesura has been cause for a guarded optimism: 'We've gone from designing what we liked to having the time to think about our direction – and what we really love.'