It's no surprise that Zaha Hadid's Korean Palace to Design is itself a lesson in cutting edge design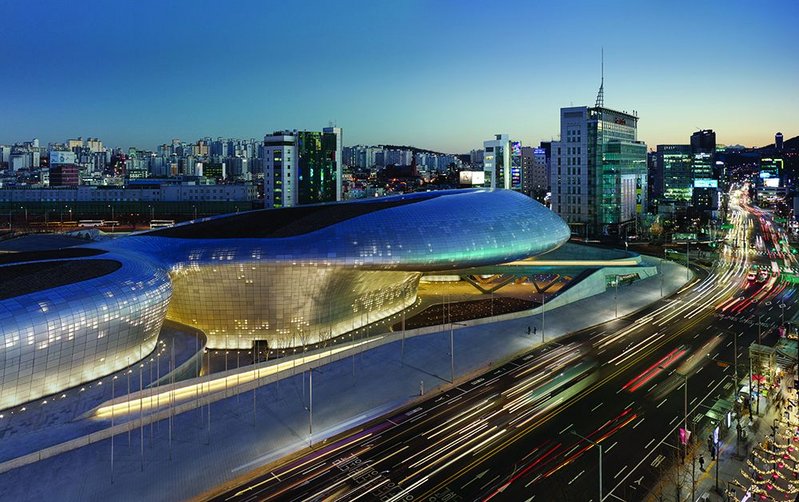 There is no meanness of ambition here – especially in the construction methodology, with 30,000m2 of flat, single curved and double curved cladding panels
With over half a million visitors in its first week of opening, it seems Zaha Hadid's latest exercise in urban parametrics has already stamped itself on Seoul's cultural map. The Dongdaemun Design Plaza, a vast 56,000m2 development with 30,000m2 of park in the heart of one of the city's most historic, buzzing districts, does nothing by halves. Open 24 hours a day, the new centre is made up of 'Art Hall', a national design museum, 'DesignLab' and 'Design Market', all melding fluidly into the surrounding 'History and Culture Park', linked to it by public routeways.
Won in an international competition in 2007, there is no meanness of ambition here – especially in the construction methodology, with 30,000m2 of flat, single curved and double curved cladding panels pre-formed out of over 45,000 pieces; of either concrete, aluminium, steel or stone. All are attached to a double layer space frame and single layer rigid frame. As well as using BIM to ensure the complex project was fully integrated in terms of its architecture, engineering and construction, with each facade element unique to its position, the DDP was Korea's first public project to implement advanced 3D modelling to fabricate the panels.
Future flexibility was necessary for most of the internal spaces, so the practice had less control of the interiors, except in the key areas – notably the conference hall, exhibition spaces and the grand staircase that connects them to the underground shopping plaza and basement car parks. Here the firm has been fully involved with the volumes, using GRG panels for complex forms, and flat gypsum elsewhere, generating its signature fluid white forms, spiralling up and through the spaces. There is a practical use to all this too, especially in the conference area, where the GRG ceiling hides high level air handling ducts and doubles as an acoustic surface to reduce echoes. The conference hall itself is fitted out to a similar level of spec, and has the flexibility to be extended to nearly 5000m2 if desired.
Hadid's office remains tight-lipped about the project's cost, although unconfirmed figures put it at over $450m – an aspect that might have contributed to its dismissal by Seoul's residents as a hugely expensive vanity project by the city government. But if visitor numbers are right, it seems that whatever they may have initially thought, the city is now voting with its feet.
Client Seoul Metropolitan Government/ Seoul Design Foundation
Architect Zaha Hadid Architects
Local architect Samoo Architects
Structural engineer Arup/ Postech
Services, lighting & acoustic engineer Arup/ Samoo
Landscape architect Gross Max/Dong Sim Won
Quantity surveyor Davis Langdon/Kyonng Won
Fire consultant Korean Fire Protection
Facade Evolute, Group5F/Mac M&C
Civil engineering Saegil engineering & consulting
Contractor Samsung Construction
Project management Kuwon engineering/ Heerim architects & engineer