Atelier Architecture and Design lets riders enjoy light and airy views, safe and dry, with its manège of timber and glass – and gallop rails – on a Chilterns Farm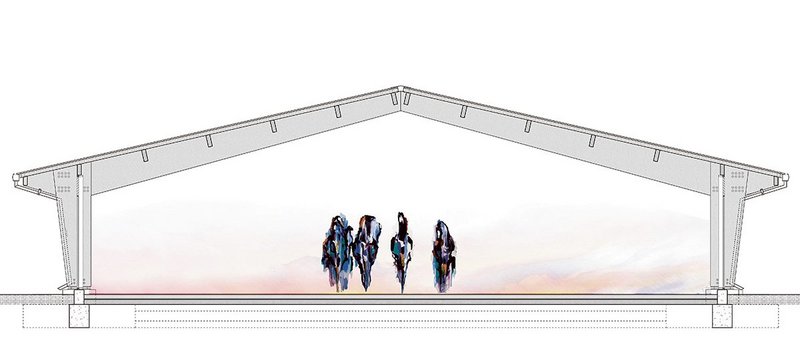 A concept car, a pavilion for the Turin Winter Olympics and the British weather were the inspiration for this covered manège in the Chilterns. Fabrizio Giugiaro is a product designer near Turin; his father is a legend in car design and he carried on the tradition with Italdesign. In 1998 he designed the super glazed Structura concept car that was all frame and glass – perfect for taking in the passing views – from which grew a glass and timber frame Olympic pavilion among the trees of a Turin square. And when he set out to give his daughters a riding space out of the rain at the family's listed farm in England, Giugiaro wanted to make it an airy experience too, with views of the Chilterns. He also wanted the smell and feel of timber and the simplicity and strength of a glulam frame.
Hertfordshire-based Atelier Architecture and Design developed Giugiaro's idea, with a 20m span portal frame using twin glulam columns. Between them sits aluminium-framed curtain walling. Steve Melvin's early sketches show the ribbony form of horses dancing under an elegant, minimal roof. There is something to this, though of course the reality is more complex: Hopkins-style steel ties across the glazing, doors to push open and gallop rails around the glass to discourage the stray hoof.
Over 2020's unusually hot summer – when the family was kept in the UK by Covid travel restrictions – the manège remained a cool and calm place for the horses. The roof is well insulated (150mm of insulation) using Kingspan trapeizoidal composite panels over exposed glulam beams. The two angles of the roof have two purlins at the top to leave a ridge vent to draw out warm air. Though a single horse may work up a sweat in the manège there are rarely more than three or four in there at a time, so the air inlet vents at eaves level – and sometimes the doors being left open – allow enough air through for effective natural ventilation, says Melvin.
In some ways the simple form is like the storage barn that had already had planning permission in almost the same position. And its form has hints of the agricultural, though it was inevitably pricier than a standard barn. But the tradition it draws on most is that of the farm; before Giugiaro took over it already had 12 wooden stables and plenty of horsey activity including an outdoor manège. In fact Giugiaro's daughters didn't ride in ­Italy, thanks to nervous horses and a difficult riding style, confides Giugiaro. It was only in England that they were introduced to gentler horses – a particular boon for Giugiaro's disabled daughter who can enjoy 'driving' the horse. The stables are also home to Millie McBride Dressage so get regular use.
For Atelier this was a large job as it also took on the role of main contractor. Some things came easy – like the glulam frame, thanks to a close collaboration with Buckland Timber. Others, particularly the ground works, were more of a struggle. A hugely wet start, finding unexpected existing footings on the site and some inaccurate soil investigation meant everything took longer. And preventing water from getting to the specialist dressage on top of limestone dust and limestone scrapings was critical – it was down to Atelier to address any problems with remedial drainage. Melvin estimates there was a substantial saving on the contract cost but that the practice paid for it in time and worry. Giugiaro too wonders out loud why it took so long, a whole year to build, when the frame was up in just two and a half weeks. But now it is done and Melvin's dancing horses can ride off into the Chilterns sunset (and back around), while keeping nice and dry.
Credits
Architect Atelier Architecture & Design
Structural & civil engineer Design 4 Structures
Lighting Your Digital Home
Foundations Eagle Nest
Drainage LID
Timber frame Buckland Timber
Roof Hallford Refurbishments
Curtain wall All Glass Systems