FaulknerBrowns has added a concert venue to the velodrome at its Derby Arena with an ingenious insertion into the usually underused central space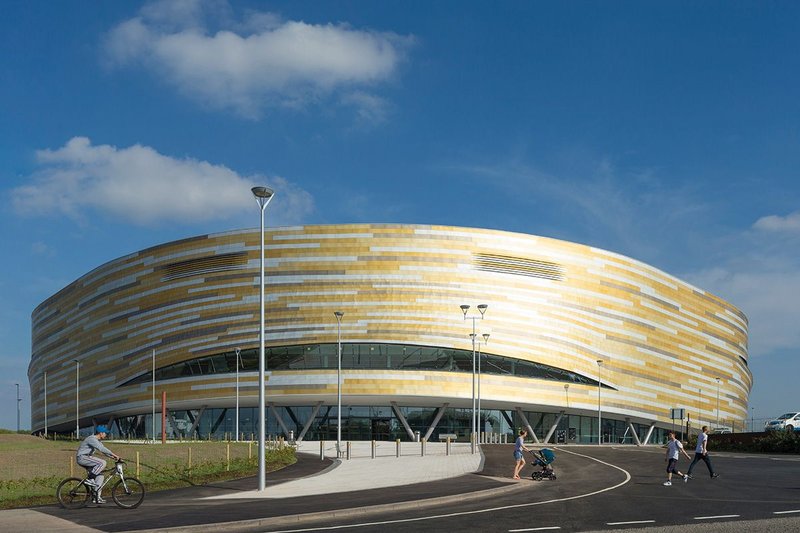 The giant steamer basket splits above the entrance, glazing marking the track level

Credit: Martine Hamilton Knight
A velodrome is a tricky building type. It has to be big, just to contain the officially-approved dimensions of the banked wooden track. The shape of that circuit, so precipitately raked at its ends, makes it difficult to distribute spectators around. Despite the huge growth of popularity in track cycling in the UK spurred by success in the Olympics, numbers of regular spectators remain small compared to other sports. So it makes commercial sense to find different uses for the building if possible – other sports, pop concerts and so on. These are difficult to square with the strict criteria of UCI, the International Cycling Federation. But in the new Derby Arena, architect FaulknerBrowns has managed it.
The core of the problem is the core of this typology: the infield, the large area inside the loop of the track, which for some reason always seems to be a sea of blue vinyl. It is big enough to be used for lots of things other than cycling – but how do you get to it? Typically it's via a tunnel underneath the track, which is fine for bike teams, not so good for event audiences. A removable slot of track is possible – FaulknerBrowns did this in an earlier velodrome at Apeldoorn in the Netherlands – but race cyclists will always feel the slight bump of the joints, and they're not keen on that.
In Derby, however – right next to the soccer stadium of Derby County FC, the Rams – the architect has found a solution. It is to raise the cycling track a storey while leaving most of the infield on the level below. Only a D-shaped section of the oval at one end is left at track level, and that's all the teams need for tinkering with their equipment in most cycling events. That means other users can walk in the front doors and straight through the foyer on the level into a multi-sports arena that can also house seated events for 3,500. Adding the fixed velodrome seating either side of the track gives a total capacity of 5,000. That's a useful in-between size – smaller than the purpose-built city arenas that tend to be of the 12,000 to 15,000 size (London's O2, in the Dome, is 20,000) but twice as big as the largest theatres and concert halls. 'This place is bigger than cycling,' as FaulknerBrowns' partner Michael Hall puts it.
So much for the configuration: what about the aesthetics? As an object in an industrial-park landscape with a football stadium on one side and what would once have been called a wasteland (now 'nature reserve' above a former industrial tip) on the other, Derby Arena succeeds in looking intriguing – in a way that the clunking Emirates Arena in Glasgow by 3D Reid, built for the Commonwealth Games and containing the Chris Hoy velodrome, does not (RIBAJ, April 2014 and online). The Derby Arena is big enough and mysterious enough to hold its own. You get a long view of it as you approach the city by train, especially from the south, its randomised strips of multi-coloured aluminium shingling sparkling in the sunlight. This laminated composition is lifted at three points where long slits of angled windows are inserted. Colouration aside, it looks a bit like one of those Chinese bamboo culinary steamers, splitting slightly.
This is a classic value-engineered building, built for a very cost-conscious local authority. With a total build cost of £24m for a gross area of 15,000m2 (enclosing a huge volume rising 15.5m from arena floor to roof) it is cheap compared to, say, Hopkins' London 2012 velodrome which is 25% bigger in area but cost two and a half times as much. The Derby example is also more flexible.
But despite this – and the inevitable design-and-build contract, design to Stage E in old money – FaulknerBrowns, project manager Mace and structural engineer Arup have done well. They treated it as a curvy lozenge-shaped big shed or hangar, slightly undulating, lined with accommodation around the big oval inside, and enlivened externally by that striated cladding, clearly referring to the timber slats of the track. A big shed means a straightforward steel construction (with in-situ concrete construction for the fixed banks of seating). At entrance level you get neat tubular V-pillars holding things up but when it comes to the roof, the steels get massive. Where the London 2012 velodrome has its elegant tensioned-cable net roof with very little depth of structure, this one involves stonking 5m deep steel trusses spanning up to 84m. You're gazing up at the sort of no-nonsense structure you'd normally associate with a railway bridge.
You're also gazing up at a continuous roof soffit. Long strips of roof glazing were in the original design but again, cost-cutting intervened. Luckily this is compensated for by the big window 'smiles' at either end, which not only bring in a lot of daylight but also allow views out from the upper levels. Acoustic damping is provided by a perforated interior lining with insulation behind. Overall the building manages BREEAM 'very good'.
The multi-sport arrangement requires more than just various coloured lines on the floor marking out courts for badminton, basketball, volleyball and netball – and filigree nets dividing the volume. Hall points out the large white grilles around the infield providing very low-velocity air-handling: because shuttlecocks don't like a breeze. Bleacher seating is simply wheeled out and erected as necessary. On the upper levels are a gym, fitness studios, and an events space that can double as a hospitality suite.
The Derby Arena feels likeable. The day I was there wasn't especially busy – it was only just opened, an Easter-holiday group of children was speeding round the track, a scattering of people occupied the foyer café, there was nobody in the stands or using the sports courts – but it managed to avoid echoing emptiness, which is quite something in a building this big. How it feels when packed to capacity is quite another, but it's the fate of such places for that to be relatively seldom. Here, you see a tight budget being intelligently used, with quite a dash of flair. It's a proper civic asset.
---
IN NUMBERS
£29m total contract cost
£24m building cost
£1600 gifa cost per m2
15,000 area in m2
5000 arena capacity
BREEAM 2008: Bespoke certified as Very Good
---
Cost-cutting means no daylight through the roof, though plenty comes in through the end windows. Note level separation of track and infield.

Credit: Hugh Pearman
Credits
Client Derby City Council
Project manager/Cost consultant Mace
Architect FaulknerBrowns Architects
Engineer Arup
Contractor Bowmer and Kirkland
Track designer/Installer Velotrack
Suppliers
Balustrades Arkoni and Taper-loc
Precast concrete Bison
Infield vinyl flooring Tarkett: Taraflex Combisport
Perforated ceilings and dry wall systems Knauf
Internal glass screens Moda
Doors and ironmongery Laidlaw
Cubicles, lockers and benches Prospec Marathon System
Wall panelling and Corian counters Joyce and Reddington
Spectator seating Ferco FCB Seats
Cycle timing system Swiss Timing
Display screen Daktronics
Sports equipment Universal System
---