A labyrinthine layout of interconnected rooms distinguishes the practice's Fitzjohn's Avenue scheme in Hampstead
Whenever Sergison Bates has given lectures on its work in recent years, one image has seized the imagination of the audience. It isn't a beguiling render or a clever exploded axo. It's a plan drawing showing the second floor of an apartment building in Hampstead, north London. In outline, two adjacent blocks are busily articulated by kinks, curves and clefts, so that each has more than 20 faces. But it's what's inside that really arouses excitement: a dense honeycomb of interconnected rooms – irregular octagons, distended hexagons, and splayed trapezoids – packed three-deep around a central core in each block.
This constellation of eccentric spaces is Sergison Bates' response to a brief to rethink housing for older people. Its client, developer Pegasus Life, set out to cater for well-heeled baby boomers who find little appeal in dreary retirement villages. They want to live independently in a community with shared facilities, and appreciate contemporary design. Likely buyers may be young at heart, but advancing age does bring changes in lifestyle. 'People spend more time inside the home – their world gets smaller,' says practice partner Stephen Bates. 'It seemed appropriate to make complex and varied interior landscapes that can be continually rediscovered.'
Beginning with a study of Victorian mansion blocks, notably Richard Norman Shaw's Albert Hall Mansions, the architects proposed large flats – 250 to 450m² – with interlocking cellular rooms enriched by diagonal through-routes that set up unexpected views within and out.
Little of that is legible in the building's form; its appearance owes more to efforts to make a sympathetic addition to Fitzjohn's Avenue, where it replaces some nondescript student housing on a prominent corner plot. 'The modernist correspondence between plan and facade isn't of interest to us,' says Bates. 'Interiors have their own agenda, while facades have a relationship to the city.'
Dividing 29 flats between two close-spaced blocks emulates the grain of surrounding streets and helped to negotiate a sloping site. To further break down the apparent scale of the six-storey building, Sergison Bates took cues from the large 19th-century villas that characterise the neighbourhood – simple volumes appended by a jumble of projecting bays and turrets. 'We were blown away by the confidence and joy expressed in their composition,' says Bates. In conception, each block is a sharply faceted 'extruded' form, whose lower levels are wrapped in an agglomeration of rounded and chamfered bays, lending vertical emphasis and a domestic character.
Local references recur in materials and details that have a reassuring sense of solidity. On the lower parts, deep-set windows are augmented by textured spandrels of reddish brick and a corbelled cornice of paler stocks. The upper levels are lighter and leaner, with windows framed by ceramic tile that recalls decorative faience.
I feel a bit like Alice arriving in the long hall at the bottom of the rabbit hole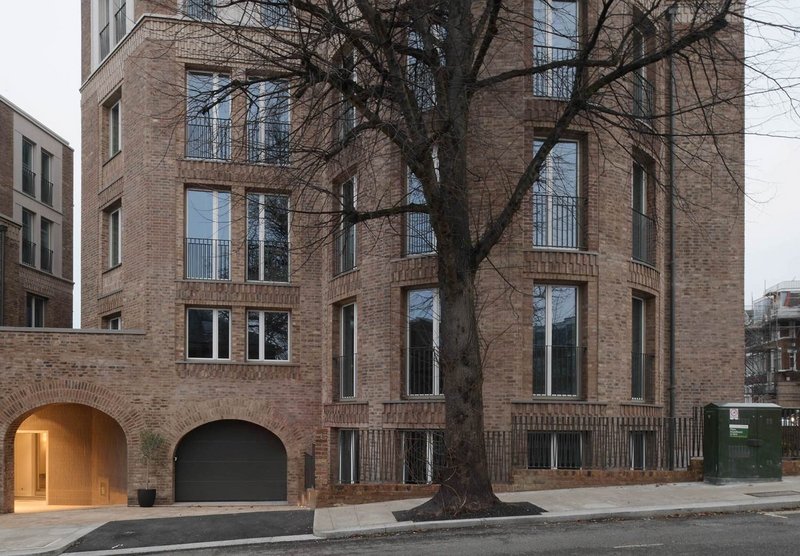 Sheltered entrance on Prince Arthur Road.

Credit: David Grandorge
At ground level the blocks are joined by shared facilities including lounges and a library behind an arched porch on Prince Arthur Road. Before starting our tour there, Bates outlines the history of the £28 million project – known as Fitzjohn's – from its inception in 2014 to completion this year. Along the way, Pegasus was restructured as Lifestory with new leadership, the main contractor was replaced midway, and Sergison Bates' role changed three times. The upshot is that there are some important deviations from the original design.
That's apparent in the network of 'chambers' extending from the foyer, though arched openings set off-centre in larger arched niches. They bring a suggestion of something enjoyably archaic that extends to a spa on the floor below, at garden level. The bones are true to the architects' intent, but the interior design – recalling an upscale hotel – is the work of others. One survivor is the shiny gold lift that whisks us up to the flats.
Stepping into each, I feel a bit like Alice arriving in the long hall at the bottom of the rabbit hole. In large many-sided lobbies, four, five or even six doors lead off in all directions. Try one and it's a coat cupboard. The next might lead to another lobby, and on to a bedroom with its own bathroom and dressing room. (These self-contained suites are distributed around the flats, allowing privacy if residents have guests or live-in carers.) There are navigational clues for the initiated but it's hard for first-time visitors to construct a mental map, which was the aim. Multiple thresholds put residents in control, choosing how much of their home to reveal. Even with doors open, some mystery is maintained as through-views give mere glimpses of what lies on either side.
Behind one door lies another curious door-lined space at the heart of each flat, where we find the most significant alteration. These were to be enclosed octagonal dining rooms with one glazed wall looking into winter gardens set between the main living spaces beyond. At a late stage the developer opted to omit the winter gardens and combine living areas in one large room. I sympathise with the architects' disappointment – it would have been extraordinary to move from kitchens to living rooms through a plant-filled wedge of glass – but some of the intended scale of separate rooms is preserved by the sharp angles and bulges of the outer walls. And as the thermal line is in the facades, it would be easy to add winter gardens later.
Allowing for future adaptation was a priority for the architects, and the non-orthogonal arrangement of slender columns was designed to give the building the best chance of a long life. In the meantime we are all living longer, and collectively getting older. Over-65s will comprise a quarter of the UK population by 2050, requiring greater focus on appropriate housing. Though Sergison Bates' labyrinthine layout is not meant as a model for mass adoption – and probably has niche appeal – the thinking behind it might have wide application. At Fitzjohn's, it has made homes that feel as rich and stimulating as they look on paper.
In numbers
Contract sum £28m
Gross internal area 6,800m²
Cost per m2 £4,111

Architect Sergison Bates
Client Pegasus Life, then Lifestory
Contractor Shaylor Group, then Apex
Structural engineer Symmetrys Engineering
M&E engineer Max Fordham
Landscape Camlins