It's just about the longest-running construction project there is – managing the vast Crown Estate. Alastair Smart, head of development, has his eyes fixed firmly on the horizon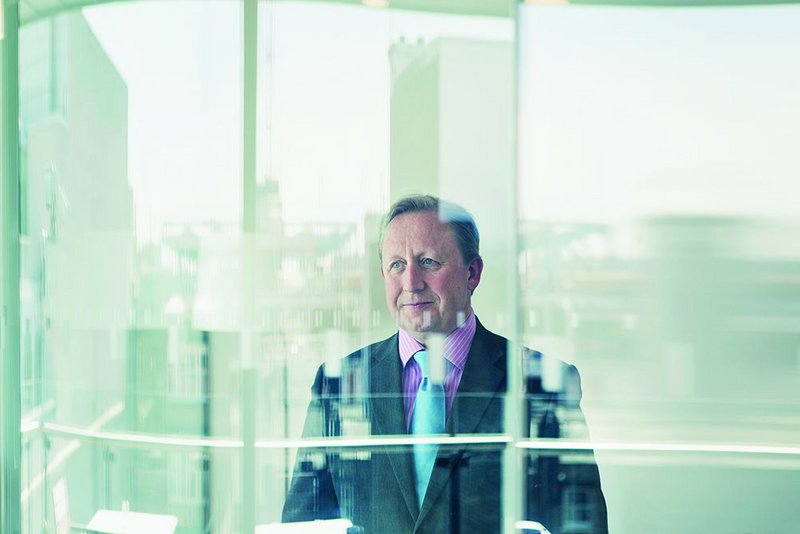 Alastair Smart: At the heart of the developing West End.

Credit: David Vintiner
Alastair smart, head of development at the Crown Estate, takes me up to the cafe on the top of its London HQ, tucked away between Regent Street and Savile Row. There's a roof terrace. From there we survey his kingdom – or an important part of it. The stealthy large-scale rebuilding of this area is worth billions over time, employing architects such as Donald Insall, Eric Parry, Dixon Jones, AHMM and Make. It's a huge, long-term property overhaul of buildings mostly dating from the Edwardian and inter-war periods. And the crowds of tourists probably don't even notice it's happening. 'We want our architects to understand our mixture of new and old. We're not afraid to bring forward contemporary architecture, but it has to sit next to historic facades,' he says. Right ahead of us, the steelwork of the latest project by the ever-busy AHMM rises above the roofscape.
The Crown Estate is a strange and ancient beast, one with a touch of heraldry about it. It acts like a property developer but it is not allowed to borrow money to do so, so operates from its own coffers and goes into joint ventures with sovereign wealth funds and other developers.
It is valued at £8.1 billion. The monarch owns it, but not personally. In an oblique way so do you and I, as citizens, and most of its profits – some £2bn over the past decade, of which £240m was last year – go to the Exchequer. However some 15 per cent of the takings go to pay for the monarchy, in lieu of what used to be called the Civil List. The House of Windsor thus has a direct personal interest in the state of the property market.
The Crown Estate is understandably big in London, owning most of Regent Street and Regent's Park, Piccadilly and the centre of London clubland, St James. It owns Windsor Great Park, Royal Ascot racecourse, and many a regional shopping centre and business park. It manages great tracts of farmland and forestry. It builds rural housing. Because of its jurisdiction over the continental shelf around the UK, it grants licences for offshore wind farms and marinas. History? It has some. 'Although the ownership of some property can be traced back to Edward the Confessor, the estate as a whole essentially dates from 1066,' its website says, casually.
In other words, it results from the great property redistribution following the Norman Conquest, a land grab underpinned by the fact that William was as good an accountant as he was a warrior. Nobody had audited so much of the property in England (and parts of Wales) until he had it recorded in Domesday Book. Scotland was not added until 1832. The principle laid down then still serves today, viz: 'There is always a presumption in favour of The Crown unless it can be proved that the land belongs to someone else.'
Known by various names down the centuries, what is now the Crown Estate is run by an independent board – chairman is Sir Stuart Hampson, former chairman of John Lewis. Its chief exec is Alison Nimmo, previously director of design and regeneration at the Olympic Delivery Authority, following spells at regeneration agencies in Manchester and Sheffield. Key to the operation is Smart. Head of development and project management, qualified in estate management, a member of the RICS, Smart is the man who gets stuff built, especially in London.
The Crown Estate office is, naturally enough, in one of its own buildings. The day I arrive, the street is ringing with the clamour of drills as work gets under way on yet another project, directly opposite the front door. This is the halfway point of a 20-year, £1bn Regent Street programme – a strategy rather than a masterplan – done building by building.
No masterplan? Oh, but there is one of course, underlying everything. Smart notes early on that the 'modern' Crown Estate really began with George III, Nash's patron. It was the time when so much of the recognisable face of London came into being. Many of the buildings he is redeveloping are on Nash's street pattern. So it's a facadist Georgian masterplan, periodically revisited. What they are doing now is making large mixed-use buildings behind existing facades, a complicated business that involves incorporating many historic buildings, in whole or in part. 'We have about ten million square feet,' he says. 'I think you can say we're a substantial owner in the core West End.'
Smart is evangelically enthusiastic about Dixon Jones' Quadrant 3, which incorporates the terracotta-clad former Regent Palace Hotel, neatly deploys subtle facades of modern glazed ceramics, and has a retail arcade, apartments and a visually arresting central atrium. 'It's our flagship building. I absolutely love it,' he says. 'It's quite a complicated building to get into and see – it's an hour and a half, two hours, to get round. We're really proud of it.' The RIBA Awards jury agreed: it has just won a National Award. It could be described as a monumental building, but it is coyly tucked away in back streets on the edge of Soho. It also shares a highly efficient energy centre and service yard with Chipperfield's much more publicly visible Cafe Royal block (Quadrant 1) across the street, with its Regent Street frontage. There, a hotel and spa is nearing completion to add to the new and restored restaurant, cafe and bar spaces at ground level which also show the hand of Donald Insall, the Crown Estate's retained historic buildings specialist.
'We have about ten million square feet. I think you can say we're a substantial owner in the core West End'
Next up, apart from Eric Parry's just-completed One Eagle Place on Piccadilly (see Critique, page 44) and the continuing march of AHMM in phases up Regent Street through to 2016, comes the little matter of St James's Market. This is a shabbier area than the more upmarket landholdings to west and north, and here more radical urban intervention is planned on two buildings, courtesy of Make. Public realm improvements, nearly always a component of Crown Estate projects, here extend to the creation of a new London square. 'It's a fascinating scheme, making a new heart for the West End,' says Smart.
As with all developers, even one this venerable, planning the project pipeline is the art: timing is everything. 'We try to look at the portfolio and the resources we have and plan it out very carefully. We don't want to have too many dark spots in the portfolio,' is how Smart puts it. And with the clusters of property he has at his disposal, decanting tenants from one building to another becomes realistic as redevelopment proceeds.
In the end, there's a public benefit, extending to working with the City of Westminster on traffic planning, pavement widening, and so forth. 'We're a great believer in giving space back to people, for obvious reasons, ' Smart concludes. 'We spend a lot of time making sure we get the public realm right. The environment is hugely important. We're here for the long term. We can't get it wrong.'