Foster's new European HQ for Bloomberg is about permanence and legacy – but is it mired in the uncertainty of the City's future as a global financial hub?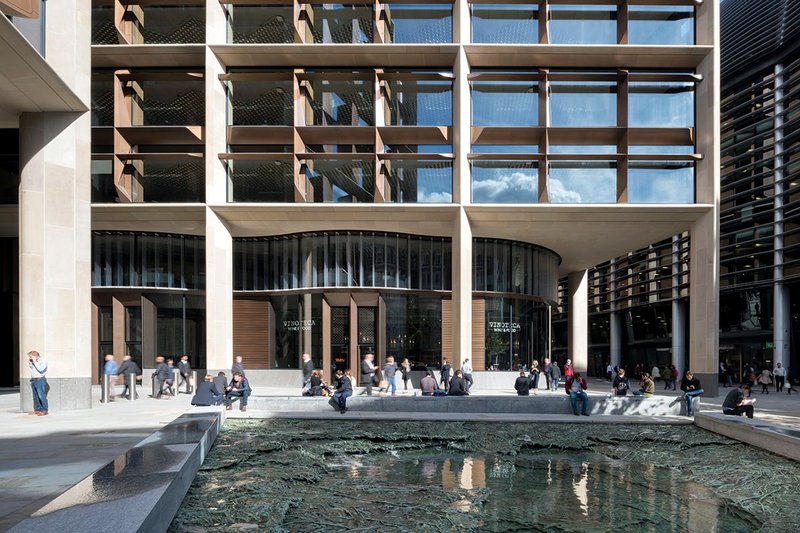 Bloomberg has commissioned world famous artists to develop integrated and applied art for the building. Here is one part of Christina Inglesias' Forgotten Streams, a piece that evokes the lost Walbrook River, on one of the new public squares.
Maybe it looks like a curious decision now: to build something so weighty, so visibly long-lasting, and to expend so much time and money doing so. Bloomberg's new European headquarters in London has been nearly a decade in the making. Some media outlets suggest it cost £1 billion, and it has taken a 13,000m2 plot in one of the world's prime commercial spots – opposite the Bank of England, next to Mansion House, St Stephen's Walbrook and No 1 Poultry on Queen Victoria Street in the City.
Certainly, on the morning of the press opening of Foster + Partners' megalith in October, the front page headlines of City AM are again at pains to stress that the City of London as a financial centre is irreplaceable in Europe, this time quoting the Bank of England's Sir Jon Cunliffe, and there's an undercurrent in the speeches at the press conference too. This building 'shows that despite Brexit, London is open,' says London mayor Sadiq Khan.
'Whatever London's and the UK's relationship to the EU proves to be, London's language, time zone, talent, infrastructure and culture all position it to grow as a global capital for years to come,' says Michael Bloomberg, the founder of this unrivalled media and financial organisation. 'We are very optimistic about London's future. We are really excited to be a part of it.'
Sitting in the audience in the 'Pantry' on the sixth floor of the new office, surrounded by a giant load-bearing stone structure with 900m deep reveals, I could believe them. The architecture might be brand new – the construction team cleaners, we are told, left only moments before we arrived – but there's a sense that it has already been here for a long while. What we see is an incredibly permanent and solid architecture. What we feel is an architecture of continuity.
Listening to the speakers, with a huge view of St Paul's Cathedral dome behind them, on one of my own milestone birthdays, what also registers overwhelmingly is that it has been commissioned and designed by two men of advancing years.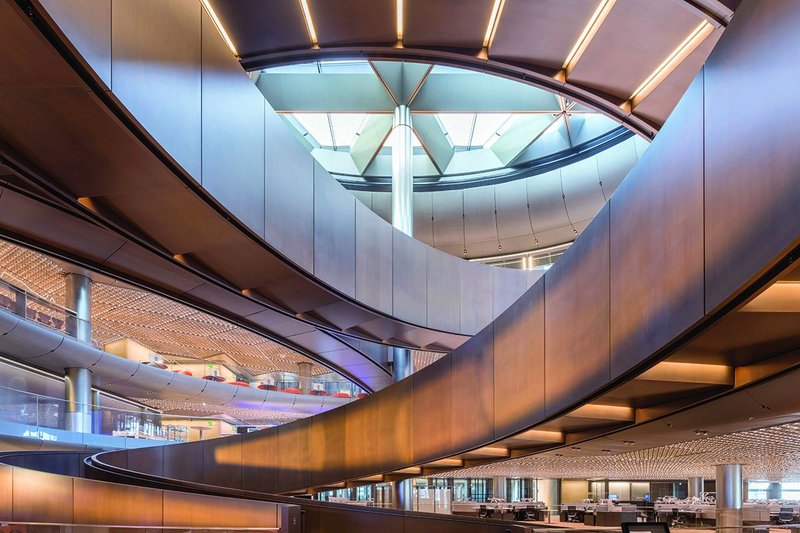 The upper three floors are more open to the rounded skylight.

Credit: Nigel Young/ Foster + Partners
Now, this is not a commentary on where power and money lies, but about the importance of architecture and art and how it can be used to shape the legacy of great individuals. In their later years many people's thoughts naturally turn to preserving the past, doing things in the present and creating something for the future.
This new building does all three: it respects the past, acts for those in the present, and anticipates a different future. Its backdrop has changed; London thrived after the financial crash when this building was conceived – the City gave the impression that it could resist all. We don't know what is to come, but this is architecture of the steadying hand, carried out by firms and people well experienced in life's ups and downs.
Located on the site of the former Bucklersbury House, the 14-storey modernist Legal & General office by Campbell-Jones & Sons, Bloomberg's European HQ rehouses the 240AD Temple of Mithras which was moved from the site in 1954, curating it into a free interactive museum; it provides a single workplace for 4,000 UK employees previously scattered over four separate buildings; and it invents architectural and technological solutions for a future that could be even more densely populated, with greater extremes in weather and pollution.
In essence this is a building about doing 'the right thing' – which it achieves in stone. Bloomberg HQ was dreamt up long before any hint that there would be so much opposition to that: zero-hour contracts weren't widespread and America didn't have a climate change denier at its helm. Yet in contrast to the typical 25-year cycle of a commercial speculative office development, 'there wasn't a formal lifespan involved'. The two Bloomberg HQ creators – its patron Michael Bloomberg and its designer Norman Foster – have, at undisclosed cost, gone to every length to ensure this is one of the most significant buildings for a generation to rise in the City.
'For many companies our size,' says Bloomberg, 'building a new headquarters would have meant a great skyscraper. Given the price of London real estate and the cost of construction materials the economics of that would bear it out. But at Bloomberg we have never made decisions based on short-term cost, we have never cut corners on investment in our people or our products and that's the beauty of a privately held company. You don't need to make decisions based on shareholder gains – we've always taken the long view and placed great value on being good neighbours to the cities that host us.'
From the exterior, the architectural tactic is a deductionary one. The client wanted to preserve, enhance even, the sight lines to St Paul's, so the architect filled the site with a 10-storey volume, from which it cut away three corners to create three new plazas for public amenity as well as a new arcade through the middle that re-establishes the route of the Celtic Watling Street and gives easier access to Cannon Street Station. The architecture is what is left over: two triangular plots. To the north is the main 70,357m2 building, with its entrance overlooking the Magistrates' Court, while a 36,940m2 structure to the south houses two floors of rooms for teaching clients how to use the Bloomberg terminal. These two plots more or less inform the whole design, including its triangular column grid inside.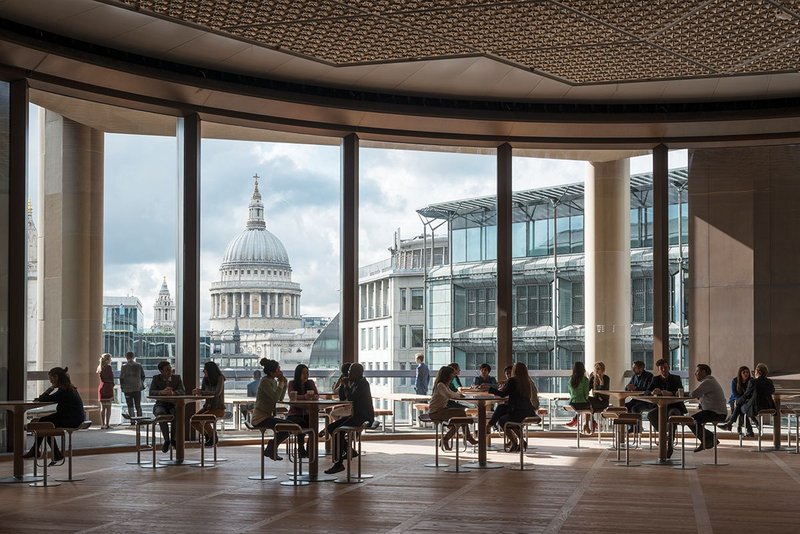 View from the 6th floor Pantry over St Paul's Cathedral. It is used as a space for taking a break and holding meetings as well as events.

Credit: c
The facade continues this theme of trying to create a very civic, bedded-in building, being almost classical in composition. The structure is made of the same Derbyshire stone as the Magistrates' Court opposite, and is expressed on alternate floors to scale up to size. In the true classical way the facade has a bottom, dominant middle and top (here recessed), before being broken down in scale again by a varying rhythm of bronze alloy fins and louvres depending on the solar shading required. It's a 10-storey building that feels more like six or seven (though with 600 tons of Japanese bronze alloy and 84,000m3 of stone it is a bit too heavy). Within the bronze frames, windows are set clear or opaque depending on the function behind in vertical blocks so that when looked at head on, the street front appears almost mannerist – like Dutch townhouses lined up in a row. At the base, an undulating elevation is set back behind a stone arcade.
The inside feels like a totally different building, which project architect Michael Jones, senior partner at Foster's, says is intentional 'in that British kind of way', but I find it hard to believe. A small reception area leads to a huge architectural American redwood vortex with the first part of Olafur Eliasson's No Future Is Possible Without A Past artwork at its top. A triple reciprocal structure, each shell leans on the next to enclose a space for people to spin off in different directions between the slots, like balls in a game of roulette or bagatelle. Elsewhere, 50% of the ground floor is for public use – a shared auditorium, retail units, a new entrance to the tube and the separate public entrance to the reburied temple at Roman street level 7m below.
This is architecture of the steadying hand, by those well experienced in life's ups and downs
The upper levels are again a different building from the ground floor. The core is broken up and pushed to the edges, leaving room for an elliptical void at the centre that has been filled with a dramatic bronze-clad stepped ramp that curves 120° through every floor, making an open heart for the flow of people and information, as well as creating dynamic diagonal views between levels. Although it is impressive, it strangely bears no relation to that vortex downstairs. In the larger north building, floorplates carry 600-700 desks each, arranged in clusters of six around small circular meeting tables.
Anyone venturing beyond the ground floor is taken by lift directly to the sixth floor and the Pantry, a social space that can be used for company events and meetings. At this point the building opens out even more into a completely column free space. An enormous circular opening a further two floors up lets light into the space through a flat rounded skylight in the roof, which though dramatic makes this part of the project seem stumpy, as though it should be domed.
The other innovations are pretty technical. The lifts have been developed with Kone to cantilever off the external stone frame; the architect has invented a raised all-timber floor and resolved accessibility issues using magnetic fixings. But the most remarkable is the ceiling of polished aluminium petals that was manufactured in Glamorgan and is at once a low-energy cooling system using air that enters the building through the bronze gills on the facade, an acoustic panel to regulate noise, and a light fitting that helps reflect and disperse LED lighting, making them more effective. It's stunning, and it is these kinds of innovations that will inspire better performing buildings for a changing environmental future in buildings beyond this one. Desks, lifts, ceiling cooling and flooring were all developed with industry (90% of the project costs were spent in the UK) as mini technical competitions, built 1:1 as prototypes and tested at extremes. The effort paid off with a 98.5% BREEAM outstanding rating and a building that is said to use 70% less water and 40% less energy than a typical office.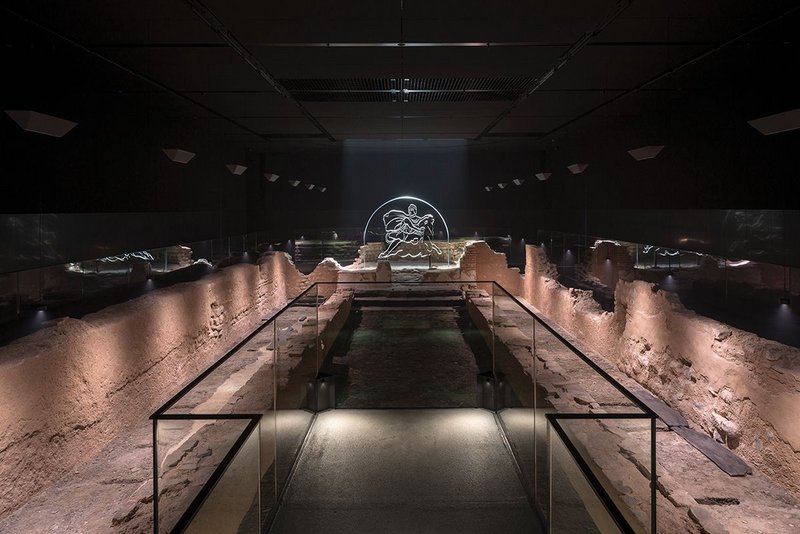 The Temple of Mithras is 6m down at 'Roman street level'.

Credit: James Newton
The most disappointing part of the project is, however, what has been provided for the Temple of Mithras. Set two floors below the street, it is in a black tiled tank reminiscent of a large business hotel basement swimming pool, reached via two awkward and narrow staircases in a dog-leg series and another black tank exhibition room. Money spent on a tasteless timed experiential display using light and sound would have been better spent on the architecture. Perhaps a void making the temple visible from the street above would have made it seem more treasured.
Nevertheless, it is difficult not to be impressed by the significance of the overall building, both as a commitment to a foreign place and workforce by a privately owned company, and as a consumer of physical material and intellectual thought. Great buildings span the millennia in a way that little else does. By inheriting a building of concrete and glass and leaving one defined by stone and bronze, Bloomberg and Foster show they understand this as clearly as the Romans who built the temple below. Bloomberg's European headquarters is a huge piece of city designed in the knowledge that to survive it must be uncontroversial and civic outside yet provide solutions to longstanding problems within.
To end with the same slightly rhetorical language, Michael Bloomberg closed his speech at the press opening with his usual casual and perhaps indifferent tone: 'Maybe 1,800 years from now Londoners will discover the remains of this building, just as the Temple of Mithras was discovered here, and by then they may consider the Bloomberg terminal as primitive as the tools we now display from the Roman temple. We all know that no structure can last forever but we can hope that the impact of the technological innovations that we are pioneering and the values that guide our company grow and will be felt here in London and around the world long after we are all gone.'
In the changing, solidifying style of Foster's recent architecture you get a sense of the part this new building will play in his epitaph too – the building to end them all, the one he wants to stick around. I have a feeling it will.
---
IN NUMBERS:
Total site area 1.3ha
Gifa 107,000m²
Work stations 6,700
Tons of bronze 600
Credits
Client Bloomberg LP
Development manager Stanhope
Architect Foster + Partners
Development advisor BNP Paribas
Construction manager Sir Robert McAlpine
Structural engineer AKT II
Services engineer Sweco
Lift consultant Sweco
Cost consultant AECOM
Lighting designer Tillotson Design Associates
Acoustic consultant Sandy Brown Associates
Landscape consultant Charles Funke Associates
Planning consultant DP9
Art consultant Nancy Rosen Inc
Facade consultants FMDC, BMT Group, Optis
Natural ventilation consultants Breathing Buildings, Wirth Research, Price Industries