Nightclub owner's 10-year battle to get an individual contemporary house past Warwickshire planners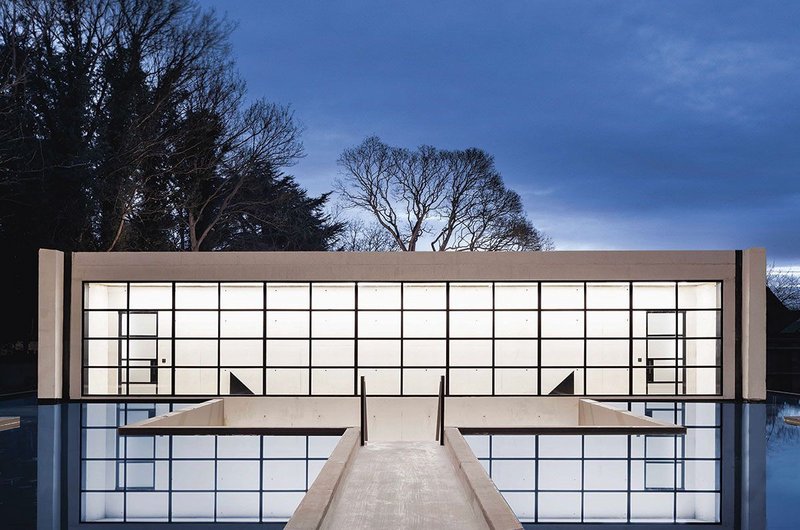 The Ghost House, so named because it is mostly below ground, is approached via a concrete walkway between two black ink-dyed pools.

Credit: Felix Mooneeram
The story of what is happening in Stratford-upon-Avon planning district is worrying. In recent years areas of Warwickshire have, like other rural councils, seemingly adopted an obstructive approach to new homes that aren't part of huge development sites, including on the former airfield at Wellesbourne and outskirts of Leamington Spa (opposite the Vitsoe factory). The council has to build 14,600 homes and it looks like it has decided that the people who need them want to live in identikit ones on large housebuilder estates accessible primarily by car and lacking facilities. There's the feeling in the architectural community that some of the recommendations of local design review panel MADE are being sidelined for one reason or another with (a near-universal complaint nationwide) large obtrusive estates by volume housebuilders being approved while unobtrusive individual homes get a rough ride.
The issue is exemplified in the village of Moreton Paddox, eight miles east of Stratford-upon-Avon. From its position on an elevated plateau, it is possible to see two miles away the 1,600 glaringly new, bright red Noddy houses going up at Wellesbourne. The village itself, however, is relatively new and unusual too. It occupies the site of a former manor by the same name completed in 1915 by WH Romaine-Walker for the Garland family of Moreton Morrell Hall nearby. The family was ruined by the Second World War and the house demolished in 1959 before the land was sold off as smaller private plots, each taking a section of the original ornamental gardens with them.
Consequently, Moreton Paddox is primarily a hamlet of one-off 1960s houses, spaced out around the original grand U-shaped approach to the manor. Newer infill houses of eclectic post-war styles have been built since, creating a very suburban setting with open front lawns; from ground-scraping futurism to 1980s mock Tudor and early 2000s neo-arts & crafts. Many of the first homes are now also being revamped with more contemporary facings – white render with expansive aluminium framed glazing and bifolding doors. This makes the village interesting because it depicts seemingly every fashion for domestic architecture since 1959 like pages from a history book.
But building here from scratch is tough now – as Leamington nightclub owner Steve Smith found out in 2003 when he bought one of Moreton Paddox's 1980s executive-style homes that came with two redundant outbuildings on the plot opposite. His intention was to first convert those into simple dwellings before rebuilding the house. However, what looked to him like a straightforward, unobjectionable job in an aesthetically incongruous modern neighbourhood, wasn't. Planning approval was refused multiple times. As they couldn't get permission for straight up conversion they eventually went down the exceptional Paragraph 55 route for the outbuildings site instead. Smith taught himself SketchUp, hired Birmingham-based BPN Architects and after tens of thousands of pounds, multiple inspectors, 10 years of wrangling and still dozens of objections, got a scheme through planning for a mirrored floating volume that cantilevered over the 3.5m slope of the plot.
That was eight years ago. Yet The Ghost House present today is very different from the one that received approval. Having fallen out of love with the project, Smith parked it before going back a year later with fresh ideas – this time for full concrete after Tadao Ando. Interior designer Adrian Baynes from Baynes&Co, who had worked with Smith on his bars, came up with the basic premise of the plan – a somewhat Japanese semi-buried building and an external stair into a sunken courtyard to welcome you.
Construction started one year ago with BPN Architects who reworked the plan and the building is now complete – more symmetrical than before and larger, but still barely visible from the lane, tucked as it is behind a neighbouring generic red brick outbuilding on its L-shaped plot. Only the new black-painted horizontal fencing leads you round. From there the house – an apparently single storey concrete framed gridded box – spreads across the width of the site, introduced by two pools of water either side of a concrete walkway. In the middle a concrete-lined hole, like an empty swimming tank, plunges you down a stair into the courtyard at the project's primary level.
Ahead, the front door leads into a concrete column-free living space with recessed strip lighting, a single kitchen worktop and another vast grid glazed wall onto another, bigger, sunken courtyard. On the back wall two facing stairs in black steel lead to the master bedroom, forming an intriguing sculptural V-shaped set piece. A perimeter corridor sweeps around the entrance court­yard at lower level, leading to two guest bedroom suites with further courtyards of their own and a cinema room across the far side. Upstairs, the master bedroom has a bathroom cut out of the rectangular plan on one side and a walk-in wardrobe directly opposite. Like many rooms in the house, it is lit only by rooflights. It's a curious design that, unusually for a Paragraph 55 house, makes little attempt to engage with surrounding views.
Rather, The Ghost House is highly urban materially and spatially and is more about recreating the loft living experience its owner had in Leamington. The project has been well executed and is – another reflection of its owner – astonishingly ambitious as well as daring and outrageous in an area that is shot through with false conservatism. The plan is slightly strange, as is the lack of vertical windows that overlook the landscape and village, which might not have been the case if there had been only one designer, but we need buildings like this in places like this and up against councils like this - it was longlisted for House of the Year too. Therefore it's good news that BPN and the client haven't been put off and are already working on two more new houses in Moreton Paddox.
Yet the project took years and enormous financial and legal power. Obstructive attitudes are making interesting bespoke contemporary architecture the preserve of the risk-takers and very wealthy, while the rest of us must live down the hill in Wellesbourne.
---
Credits
Client Steve Smith
Architect BPN Architects
Structural engineer Webb Yates
Concrete contractor Jon Johnstone Construction
M&E Greenways
Concrete Smiths Concrete
Waterproofing CETCO
Windows Monk Metal