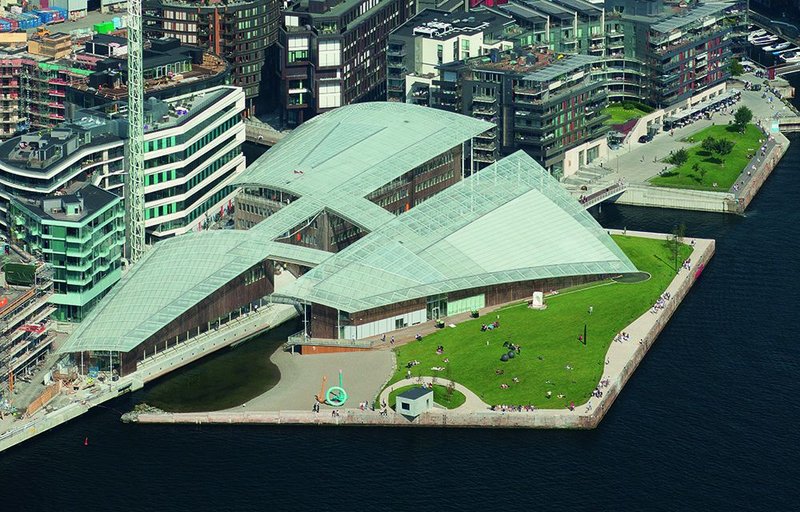 The world is mired in economic gloom, but the art museum building boom goes on. This is the new £70m Astrup Fearnley contemporary art museum by Renzo Piano on Oslo's waterfront. It's an outré arrangement – divided into three separate buildings (two of them gallery space, one for administration and lettable offices), the whole complex divided by a canal. Relatively modest buildings, of composite steel and laminated timber structure with timber cladding, are made assertive by the enormous double-curved twin-wall glass roof which leaps the canal. It's a watery place altogether, even including its own specially-made bathing beach (the waters of Oslo's fjord are crystal clear) at one end of the sculpture garden outside.
Inside, however, it's another story. As with some other Piano art museums (the undulating Klee Centre outside Berne in Switzerland springs to mind) the audacious external form does not lead to successful gallery spaces inside. The circulation pattern is very awkward, and the broad mezzanine gallery overlooking the main temporary-exhibitions space of the waterfront building is an unsatisfactory and unfocussed place to be. Despite Piano's laudable attempt to make a place of public promenade out of a privately-owned museum, having to cross the open bridge from one set of galleries to the other may not prove too popular in the depths of a Norwegian winter.
The collection is good, if you like Jeff Koons, Matthew Barney, Damien Hirst, Cindy Sherman and so on. And Oslo's docklands regeneration, of which this museum is the culmination, is far better planned than its UK equivalents. But once again the quest for an icon building has eclipsed the sense of what the museum is actually for.