Reinvents and reinvigorates the type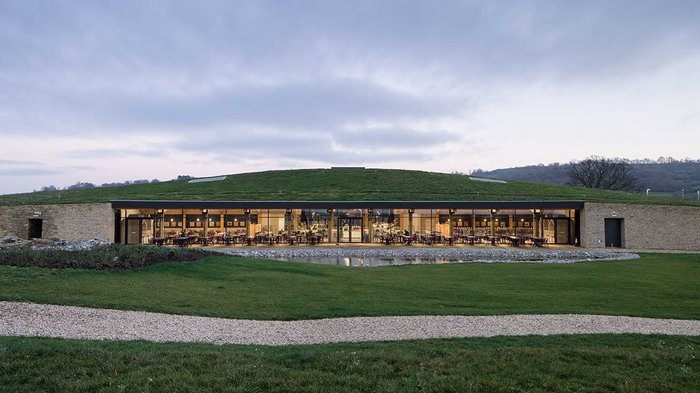 Glenn Howells Architects with AFL Architects for Westmorland
Contract value: Undisclosed
GIA: 3278m2
RIBA South West Client of the Year
RIBA South West Sustainability Award, sponsored by Sika
Motorway services are required to serve an existing need without creating new demand. By that measure Gloucester Services is a glorious failure; it most definitely provides a destination. It reinvents and reinvigorates the type. Bedded into a rolling landscape on either side of the road, the buildings are a refuge, a world apart both from the motorway and the norms of motorway services. The project seeks to address the whole visitor experience – including landscape, parking, building and fuel. To break the mould of the stock petrol station design is a triumph and here steers clear of structural gestures in favour of simple architecture of generous proportions.
· Credit: Paul Miller

· Credit: Percy Dean

· Credit: Percy Dean

· Credit: Paul Miller
The main visitor buildings are visible as concave facades, their grass-topped roofs redefining the topography. Inside a large volume central space is set beneath a long span glulam structure. The usual fast food detritus is replaced by service counters with clear views of the landscape. This challenge to convention has set a new benchmark.
See other winners of the RIBA Regional Awards 2016 – South West
---