Michael Collins mourns our industrial past in the electrical fitters workshop at Chatterley Whitfield Colliery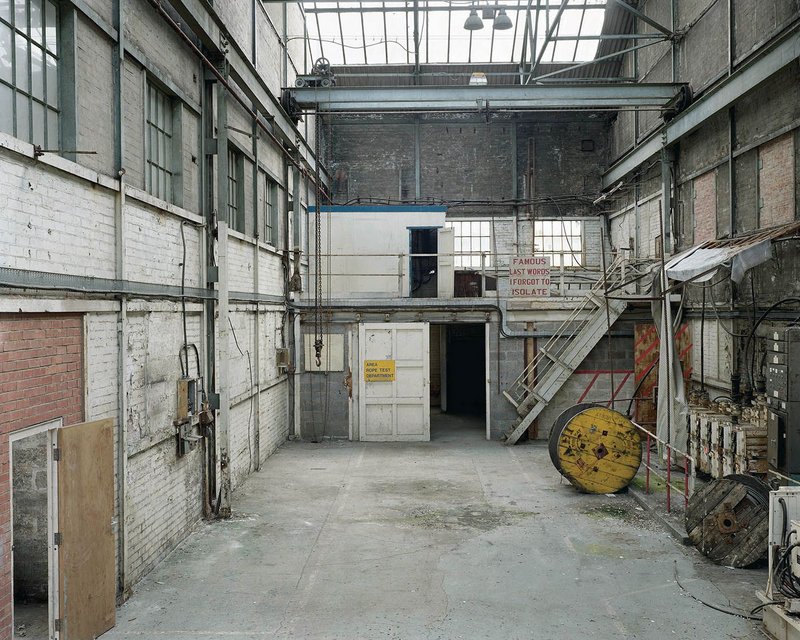 Electrical Fitters Workshop, Chatterley Whitfield Colliery

Credit: Michael Collins
If ever there was a contemporary book chronicling the decline of Britain's manufacturing industry, it's Michael Collins' Landscape and Industry – 64 colour plates which the photographer exhibits at their full 5ft by 4ft size, giving them an almost forensic level of detail when viewed in the flesh. Their scale, according to Collins, also creates a stark sense of authenticity, where he feels: 'The larger the image, the more the simple form is outweighed by the content of what's within it.' Consequently, images are not beautiful in the traditional compositional sense; any beauty is derived from their expositional nature, revealing sites of decay with a curious, slightly detached intimacy. There is no questioning their gravitas as a form of social document.
Do not expect to see images bathed in sunlight, drawing the character out of those crumbling workshop walls. Shot in what American photographer Walker Evans classed as a documentary style of 'no unexplained shadows', the subjects, whether landscape, factory or city, might sit beneath a tombstone sky, revealing their matter in a dull yet probing flatness. Collins describes it more romantically, calling it his 'mother-of-pearl light – I pray for grey days.'
As with his subject here, Collins has crossed the UK seeking out some of the most industrially blighted parts of the country; being exposed to the harsh realities of life in these areas, there are traces of subjectivity if you choose to look for them. Standing at height, documenting the Rover plant in Birmingham as its new owner was stripping out the machinery to take back to China, he was nearly knocked from his ladder by an irate ex-employee challenging him as to why he had not photographed the factory when it was in use. Look at the foot of this image and you'll see the freshly laid rubber tyre burns of the fork lifts that hastily removed the machinery: the final trace of industry in a now cavernous, echo-filled space.
---