A sprawling Victorian farm workers' house in an Area of Outstanding Natural Beauty is given a modernism-inspired new lease of life, with flint and larch detailing offering a twist on local building traditions
In 2013, architect Fred Guttfield relocated his practice from London to Twyford, Berkshire, in search of pastures new. He couldn't have predicted at the time that, free from the constraints of side returns and basement conversions, these broader horizons would lead to a new source of professional satisfaction: helping clients realise a new lifestyle, away from the urban environment, as he had done.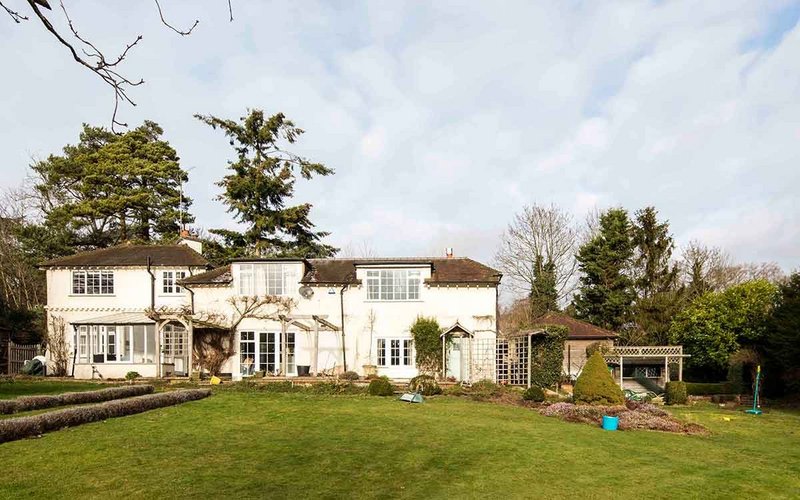 Back of Cherry Tree House before transformation.

Credit: Guttfield Architecture
In 2017, the owners of Cherry Tree House contacted Guttfield Architecture with a folder of magazine cuttings and a mixed bag of accumulated advice. Their sprawling Victorian farm workers' house (in Harpsden, near Henley-upon-Thames) where they'd lived with their children for a small number of years, was ripe for renovation. The home occupied a spacious plot, but haphazard additions in the 1960s and 1990s compromised its layout; rooms accessed only via other rooms and two staircases made for an inconvenient living arrangement and a hodgepodge appearance that would be considered a crime against modernism.
Having previously being advised to demolish and start anew, the clients were torn: they were fond of their home's idiosyncrasies, if not its asbestos. So too were the more longstanding residents of the village, where the hillside house was visibly prominent (and let's not underestimate local goodwill when intervening in an AONB). For his part, Guttfield was keen to steer his clients away from wasteful demolition towards the more sustainable retention of as much of the existing building as possible. 'It soon became clear that knocking it down wasn't something that any of us wanted to do,' he says.
Naturally, the prospect of a 20% VAT saving would prompt the clients to seek frequent reassurance. 'They would ask me "Are we really doing the right thing?"' adds Guttfield – but he was confident, and now feels that environmental credentials of the project turned out 'really spot on'. The home's new additions are constructed from lightweight timber. The concrete foundations are minimal and make use of a recycled cement mix. Heating and hot water are provided via a ground source heat pump, which, thanks to the expansive site, has been installed with a horizontal array of pipework close to the surface – so no expensive boring deep into the ground – and planted over with wildflowers.
The wall-to-window ratio is optimal, and triple glazing assists with insulation. A generous roof overhang eliminates excess solar gain. In terms of financials, the overall cost of the work was £760,000 – including everything down to light fittings and carpet – which works out as £2,300/m2. Hardly loose change, but considering the location of the property, its size and the quality of the finished architecture, it is reasonably economical.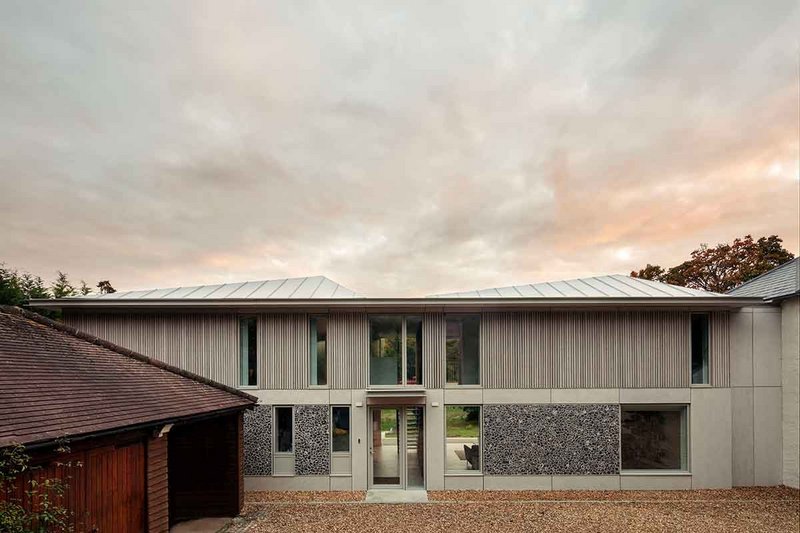 View from the front of Cherry Tree House by Guttfield Architecture.

Credit: Will Scott
But back to the plot. Having persuaded the client not to raze the property to the ground, historical research revealed that the house was not one but three clumsily amalgamated buildings: a cottage, a coach house and stables. It was decided that the cottage should be the driver for the new architecture on the site, and the coach house and stables were replaced with a two-storey extension which draws on, and draws out horizontally, the features of the original building.
The original cottage is uncomplicated and unfussy – 'a facade with four windows, like a child's drawing of a house,' explains Guttfield. This simplicity (alongside budgetary constraints) informed the design intention to eschew the uninspiring 'glass box plonked in a field' in favour of a more straightforward structure and traditional materials, which still maximise views of the landscape and the eponymous tree.
The new composition has a tripartite appearance, unified by a low-profile winged roof and by the linear continuation of certain key elements of the original building: the alignment of the windows, the eaves and the dentil detailing. This latter is referenced on the upper story of the addition's facade, where vertical strips of Siberian larch cladding, and the railings of the bedrooms' balconies, cast similar shadows to the dentils. 'We wanted the tone and the colour to be similar and consistent, but for there to be a lot of difference in texture and the way things catch the light,' Guttfield elaborates.
The lower floor is clad in a light grey cement board, punctuated by panels of traditional Chilterns flintwork, painstakingly knapped by hand by local craftsman Ally Fincken (the precisely quoined corner is an object of fascination). These create a luxurious and tactile surface at a fraction of the cost of using flint as a primary building material. References to the historical cottage, and to local building traditions, are always served with a subtly modern twist.
This approach continues on the interior: client and architect seemingly share a love for geometry. A custom-made curved banquette. Geometric kitchen tiling. An open tread staircase, which seems to be pulled out of the wall, continuing this idea of extrusion. The open treads cast striking diagonal shadows on the adjacent wall (cork, for warmth and acoustic insulation). The bedrooms, which appear almost identical on the plan, differ significantly in character thanks to the unexpected geometries of the winged roof above them.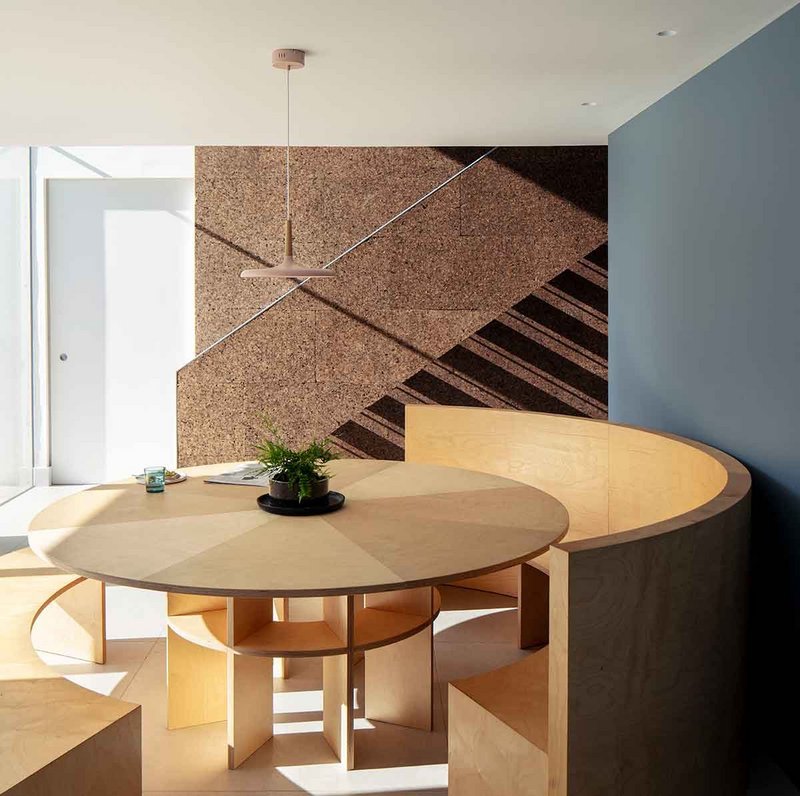 The bespoke dining table and cork clad staircase were designed by Guttfield Architecture.

Credit: Will Scott
The clients' interior furnishings also have a certain mid-century flavour. 'We always look at a client's furniture when we design,' Guttfield responds, 'and there were a lot of 1960s references in there, accompanied by flea-market and boot sale finds.' A perfect fit for the architect then, who tells me that he admires Peter Aldington and 'modern with a capital "M" architecture… Although you don't go into something thinking "I'm going to do it like that", you know, it finds its way through!' Hence his talent for combining the old with the new so successfully.
It was precisely this ability to tie in the contemporary architectural additions with the Victorian ancestor so harmoniously (and to satisfy his 'new kids on the block' clients while appeasing traditionalists) that helped win over the planning department and assuaged a potentially hard to please, ultra-conservative local parish council. That, and a design-conscious case officer, who was able to contribute positively to the discussions at the community consultations.
Perhaps Guttfield just has a knack of winning people over. Past clients have referred to him as a legend, a dude and a guru. What is his unique philosophy?
'Often people can be quite disorientated and unsettled by the fact that, as the architect, you come into [a domestic project] not knowing what the solution is. Sometimes they find that quite scary, because how can they put their trust in you if you don't know what they need straight away?' he explains. Consequently, educating and mutual learning is key to building trust. 'I love the process of understanding their understanding of what we are showing them.'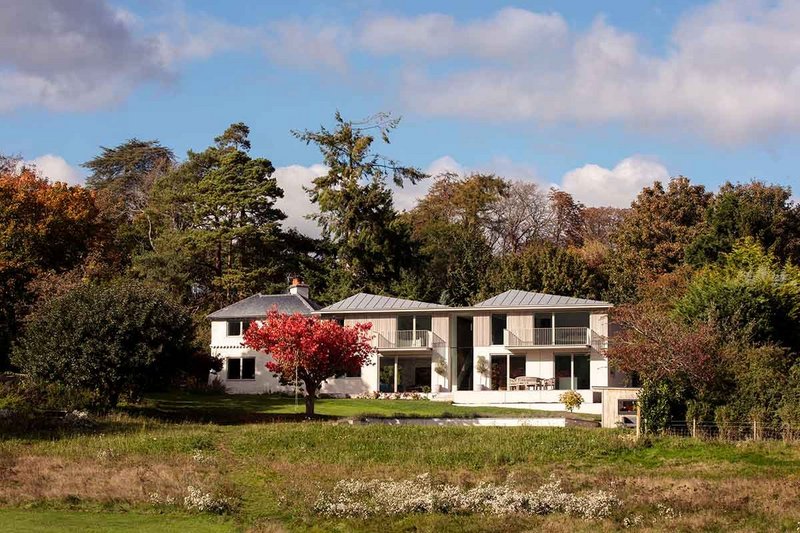 The house sits in a generous landscaped setting, the pool hidden in the foreground.

Credit: Will Scott
This capacity to help clients articulate what they lack the vocabulary for, to listen and observe, and to act as guide as well as designer-cum-practical-problem-solver is presumably how his clients wind up as friends. It strikes me as strangely poignant that Guttfield was spending the evening at Cherry Tree House when Lockdown #1 was announced, the project having completed in February 2020. Considering that the house now offers a comfortable interior environment, a spacious garden, enviable views and a new swimming pool, the answer to 'Are we doing the right thing?' was – for these fortunate homeowners at least – a resounding 'yes'.
---
0.9 Ha total size of site
234m2 original GIA
330m2 completed GIA
£760,000 total construction cost (including ground source heat pump, fixtures, fittings, finishes, joinery, sanitary ware, appliances, lighting, carpets, landscaping)
£2,300/m2 cost per m2
Credits
Architect, interior designer and contract administrator Guttfield Architecture
Clients Mr and Mrs Gummer
Structural engineer Meade Structures
Local authority South Oxfordshire
Approved inspector London Building Control
Main contractor Helix
Carpentry Era Carpentry
Flintwork Ally Fincken
Roofing Rainscape Roofing
Architectural metalwork (stairs, balconies etc) Orbis Design
Joinery BAT Studio
Mechanical and electrical Chappell Services
Ground source heat pump GCore
Worktops Gra Knight
Suppliers
Siberian larch cladding Russwood
Cement board cladding Cembrit Tectiva
Aluminium roof Prefa
Flat roof ICB
Opening windows and front door (all triple glazed) Velfac
Fixed frameless glazing Maxlight
Rooflights Rooflight Company
Larch decking Russwood
Cork cladding Mike Wye
Concrete floor tiles Solus Ceramics
Worktop and splashback Silestone
Brassware Crosswater
Ironmongery Allgood
LED downlights Orlight