Feilden Fowles' new teaching block has brought cohesion to a rag tag of buildings at Somerset's Hazlegrove School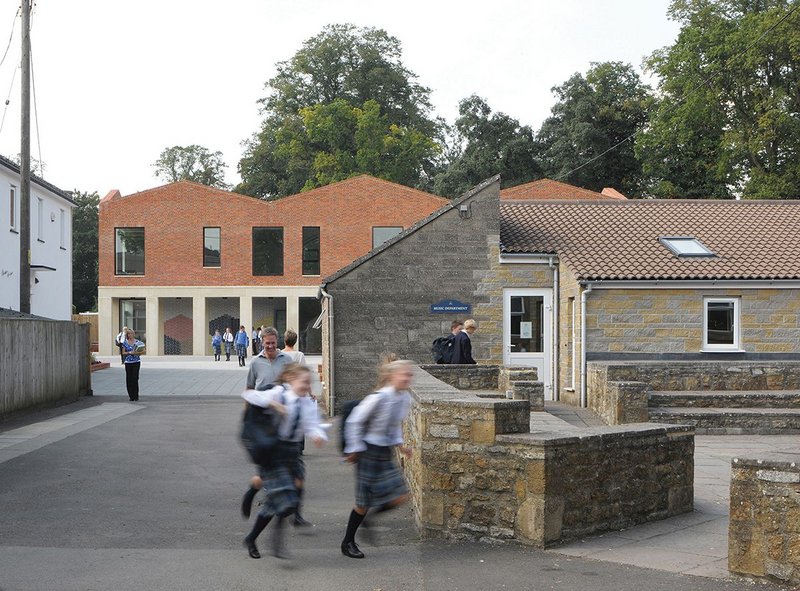 The new teaching block looking west, its formal facade bringing order to the piecemeal buildings behind the main house.

Credit: David Grandorge
There's something benignly religious about Hazlegrove. It might not be immediately apparent from the progressive pedagogy discussed on its website, but it's there just beneath the surface. The private prep school – a former 17th century classical home, set deep in the Somerset countryside, emphasises traditional Christian and family values to parents, something subliminally alluded to when you walk into headmaster Richard Fenwick's office. On the wall between two grand Georgian windows offering views back out over manicured lawns, there's what appears to be an antique painting of Hazlegrove rising from a lake. The house's clearly recognisable sandstone form, based on a Genoan palazzo, floats stoically in the centre, an ark after a biblical deluge. Closer inspection reveals it was painted in the 1970s: fantasy skiffs bobbing adrift in the foreground helmed by what I assume are pairs of damned ex-pupils refused its refuge.
Fenwick arrived in 2002 after heading up Christian schools in Kenya and nearby Taunton to make the school viable again. For him that meant upping the numbers of revenue-generating boarders. But the dorms needed for that involved a gradual process of conversion – spatial that is – of the main house back to purely residential use. This in turn necessitated buildings and prefabs to supply the lion's share of the teaching space. Replacing these prefabs with a dedicated teaching block was the aim of an invited competition between four practices chosen by the governors, which young firm Feilden Fowles, with questioning intensity and zeal, won over more predictable proposals by better established practices.
When it comes to discussing design influences on the new Fitzjames teaching and learning centre Fenwick, a former design teacher and educationalist, cites a number of references. He has a love of Waterhouse's Natural History Museum, 'which could be a cathedral if you took all the animals out', and 'If I were a Rich Man', where Tevye sings about all the staircases he'd have in his fantasy home. He also has a keen interest in the research of influential dean of education at Liverpool Hope University Bart McGettrick. In a teaching world where kids now do their research online in their own time, I'm told the 'flipped' classroom is the site of active enquiry and discussion rather than lecturing. McGettrick told Fenwick that as far as educational environments go, no-one got it more right than the Benedictine monks with their ecclesiastical cloister form, 'with places to walk and talk whatever the weather, central places to gather and inbetween places to withdraw to.' Pupil/teacher user research aside (and apparently the architect did a lot of it), and given the agendas here, I get the feeling that the final cloister form decided on – a double height central amphitheatre space defined by six classrooms and upper level circulation – was pretty much a done deal.
Feilden Fowles had their work cut out either way. Crucially, the building needed to not only express the programme agendas internally, but to try and make more sense of the environment in which it was placed. While Hazlegrove House itself is a handsome grade II* Georgian box of ashlar and rubble stone, the piecemeal, random extensions of 19th and 20th century teaching blocks, dorms and staff spaces behind form a motley crew in its shadow. Even the chief planner, fully aware of the context, was open to any suggestions on form and materials. The architect's approach was to take what it could draw from the site to anchor it to its context – and in doing so try to extract some order from the chaos. It also meant incorporating an adjacent existing building in the overall design – all for the less-than-princely sum of £1800/m2.
The result is a 660m2 three-bay brick-faced and concrete-column form of low roof pitches that makes simultaneous references to both the main house and its clutter of associated structures. Set at the west end of the site, the restrained southeast face connects with the modified staff room block via a new timber colonnade to generate a sense of place where none existed. The two also define a charmingly detailed courtyard playground cum sundial that, with key points demarcated, allows kids to become human gnomons and tell the time by their own shadows. The sun works for the columns too, their high sandstone aggregate content yielding a rich, warm glow, that counterpoints the recessed red brick classroom walls behind them and casts deep shadows to frame and highlight the projecting glazed central entrance bay. The moves here are simple but effective, and the same consideration is reflected at the back where the escape strategy has resulted in a long, externally expressed, black painted steel balcony that connects to ground at one end, with roof drainpipes picked out in the same materials. Partner Edmund Fowles says that, with its large, low arched window, the practice was influenced by the Museum of Childhood round the corner from its London office. You can see what he means, and it's given the elevations delicacy – even to a rear one that wouldn't normally even be seen.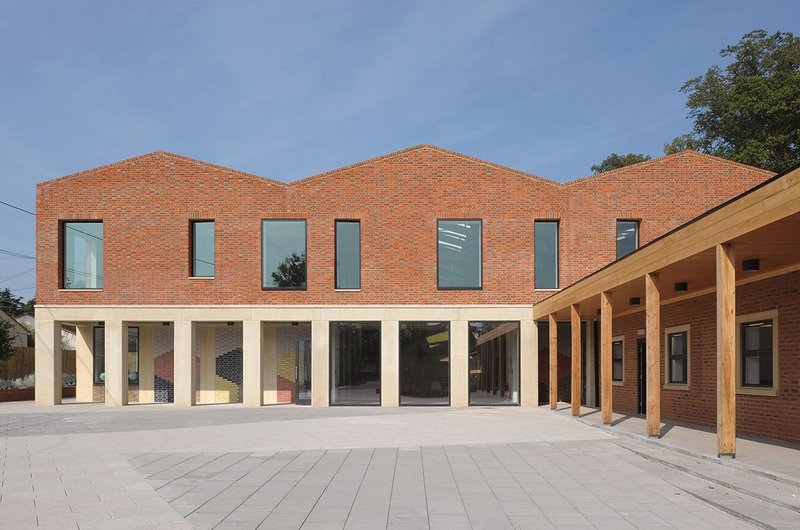 An existing adjacent block (now staff room), with its new timber colonnade and extended roof line, becomes part of the cloister composition and helps frame the playground area.

Credit: David Grandorge
The Museum of Childhood is as much present in the central space, where the firm has designed fine steel roof trusses that reference those at the museum, its arc serving to define the main volume and landing on cruciform steel columns that in turn support the wide first floor circulation running around the full height space. Fowles remarks that money was tight, so the column form was welded from two L-shaped sections, but it results in the Miesian detail and suitably symbolic cross form in plan that should keep Fenwick happy. Steel detailing is generally simple and pleasing, which Fowles admits might have something to do with his time at Hopkins Architects. Details on the Hellerup stair were well argued by the architect with building control, to avoid unsightly handrails and tread contrast strips interrupting the homogeneity of the look. Pupils use the left hand stair to ascend and the right to descend and consequently left treads look more worn; this tracking of their feet is a subtle register of use. The space can be used for drama and informal teaching events, although Fenwick adds that first thing in the mornings pupils sit and chat here before the school day starts. With its light and lofty feel you can see why they do.
Naturally ventilated classrooms on both levels are separated from this area by glazed walls that meet BB93 demands, although it's clear that client and architect wanted to ensure that the spaces weren't isolated from each other but had a certain amount of acoustic connectivity. Upstairs wide landings with oak balustrades allow pupils to move easily and form makeshift breakout study spaces on the south side, where deep timber window reveals allow them to sit and read or chat. From here too the view out reveals that the new building looks centrally down a road that leads out past the education buildings to the playing fields beyond and, inversely, formally terminates the view from them; the building making sense of the otherwise random assemblage.
While the school charges £6,000 a term, Feilden Fowles was challenged to make best use of its talents with a limited £1.2m budget and its success is seeing them being mooted for Hazlegrove's parent, the King's School in Bruton, hoping to mark its quincentennial next year with a new project. The architects' religious observance here has shown they can be economical and judicious in design, detailing and materials – skills much in need in the more challenging secular state education sector. God willing, they'll get the chance.
---