ERCO luminaires in the new Pinsent Masons branch office in Belfast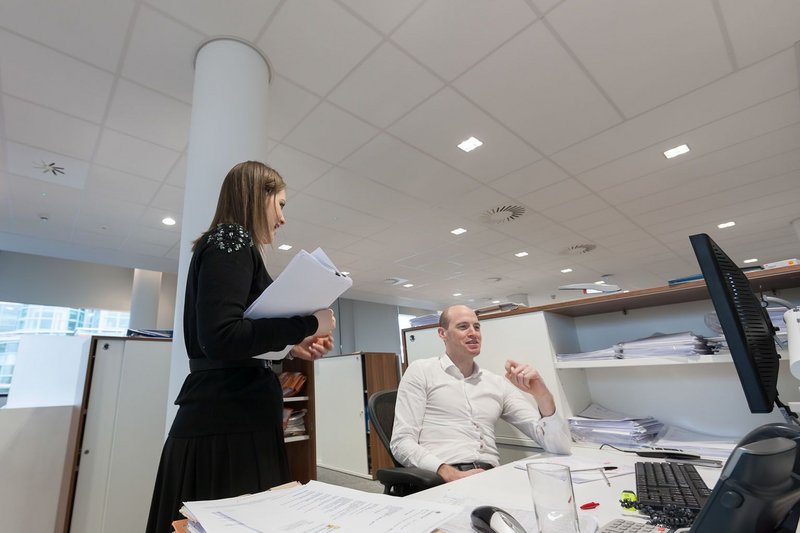 Pinsent Masons is a fixture in the UK business world. Headquartered in London and operating a network of offices in the UK and across the world, the corporate law firm employs more than 2,700 staff. Its latest branch in Northern Ireland is accommodated in one of the most noted office buildings in Belfast – "The Soloist". The lighting concept is based on a variety of ERCO luminaires to meet the complex requirements of a modern office environment.
The workstations are illuminated using neutral white light, which has proved more pleasant and easier on the eyes when working at computers. For concentrated work in the relevant areas, Quadra recessed luminaires provide glare-free ambient lighting. Compact downlights produce attractive lighting accents on individual elements in the room. Quintessence recessed luminaires with oval characteristic can be adjusted precisely to illuminate specifically the circulation area and to prevent reflections on the glass walls between the office section and the meeting rooms.
The reception area was to be designed as the firm's showpiece. To this end, the designers opted for a warm white light colour in order to produce a welcoming ambiance. Quintessence wallwashers set off the delicate grain of the wood-panelled wall. Cylinder surface-mounted downlights break up the expanse of the ceiling. In their minimalist design, the effective lighting tools unobtrusively recede into the background. The reception connects to a waiting area with columns which are illuminated from below using Nadir recessed floor luminaires, thereby producing a more dynamic, three-dimensional look of the room.
ERCO Lighting Ltd. London
+44 20 7344 4900
---