Hollaway Studio's multistorey skateboarding and climbing facility is the latest element in the Roger De Haan Charitable Trust's mission to revive what had been a declining coastal town
Since Covid-19 aborted a couple of overseas trips, my partner and I have made it our mission to cycle around the coast of the UK. In the summer of 2020, we cycled the south coast from Ramsgate to St Ives, cruising across the top of the Isle of Wight. Since then, we have been filling in the gaps at weekends, sections at a time. Our most recent ride started in Spalding and finished in Lowestoft via north Norfolk and Great Yarmouth.
While there is a long way to the finish, it has given me a kind of 'state of the coast' overview of its joys and challenges. I've seen how some areas are awash with excess cash flooding into new-build architect-designed homes, restaurants, shops and pristine beaches, while the next town along might be struggling to let empty retail units. A couple of hours' cycle further, another coastal town might have entrenched generational deprivation; the cost-of-living crisis tearing through, with its consequences on health and life chances.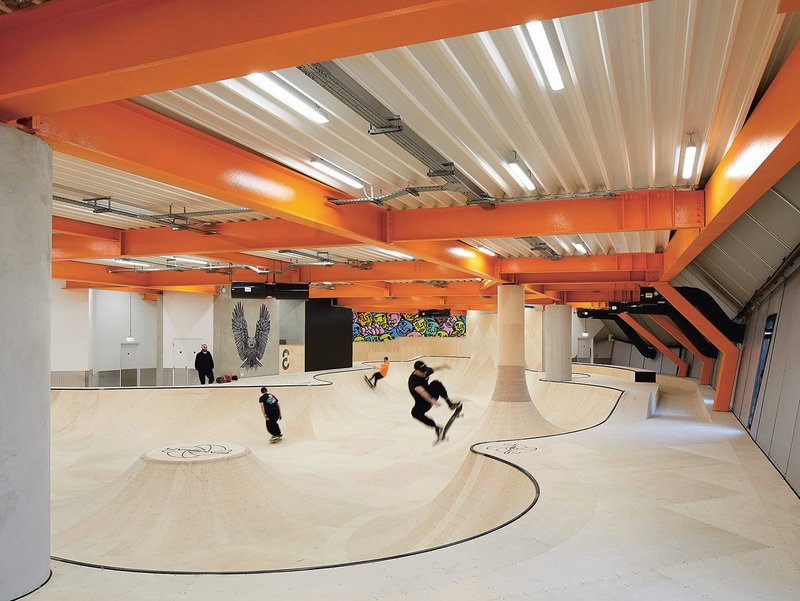 The Modern Bowl on the concrete first floor, the shapes of which appear to hang mid-air, punctuating the curtain walling and ceiling of the reception floor.

Credit: Hufton + Crow
Existing architecture tells the story of how fortunes can change up and down rapidly or over centuries – Roman and early medieval Rochester, late Middle Ages and early modern Kings Lynn, Georgian Wisbech, Victorian Scarborough, contemporary Sandbanks. It's a luxurious position to take from the saddle of my bike, but one seemingly simple observation about Britain's coast is there is so much of it – more than anyone knows what to do with – and you can witness Britain's fundamentally laissez-faire economics along it perhaps more profoundly than on any other journey across the UK.
That's why what is happening in Folkestone, and by comparison the nearby resorts of Hastings and Margate, is of such importance. Located on the southern edge of the North Downs, Folkestone is a rather grand Victorian and Edwardian seaside resort, which also had successful harbours and shipping trade. But the decline of these industries and the loss of its ferry to Boulogne in 2000 – prompted by the opening of the Eurotunnel – presented the town with economic difficulties.
As Guy Hollaway of Hollaway Studio explained at the press event for F51, his practice's new multistorey indoor skate, climbing and boxing facility up from the main harbour on the escarpment in the town centre, Folkestone has some of the most deprived wards in Kent and in the years around the millennium it developed a tougher reputation. Hollaway grew up in Kent and says the mindset was 'how to get out'.
These days many of Kent's coastal towns are undergoing a renaissance as they are gentrified by both insiders and outsiders. Whitstable is another example. Money is flowing in, some council-led, some governmental; as are people, some from London as well as those priced out of neighbouring areas such as Brighton. Though of course, this can cause tensions with the communities that already live there.
Much of these revivals may have taken place anyway, but at least some is down to the trickle-down arising from key interventionist approaches like Chipperfield's Turner Contemporary in Margate and HAT Projects' Hastings Contemporary. Catch yourself on a slow train from Ramsgate to London and it will take you 2.5 hours, but domestic High Speed 1 services, running since 2009, have halved this.
At Folkestone, the local council has a programme of redevelopment, including a Place Plan drawn up by We Made That with Fletcher Priest Architects one of the consultants, and it purchased the vacant Debenhams store for £2 million in 2020 to relaunch as a mixed-use building including co-working spaces. But what is different about Folkestone is that its regeneration is also, unusually, being substantially pioneered and financed by the charitable trust of a private benefactor, Roger de Haan, the former director of Saga group, which was founded by his father and based in the town.
'When he left Saga,' explains Hollaway, 'Roger decided his new project would be Folkestone. He has invested more than £100 million into it. His vision is to create Folkestone as a great place to live, work and play.'
What is different about Folkestone is that its regeneration is being substantially pioneered and financed by a private benefactor
He has done this through a series of projects, which include a secondary academy school designed by Foster + Partners and the Quarterhouse theatre by Alison Brooks Architects, and by developing a creative quarter around the old cobbled high street, building up a portfolio of buildings to lease out (each marked out by brightly coloured paint) with the Folkestone Triennial arts festival acting as a periodic focus.
F51 is one of these projects, and the fourth designed by Hollaway for de Haan. The others are a junior school, the harbourside Rocksalt restaurant and Three Hills Sports Park. Meanwhile, Acme's 1,000-unit housing masterplan is being built on the seafront.
This investment has been carried out somewhat in hope, not knowing who, if anyone, would come. Folkestone's regeneration may be less well-known than that at Margate and Hastings, yet it is also more advanced and cohesive with fewer gaps.
F51, on the site of a redundant bingo hall which 'had no architectural value', originated nine years ago as a proposal for a multistorey car park for the homes being built on the front. When Hollaway presented the first plans to de Haan, however, he asked him to relocate a skatepark from the beach to the roof. In the end the idea grew to take over the building altogether as an extreme sports venue that integrated a boxing club and created a climbing and bouldering centre, ditching the car park altogether.
Wrapped in 1,000 metal mesh cladding panels, with only a few spotted triangular slit windows and a half-glazed ground floor, F51 does still look still a bit like a multistorey car park. Nevertheless, on three levels (not the roof), the building is the world's first purpose-built multistorey skatepark – a coup to attract a wider audience in itself.
The only external tasters for what it contains are the bulbous concrete shapes that burst through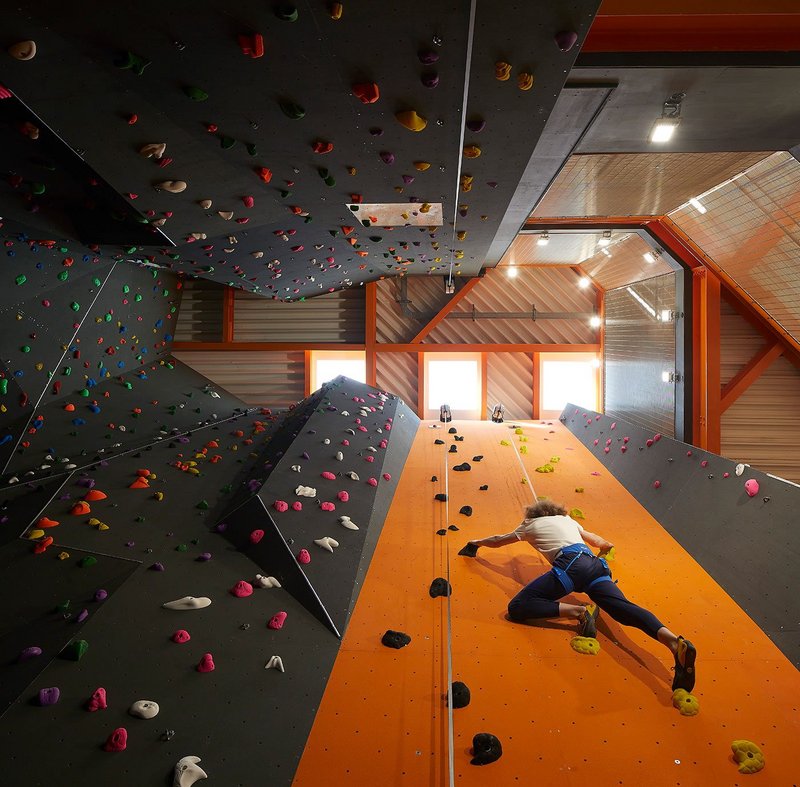 Credit: Hufton + Crow
The building sits on a triangular plot surrounded by road junctions at an awkward spot in the town. The only external tasters for what it contains are the bulbous concrete shapes that burst through the underside of the ceiling and curtain wall at ground floor – you pass under a hanging bowl as you go through the entrance and a rolling rough finish topography unfurls above you in the reception and bar/café in contrast to the smooth polished floors. This suspended landscape is the visual expression of the 'bowl' floor skatepark above, the first of three levels each dedicated to different genres or abilities of skater, BMXer or other rider. The first floor has a 2.65m-deep 'pool', inspired by 1970s Californian backyard skating in drained swimming pools, as well as a 'modern bowl' more geared to those learning transition.
The second floor is 'flow' – 650m2 of skateable timber surface with waterfalls, blends, humps, bumps, corner bowls, pillars and a quarter pipe and volcano. Meanwhile, on the top 'street' floor, also timber, you are more likely to find beginners and maybe scooters testing its stair sets, handrails, ledges, hips and banks. Surging through all levels at the rear is the 15m-tall top-lit climbing wall – the tallest in the South East – with 350m2 of climbing surface as well as a 230m2 of bouldering area at the ground level. The boxing gym and community studio are also on the ground floor.
The project's aim was to create a building that gives 'young locals the opportunity to push both physical and mental boundaries within a safe space, away from screens' and to make it as inclusive as possible. Membership for under 16s who attend any of the 42 partnered local schools is set at £1 per month. Otherwise, peak sessions for skating are £9 and £10 for climbing. It's open until 10pm everyday except Sunday when it closes at 8pm.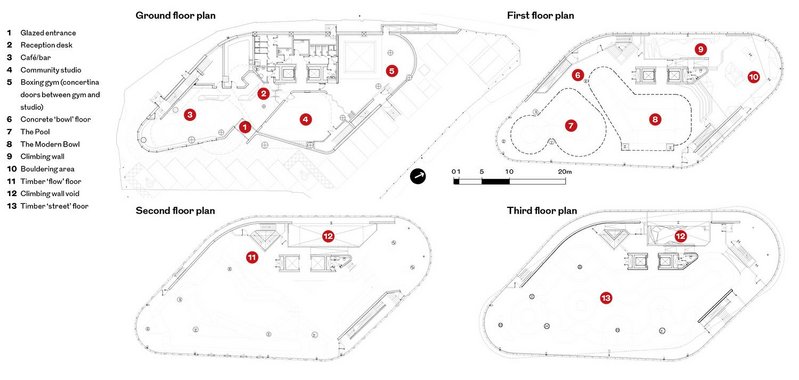 Architecturally, the building adheres to an aesthetic of concrete, metal sheeting, black paint and orange painted exposed steelwork, of which there is a lot. Because of the cantilevering and weight of the concrete bowls, the concrete pillars are broad enough to ordinarily support a 33-storey building. The architectural emphasis is on the quality of the skating surfaces. These have been designed and made with Maverick Skateparks for the concrete floor and Cambian Engineering Solutions for the timber levels, using expert forming and moulding techniques and craftsmanship to make them suitable for Olympic training. Artworks by international and local artists, animate the occasional wall and open space.
Questions hang over the project, including the logic in creating such a supervised space for what is for many a countercultural activity. Then there is the environmental issue of making a multistorey building that proliferates steel and concrete – as well as the lack of windows that blinker the sense of being in the centre of the town.
Yet how one sees and surmises this project must be in the round. It is a £17 million gift to young people that says they have a place and a voice; that they are seen and included. It supports people being active, interested and participating, with a stated aim of 'generational regeneration'. Folkestone is developing its own unique alternative identity to Margate and Hastings, seemingly more local, diverse and homespun. Does one wonder about the reliance of an individual on the regeneration of a single place? Possibly, but there's a specific strategy here with ambition, listening and action taking place, one that all Britain's coast could learn from – some urgently.
In numbers
Construction cost £17m
Gross internal area 3,250m²
Climbing wall 15m
Deepest skating bowl 2.65m
Credits
Architect Hollaway Studio
Client Roger De Haan Charitable Trust/the Sports Trust
Local authority Folkestone & Hythe District Council
Contractor Jenner Contractors
Engineer Ramboll
MEP and environmental engineer Atelier Ten
Concrete skatepark Maverick Skateparks
Timber skateparks Cambian Engineering Solutions