Manchester's Cornerhouse and Library Theatre have a new place to dwell – Mecanoo's Home. And actually– it's pretty... well, homely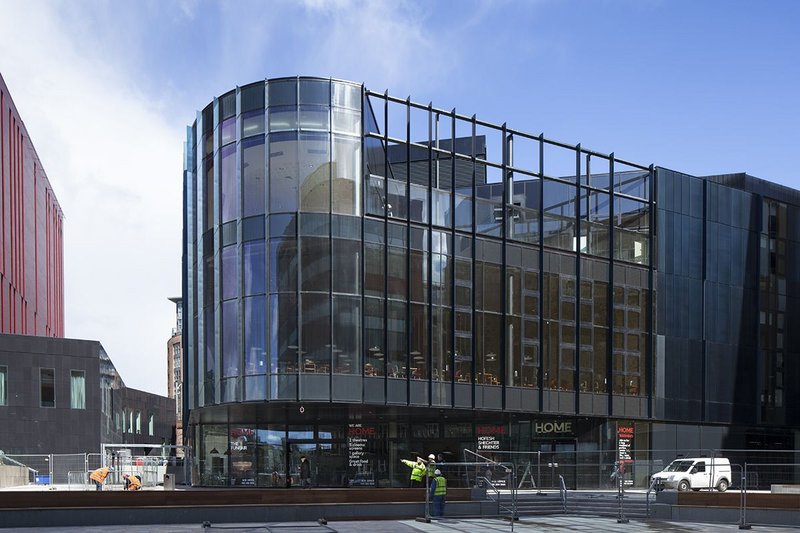 Home cornering culture alongside Number One First Street.

Credit: Paul Karalius
Dave Moutrey, chief executive of Home, Manchester's new venue for contemporary art, theatre and film, has traded in Cornerhouse, his battered 30 year old, red brick MGB-roadster-of-an-arts-centre, complete with leaking hood. With Home he has a big Ford C-Max (black, of course), with panoramic roof, 17 different seating permutations and literally dozens of handy storage compartments. How exciting is that? Manchester Metropolitan University now has the keys to the much-loved roadster, while the SUV's closest neighbour at Number One First Street – a building as evocative as its address – is AutoTrader.
Francesco and Ernst, from Dutch architect Mecanoo, are waiting for us in Cinema Two, keen to present the evolution of the new 6,500 m2 building. It comprises seven boxes – two theatres, five cinemas – plus art gallery, restaurant, three bars, box office, bookshop, rehearsal and event spaces, and staff accommodation. All are deployed across three floors in a triangular configuration, wrapped in continuous facade, angles rounded, with a cantilevered notch where the doors slot in. Frankly, at £25m for the lot, these are Primark prices. And the considerable added value looks good and works.
How long the industrial aesthetic will stay in fashion anybody's guess. For the time being though, it is architecture's denim and Mecanoo's building reboots it as though it is this year's brand new trend. Home has fair-faced concrete, exposed soffits, engineered ply, big suspended pendant lighting, polished terrazzo floor complete with enough cracks to make it look pre-patinated. Architecture wonks may sneer at more ply, but they'd be wrong to. When the well judged bar and restaurant fit-outs have a healthy sprinkling of clientele, the vibe is good.
For over 30 years Cornerhouse cinemas, galleries and bars were a great draw for students and staff at Manchester Metropolitan University, just south down Oxford Road. Home will hope to see their affections transfer. It helps that the new building's aesthetic and atmospheric partner in town is the School of Art at MMU, by Feilden Clegg Bradley. This Stirling nominated art school is a model in restraint, cleaving to an already intelligent and detailed brief that sought to integrate students (clients) and learning disciplines in an open matrix.
Theatregoers, art house cinema buffs, visual arts punters, drinkers and eaters are front of house at HOME. In the back rooms are actors, those of Manchester's venerable Library Theatre Company which was in need of a home (that word again). This brings about an uncommon condominium of a shared building. The main sitting room, the space that rises through the building, defining its height and volumes, is the 450-seat theatre. It is a quirky affair, and draws character from that. Lined out in slatted ply, this time painted matt-black, there are two balconies above stalls, seating upholstered in a narrow palette of red and purple. Tall, thin and black, it recalls Goth girls in long dark coats with streaked out hair. It's a good look.
This main house hasn't opened fully to the public yet, so it is difficult to know how the rather formal deep raised apron stage will function, in the absence a fly tower and with constricted wings. No seat is more than 10m from centre stage, making for a giddy, Piranesian, slightly vertiginous space. On the first floor, across quite a narrow corridor from the main house, is a black box flexible space with an engineered oak floor and little else. Were there seats, there would be 160 of them. With more than the usual allocation of entrances and exits, the room appears to be almost more door than wall. This, apparently to maximise flexibility, helps get actors and performers on and off stage in as many ways as possible. Whatever lighting and other technical specification comes in here, it will be bespoke. For now, it looks like a good party room.
Performance spaces and five cinemas are all north of both the entrance foyer, and the public bars and catering that rise up through the building. The lift core, the right of the entrance, is lined out in naked ply while signage throughout is chunky, clear and legible. Cinemas are clustered at the top of the building around an unprepossessing lobby punctuated by doors. It's strange how clunky and featureless cinema can be, stripped of popcorn and pick 'n mix . Cinema One is 350 seats raked up to roof level, where is sits alongside projection boxes and plant room. Cinema Two is 150 seats raked out between curving walls, this being housed in one the rounded corners of the building. Walls and floors are grey; seats are the same block colours as the main theatre. This is neither Tooting Granada nor London Palladium, but the punters won't mind.
The ground floor bar is your entrance hall and drawing room and it takes the heavy traffic. It is left of the entrance door and follows the curving full height glazed wall. Strikingly, the bar itself slots beneath the first landing of Home's pleasing staircase. Mecanoo and collaborator Concrete Amsterdam have cleverly turned a perceived disadvantage from Cornerhouse – a space consuming centrally located turning stair -– into a characterful structure. The timber treads are generously wide and deep, landings broad, balustrade properly weighted. The stair turns and rises through the floors, with a mezzanine branch that bridges to the main house first balcony. Stairs are lined out in ubiquitous vertical slatted ply, allowing nosey views through to ground floor drinkers and first floor diners. In a building that pays the price of a mashed-up programme of uses and users, this staircase is the spine and signature. Deceptively simple, totally effective.
Bar and restaurant fit-out are Home's second identity flourish. Tall folded aluminium stools join high bench tables, made from recycled Iroko hardwood laboratory benches on welded square-form uncoated steel frames. These are overhung by low-slung pendant lighting that slices the double volume space in two. Restaurant furniture includes G-plan sideboards and dark timber throughout. It is, I cringe to say, comfortingly homely.
So, the SUV turned out to be a pleasant surprise, thanks, I think, to a patient and experienced design team. There are caveats: the tiny book and journals shop is an insult to literacy. The narrow slot to the theatre circulation feels positively back-of-house, and it is littered with mundane fire doors. A little more money and space here might have bought a better effect.
Both the Library Theatre and Cornerhouse are much loved and longstanding Manchester institutions, but at Home, you have no clue they ever existed. The Gallery space shares ground floor with the bar and Box Offiice, and isn't open yet, so I suspend judgement. But, for a building committed to visual arts not to have commissioned a single piece of it during its construction, seems to me derelict. Have they not been to Liverpool Everyman? Notwithstanding, a building not necessarily in the right place, nor best sited for its purpose, turns out to be fresh in its detail, cleverly slotted together, and something of a pleasure to be in.
---
Manchester, by Phil Griffin and photographer Jan Chlebik, is available at www.mancunianbooks.com