Feilden Fowles happily unites seeming contradictions at its new hall for Homerton College, Cambridge, beneath the restless animation of a shimmering faience cloak
College dining halls are a big deal in Cambridge. They are the hub of communal life, the setting for great events and emblems of identity. It's no accident that Porterhouse Blue, Tom Sharpe's satire on university life, opens in College Hall on the occasion of the annual Feast, a candle-lit dinner of swan stuffed with widgeon and a whole ox roasted in the fireplace. When the new Master rises to announce that the hidebound institution must be reformed - not least with a self-service canteen to replace shuffling servants in the hall - he triggers a mortal struggle for the soul of the college.
How reassuring, then, to visit the new hall at Homerton College and find its newly retired principal - Geoff Ward, there to lead the tour - and numerous exam-week students full of praise for a bold, enigmatic building by Feilden Fowles. Wrapped in a rippling cloak of iridescent green faience atop a plinth of dusty pink concrete, it takes the rudiments of a traditional hall - its rich material character, vaulted hammer-beam roof and high windows - and spins them into something equally majestic but lighter, brighter, more open. 'It is both a special place and something for everyone, visibly welcoming to a diverse student population,' says Ward.
Striking that balance was critical. Like the fictional Porterhouse, Homerton has arcane dining traditions - Anglo-Saxon toasts and so on - but is overall more progressive. Founded by dissenting clergy in the 18th century, it moved from east London to south Cambridge in 1894, acquiring an almost-new gothic revival campus where women trained to teach. Principles of friendliness and inclusivity were reaffirmed when Homerton gained full admission to the university in 2010.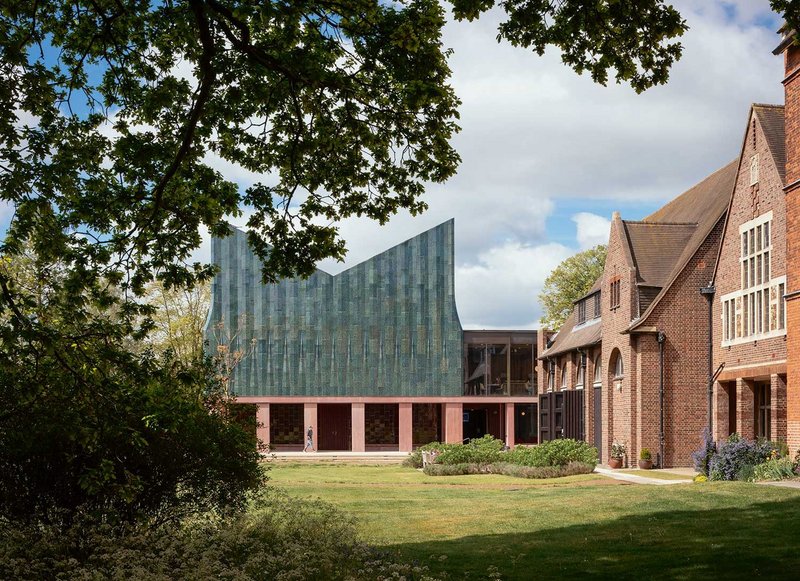 A plinth of 50 per cent GGBS concrete links the east elevation to the buttery.

Credit: Jim Stephenson
The newest college is also the biggest, and by 2016 had outgrown its dark and stodgy Great Hall. Feilden Fowles entered the open competition for its £10.4 million successor against long odds. Founders Edmund Fowles and Fergus Feilden were just into their 30s and, though well regarded, had not yet delivered anything comparable. Two things clinched it, says Ward. One was openness to dialogue: 'they weren't divas'. The other was an imaginative response to the setting. A dutiful deference to context can be a mask for timidity. Not here. Familiar references are reworked in a way that is respectful, but new, strange and full of vigour.
Together with new kitchens and the buttery - a relaxed café added at the architect's suggestion - the hall makes an emphatic full stop to the college's main range. Like the Great Hall it juts out from the building line, but is rotated through 90 degrees to make the most of southward views over sweeping lawns and mature trees. There's inversion in the form, too. A pitched roof was judged too overbearing and was flipped to make a valley expressed in the distinctive twin peaks of a tapering gable facing the heart of the college. It's an odd-looking thing: slightly ungainly but with a certain charm.
Its shimmering faience skin, composed of 3,200 hand-made pots, is a nod to the arts and crafts ethos of the Victorian building next door, by Herbert Ibberson, with mottled colours derived from the landscape. It covers the gable like cloth, stretched taut and flat at the eaves and over rounded haunches, with arrowhead pleats in the mid-section that recall a copper spire above the Great Hall. On the long southern flank these folds extend into a fringe of slender piers that soften the outline of the building like gothic pinnacles.
Designed to be seen in the round, the ceramic crown has an ambiguous character typical of a building that is always doing two things at once. In oblique views, the close-spaced fins appear solid; straight on, long clerestory windows are revealed. One moment the curves and folds lend vertical emphasis and the next seem to churn like a choppy sea, with light catching the ridges like spray-crested waves.
The sense of restless animation is stabilised by the concrete base that binds the hall to the buttery, with chunky boardmarked columns set out on a three-metre grid that organises the whole ensemble. 'Most halls are solid at ground level, which can be oppressive,' says Fowles. 'Ours is porous, with generous, inviting spaces around the fringe.' On the long elevation, big windows are set into scalloped niches with integral benches: a typically considerate touch, just right for quiet study in the sun. Around the corner the pink podium makes a cloister that runs into the buttery.
Inside, the hall is a jaw-dropper - voluminous, lustrous, intricate but serene. High above long tables that seat 340 people, the valley roof is borne on butterfly trusses of glulam sweet chestnut that branch from slender columns - an impossibly delicate frame, were it not pinned back to concrete walls. A faceted lining of pale ash catches daylight streaming from the long clerestories. Low-level windows, doors and serving hatches are tied together by a continuous band of recessed panelling, stained oxblood red. Together with a minstrels gallery at one end, a tapestry intended for the other and triforium-level shuttered openings to the buttery, it brings a whiff of the medieval that subtly relates inside to out. Finding these correspondences between the diverse parts of the building, revealed as you move around, is one of its pleasures.
Craft is another, manifested everywhere from the custom-made clusters of globular light fixtures to brass shoes at the foot of each column, from which metallic strips radiate in shiny sunbursts across the green terrazzo floor. The timber frame is put together without flitch plates or bolts; lapped joints are pegged with oak dowels.
Despite such details it's difficult to see how the opulent, weighty hall fits with Feilden Fowles' customary 'low-tech' approach to sustainable design - simple buildings stripped of superfluities. Nevertheless, it scores well enough for operational energy with all-electric services and, on a whole-life carbon basis, helped by leaner construction in the ancillary areas.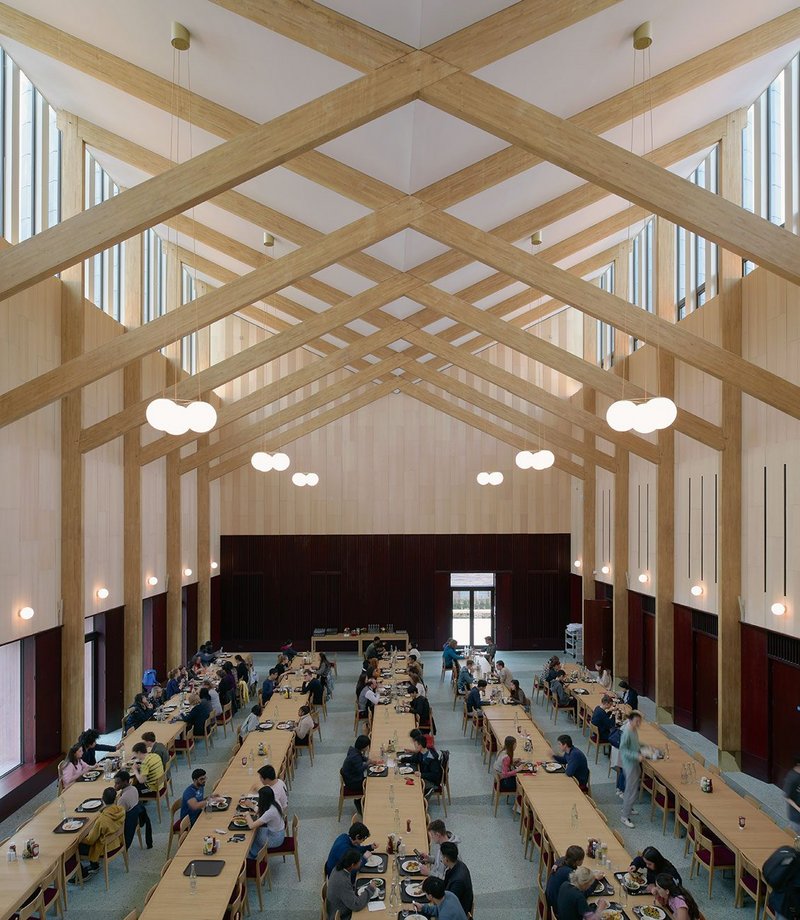 Credit: David Grandorge
These are no less well considered. The timber-framed buttery is a delight, easeful and free-flowing with clever relationships between intimate little niches and a double-height space, and between inside and out. Students pack the mezzanines, working with a beautiful view of the college through big bronze-patinated metal windows.
Generous, airy kitchens ­- so much better than the humid ratholes the cooks previously worked in - and staff offices are in a pair of two-storey wings at the back of the site. Outside, on Harrison Drive, the appearance changes again. Rough purplish brickwork, with fat brushed lime joints and glazed ceramic headers by artist Shezad Dawood, fits in comfortably with the Ibberson building. 'As relatively young architects we are always trying to test new materials and construction techniques,' says Fowles. 'We took on quite a lot in this project - it's like four buildings in one.'
It's meant literally, but there's metaphorical truth too. This is a large building that contains multitudes, without contradiction: formal when it needs to be, but friendly and inclusive; responsible and ambitious; conscious of tradition but forward thinking. It's all the things that the college asserts as essential values, in other words - whipped up into an architectural feast.
In numbers
Construction cost £10.4m
Gross internal floor area 1665m²
Months on site 24
Embodied carbon 697kgCO2e/m²
Credits
Client Homerton College
Architect Feilden Fowles
Project architects Eleanor Hedley, Akshara Pulpa
Main contractor Barnes Construction
Project manager Ingleton Wood Martindales
Structural engineer Structure Workshop
Services, sustainability and acoustic engineer Max Fordham
Faience Darwen Terracotta
Faience installation Szerelmey
Structural timber frame Constructional Timber