A Victorian south London terrace extension, Groovy Roofy employs circular economy principles while its interior meets the clients' wish for a playful 60s colour scheme
Tell us about the project ​
It's a sawtooth home extension employing reuse and circular economy, with 60s-inspired interiors. We got the inquiry through Instagram from a young couple. It was a good fit. They wanted joy and playfulness and were open to colour – you can see that taste even in how they dress. They are based in a Victorian terrace in Nunhead, south-east London, and wanted to make the most of their home's potential, creating a space that sparked conversation and inspiration.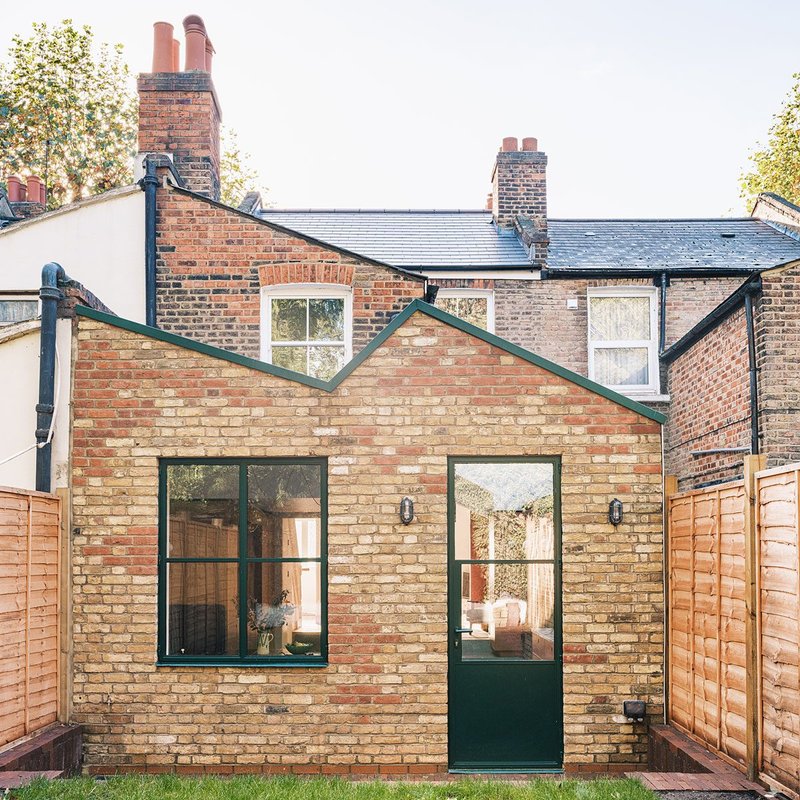 Groovy Roofy.

Credit: Fred Howarth
Tell us about the key moves
The house had its kitchen in an outrigger with a side return. What was unusual was the neighbours' extension on the party wall. The high eaves level gave us the freedom to start high with our new roof, so Groovy Roofy was born, with a north-facing rooflight.
We minimised waste by reusing bricks from the old side return. Delve's work focused the reuse of existing materials, simulating the appearance of the old brick 'imperfections' on the new rear elevation. We reclaimed about two-thirds of the demolished bricks. Alongside the brick is aluminium powder-coated glazing and matching angular aluminium parapet capping, all in forest green.
The sawtooth roof extension created extra space for an open-plan kitchen and dining area, setting the canvas for a playful use of colour.
How have the interiors been designed?
The clients established a groovy 60s colour scheme from an early phase of the project, allowing us to specifically tailor a quite eccentric material and colour palette. This can be found in the crushed-velvet bench seating, speckled terrazzo finishes, sunburnt colours in the kitchen and WCs (downstairs: yellow tiles and black grout), collections of ceramics and cocktail cabinets.
What is the most sustainable aspect of the project?
Reuse of existing demolished brickwork and the improvement of the existing house's thermal performance through well-insulated new elements.
What is your favourite moment in the project?
The internal fluted velvet seating (specially upholstered) which aligns with the exposed sawtooth roof, Perla windows, and the bespoke Pluck bar area. A beautiful space for an evening cocktail.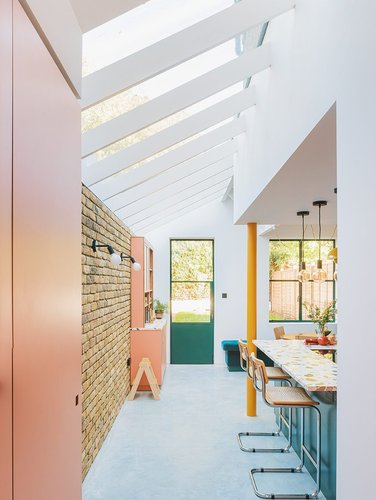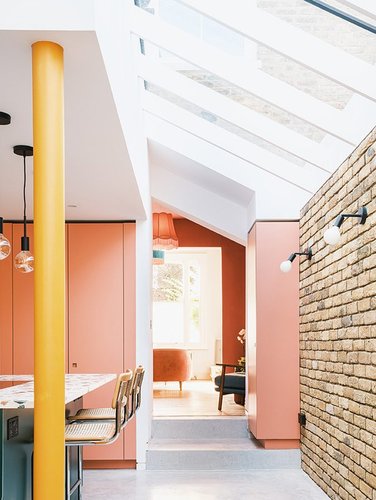 What was the biggest challenge and how did you overcome it?
The roof form, which structurally supports the sawtooth and aligns with the frameless glass skylights. It was resolved through a lot of on-site discussions and carefully detailing alongside the contractor!
What would you do again? What would you not do again?
I would repeat the Sawtooth roof and exposed timber rafters. Also the bright, fun and playful interior colours. I would avoid aligning so many acute internal and external angles.
Alex Raher is director and co-founder of Delve
---
Credits
Total contract cost £180,000 plus VAT
Gross internal floor area 106m2
Engineer Blue Engineering