An elegant and flowing house of generous proportions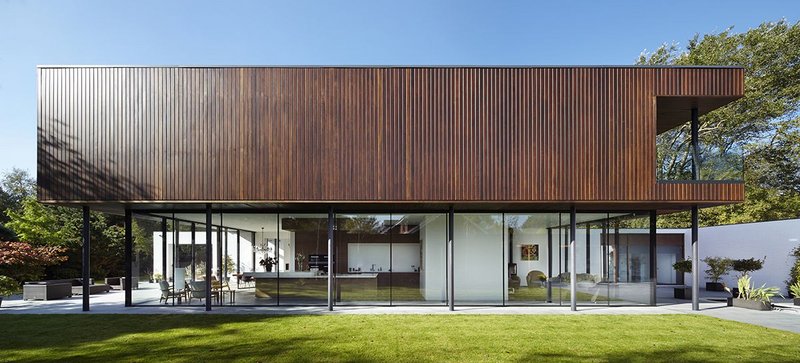 Credit: Jack Hobhouse
shedkm for private client
GIA: 670m²

An intriguing modernist villa, designed for a couple with a love of art on a private park road in a northern suburb of Liverpool. Subtle Scandinavian undertones combine with an uncanny sense of 'home' provided by the client within a geometric architectural framework. Here the clients have been involved throughout whilst the local builder has almost slavishly followed the architect's profusion of detail, resulting in an elegant and flowing house of generous proportions that is unexpectedly unpretentious and almost cosy in places.
Local planners' enthusiasm for the design was only tempered by concern about overlooking famous neighbours – cue iroko fins and thus cladding, which sits atop whitewashed brickwork. Internally, a high ground floor ceiling and massive swinging panel doors provide flexible gallery space for art works. Beyond the grand staircase bedrooms are generous, the en-suite roof-lit shower rooms opposingly narrow and dramatic. The master bathroom has an upwards view of the sky – an 'event' requested by the client. It is gentle yet geometrically rigorous. The plan is characterised by a clear definition of smaller spaces – family kitchen, snugs and storage – which allow the main areas to be kept open and clear. The jury panel felt that this house answers the difficult conundrum of how to merge modernism with a sense of home.
See other winners in the RIBA Regional Awards 2015 – North West
---